Amazon Worker Shows Empty Warehouse Full of Employees With Nothing to Do in Viral TikTok
An Amazon worker ruffled some people's feathers after posting about what their warehouse job is like when there is "nothing to do."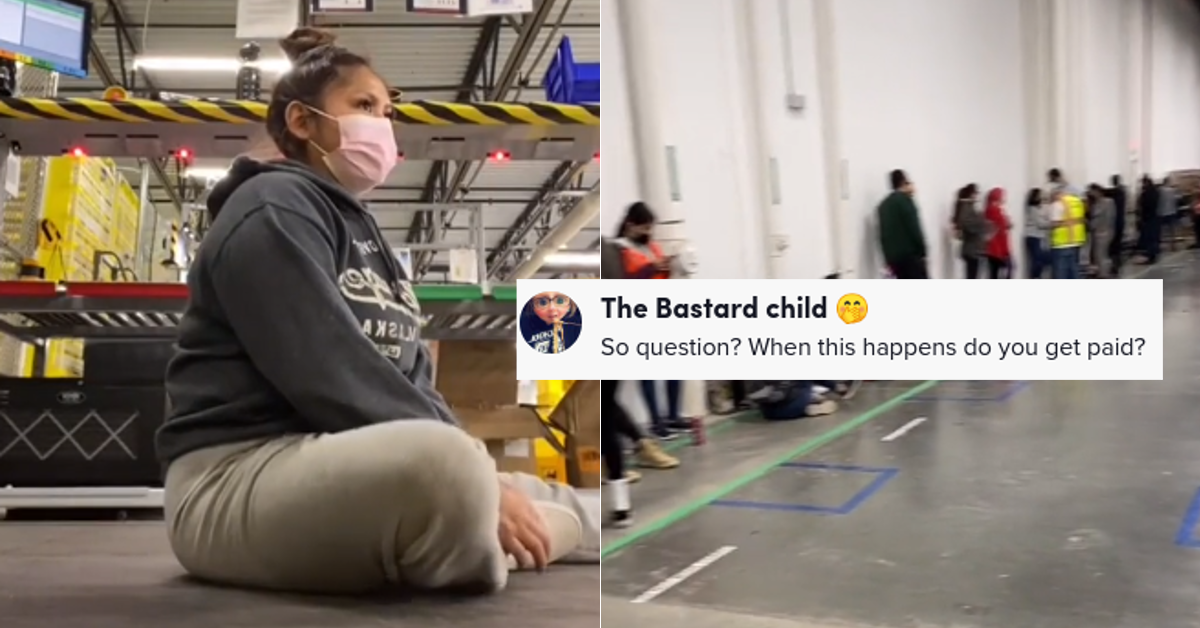 Sometimes it takes more work to make it look like you're working than doing actual work. And if you're earning an hourly wage at a place that doesn't really reward employees who go above and beyond, then it's easy to adopt an attitude of "well if I'm not getting paid extra then why should I even bother doing more?"
Article continues below advertisement
This is a common gripe expressed by tons of folks who've found themselves disenchanted with work and expressing that disenchantment online. Whether it's in forums like Reddit's antiwork sub, or in popular social media applications like TikTok, people are either showing their day-to-day duties or are teeing off on how they're being treated by customers/management.
The wage gap is a growing concern among American workers. Although hourly rates have been steadily increasing in the wake of the COVID-19 pandemic (Buc-ee's gas stations for instance are offering $18-$22 per hour to start) many still feel that while companies are posting records profits, that wealth isn't being shared with daily operational employees who were on the frontlines so to speak making those profits possible.
Article continues below advertisement
And oftentimes those employees, especially with delivery service companies like Amazon which usually deal with ridiculously high volumes, are overworked. Getting through all of the packages that they need to deliver, or being forced to cover other people's shifts/deliveries when they're through with their own is a recurring issue for many employees.
But sometimes the situation is similar to the one in the above TikTok.
Article continues below advertisement

Lauren, who posts under the username @arlenari posted a clip of workers leaning against the walls, standing idly, or sitting on the floor as they haven't been assigned any stations at an Amazon warehouse.
Article continues below advertisement

A text overlay in the clip reads: "What it's like to work at Amazon to do nothing." In another part of the video Lauren adds: "It's 1:33pm and everyone works in Decant. There are no stations available."
Article continues below advertisement

Lauren's post prompted a litany of different reactions. There were tons of users who said that they couldn't believe Lauren was "complaining" about doing "nothing."
Article continues below advertisement

Others used the fact that folks were sitting on the floor and just standing around as further proof that Amazon workers need to unionize, as they didn't have a proper break/seating area to spend time in until they had to work.
Article continues below advertisement

Others said that situations like this could cause management to force employees to take "VTO" or what's known as "Voluntary Time Off." This basically means that they cannot get paid for hours where there isn't a lot of work to be done. However, if an influx of orders comes in, whoever is left at the facility will more than likely have to "pick up the slack" so to speak and be overworked as a result.
Article continues below advertisement

Some commenters mentioned that VTO kicks in at facilities when there's been more than 3 hours of no stations available for employees meaning that if you planned to come into work for a full shift, you're only going to make 3 hours worth of whatever your hourly rate is for the day.
Article continues below advertisement

And then there were others who were shocked Amazon workers were allowed to bring phones onto the floor, something that Lauren said was implemented after COVID-19 in case of emergencies.
Lauren also offered up her own thoughts on VTO: "It's annoying to come into work and be offered volunteer time off not even an hour after clocking in. Which happened today. I just got here; I'm not going to go home. I need the money. Find something else for me to do or train in."