Boss Refuses to Accept Employee's Resignation, Goes on Massive Text Rant
A text thread went viral on Reddit that reportedly shows an interaction between a boss and their former employee.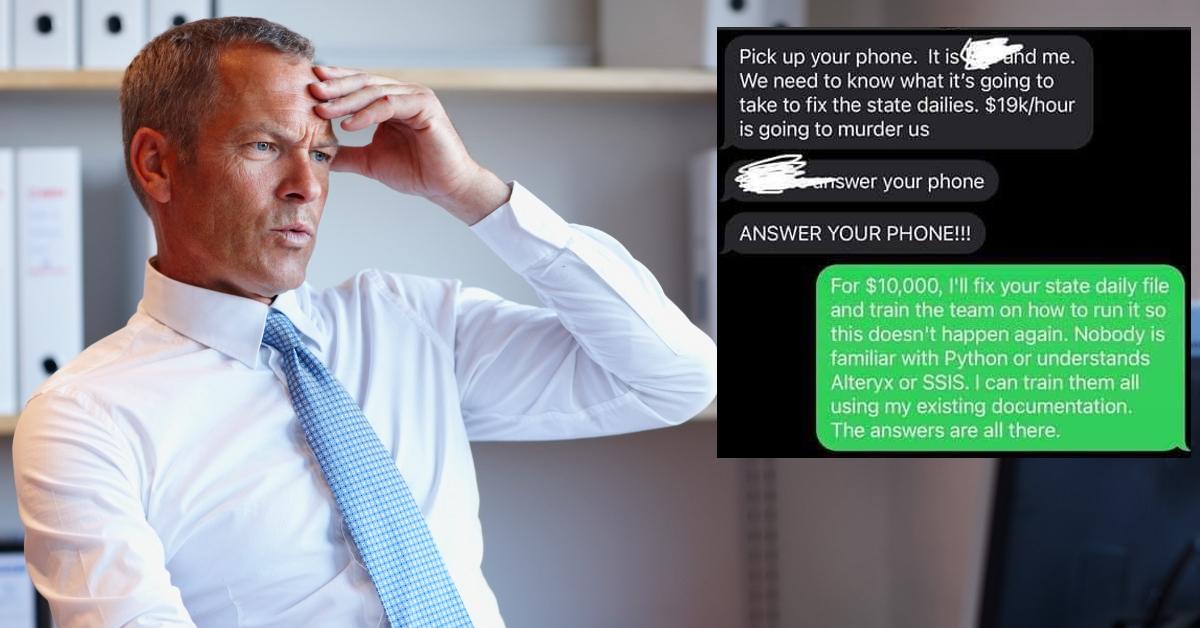 The Joker said something in The Dark Knight that a lot of people could learn from. No, not constantly lying about where he got his scars or about giving into anarchy because most people are scum anyway, but that little bit at the beginning of the film where he says: "If you're good at something, never do it for free."
Article continues below advertisement
And in the wake of the COVID-19 pandemic, more and more Americans are simply refusing to work. And while there are a great number of socio-political opinions and arguments as to why that is, many of them seem to focus on one idea: self-worth.
With rising wages in many industries across the board, and companies still having difficulties finding folks to staff their businesses, competent workers are few and far between.
A recent Reddit post that was screen-capped and shared on Twitter is being highlighted as an example of an employee who leveraged their own personal worth and desire to spend the holidays with their family into a tale of revenge against an employer that didn't listen to one of its workers for weeks leading up to his vacation days.
And according to these text conversations, the company paid dearly for it.
Article continues below advertisement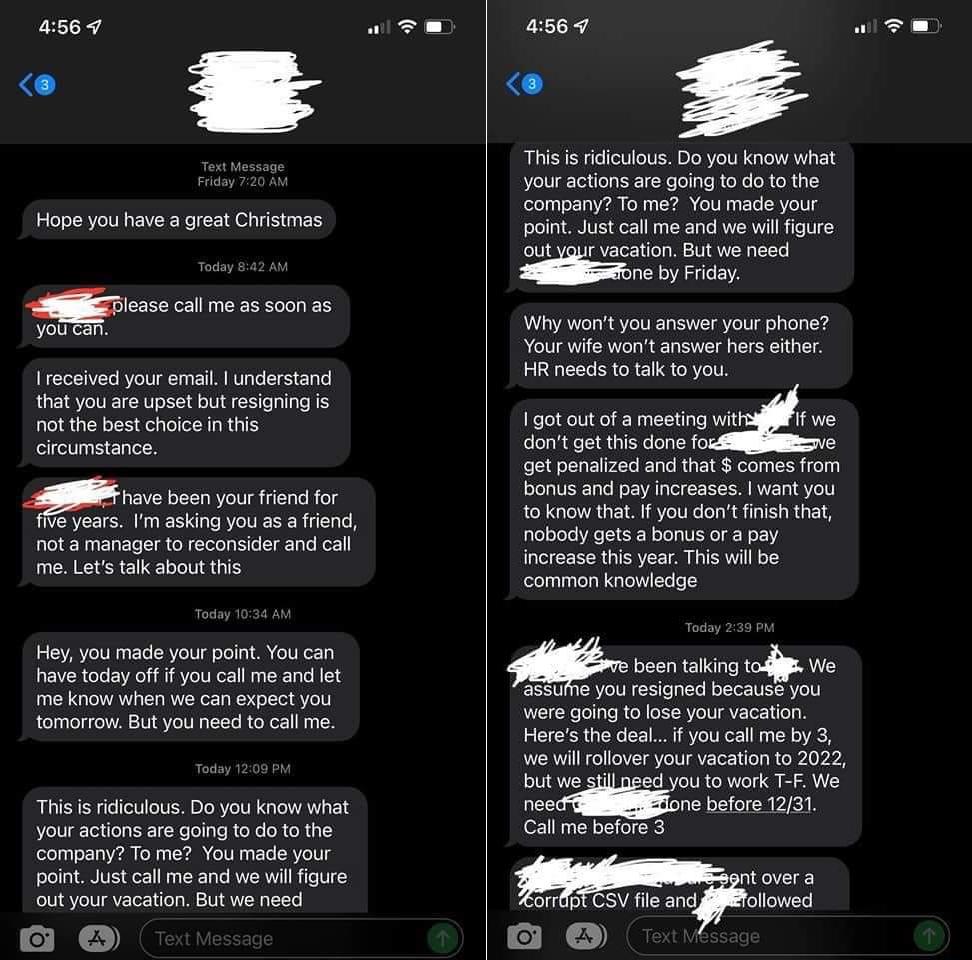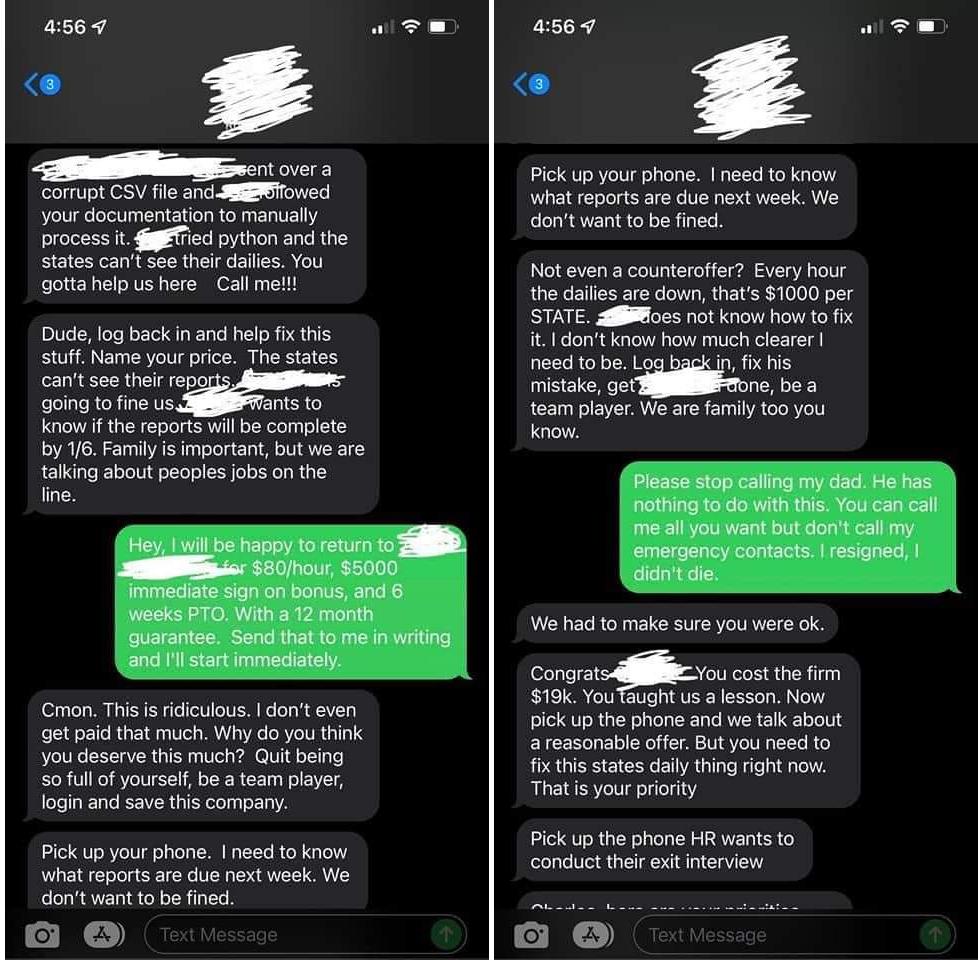 Article continues below advertisement
Twitter user @tiffmc1013 posted the screenshots, stating that this is yet another example of corporations manipulating their employees by saying that they're "family" as a way of not "treating them like valued staff."
Here's the low-down: from the texts, it appears that there's a time-sensitive technical issue that's costing the company in question a lot of money.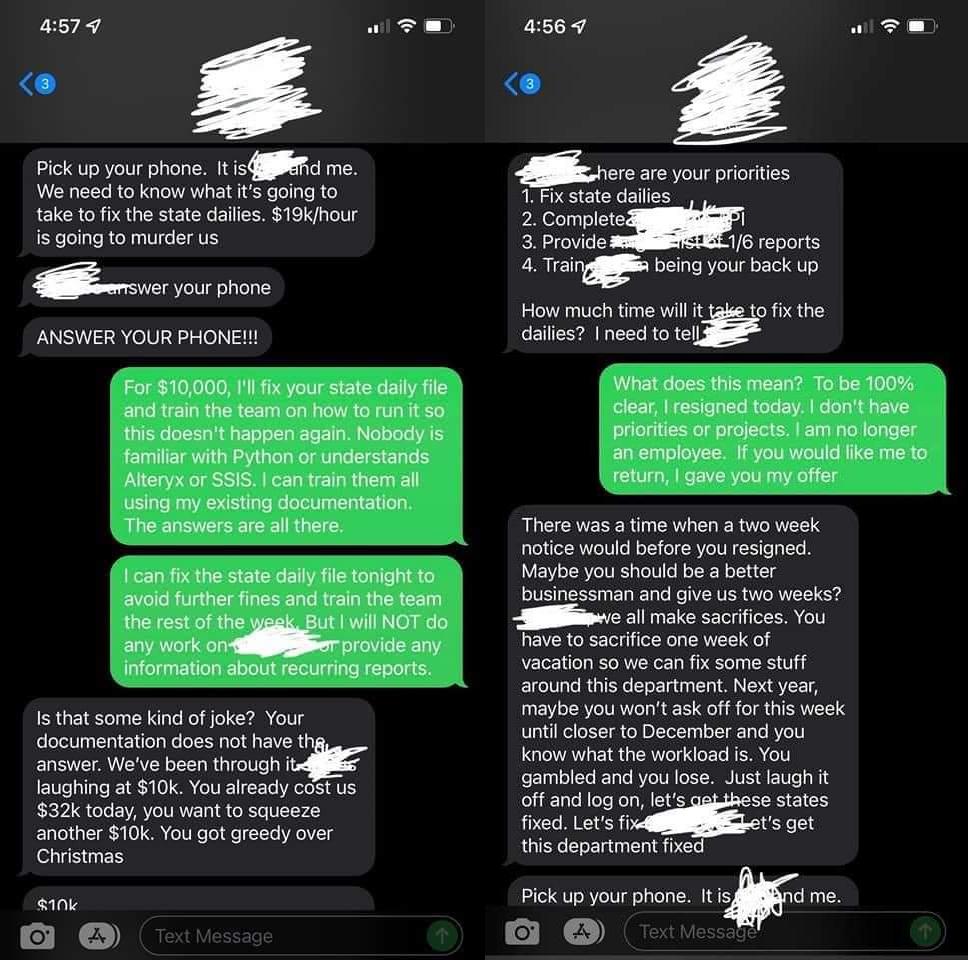 Article continues below advertisement
The thing is the company relied solely on this individual to fix the problem for them, despite the fact that the employee created several training documents so other folks in the company would be able to fill in for him in the event of an emergency or if he needed to take some time off.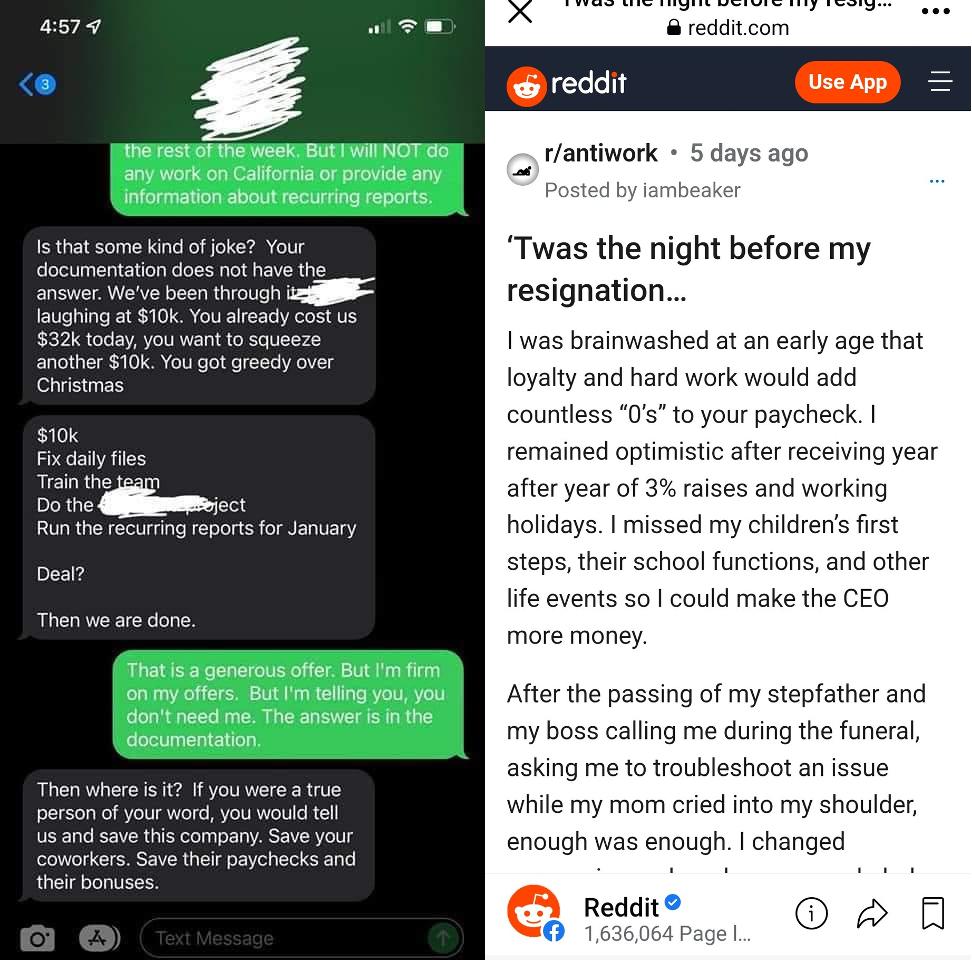 Article continues below advertisement
According to the employee's Reddit post, they had actually offered to work extra hours in the weeks leading up to his request for time off, which was very important to him around the holidays as he missed key moments in his children's lives, just so his bosses could make more money.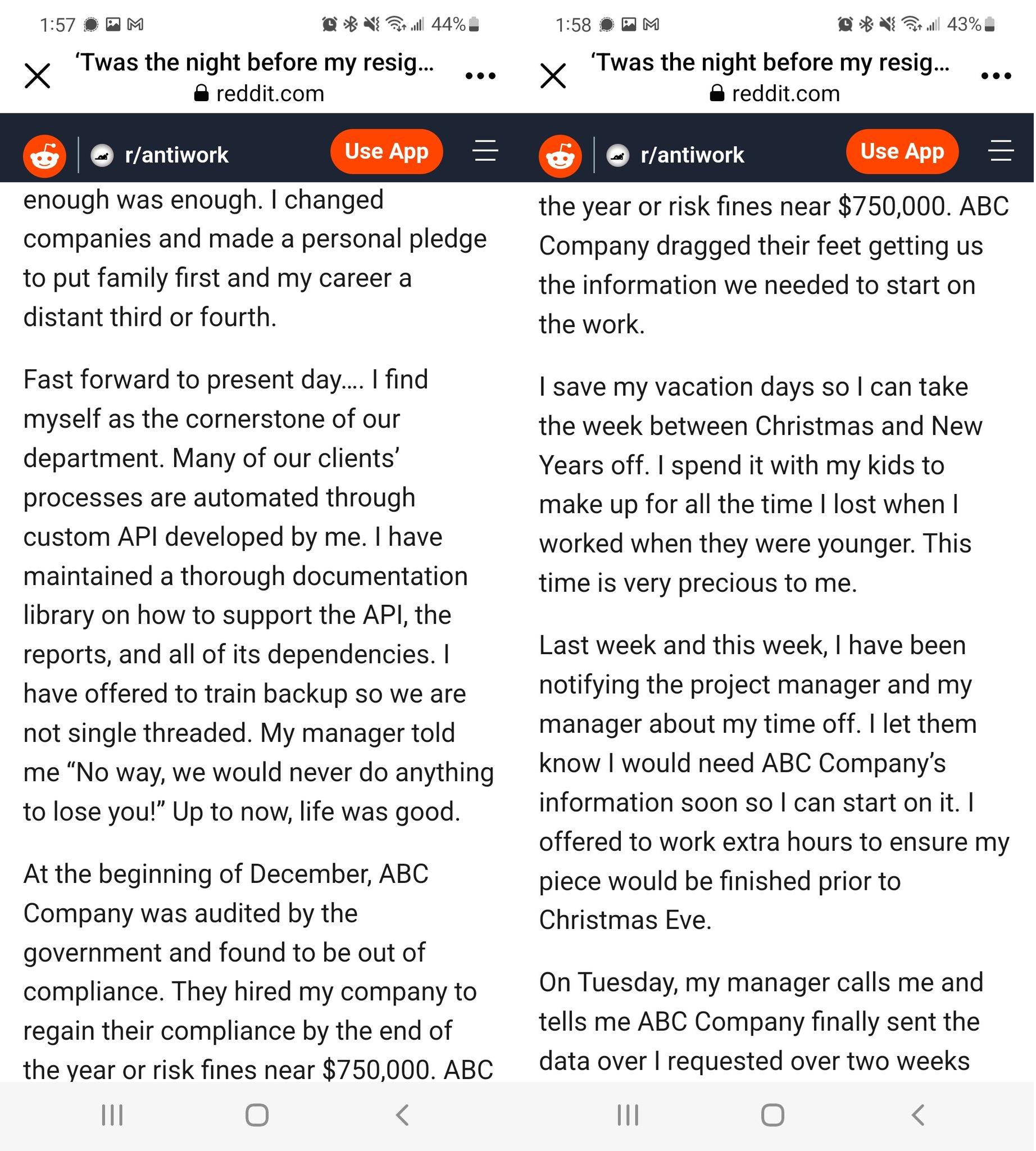 Article continues below advertisement
He even mentions that he left a previous job because he was called on his cell phone while attending a funeral, mom crying on his shoulder, to troubleshoot an issue.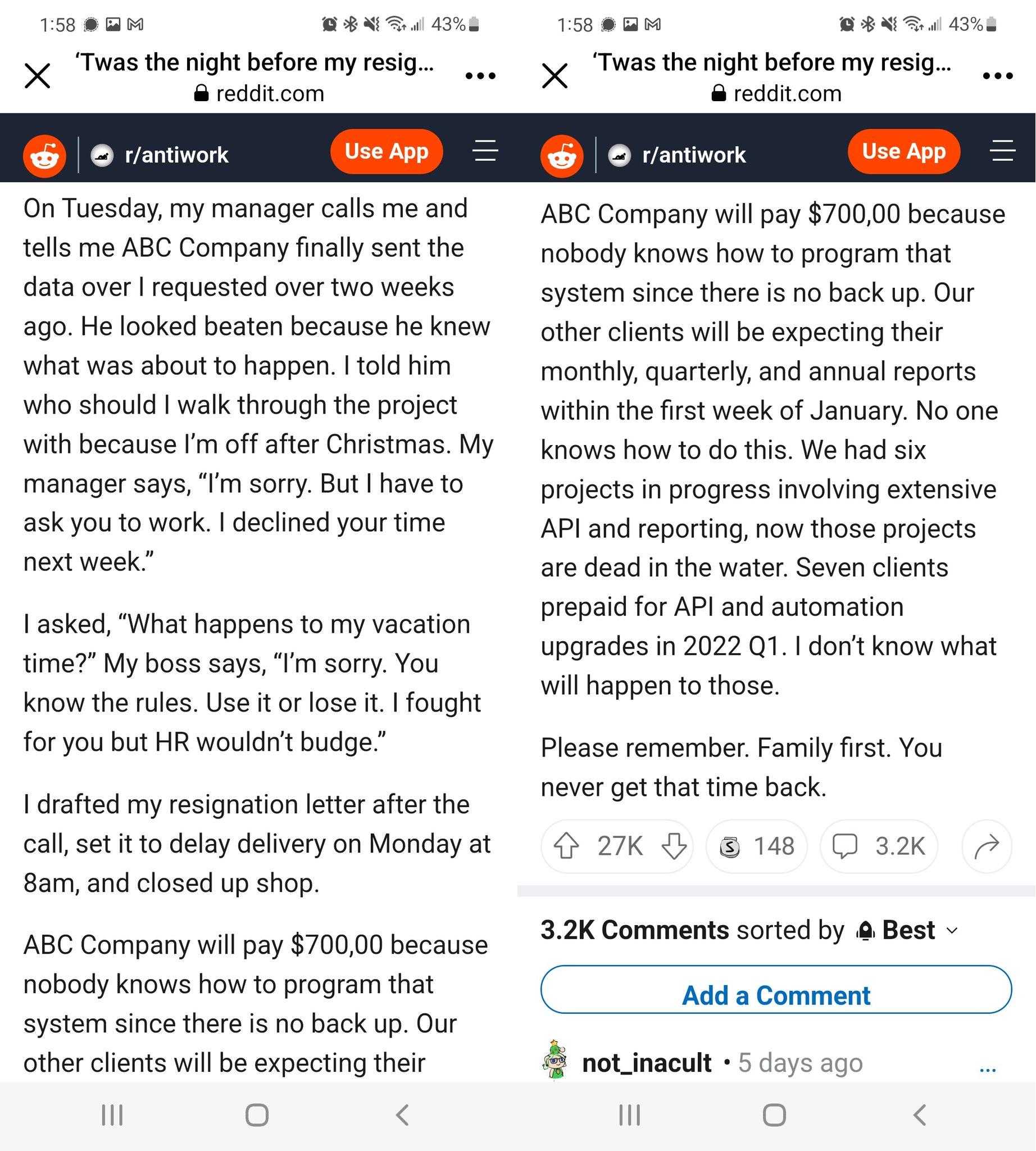 Article continues below advertisement
So it's understandable why he would take such a strong stance against the company, especially when his (former) boss not only hounded him but his wife and father to pick up the phone during the time off that he put in for that was summarily denied.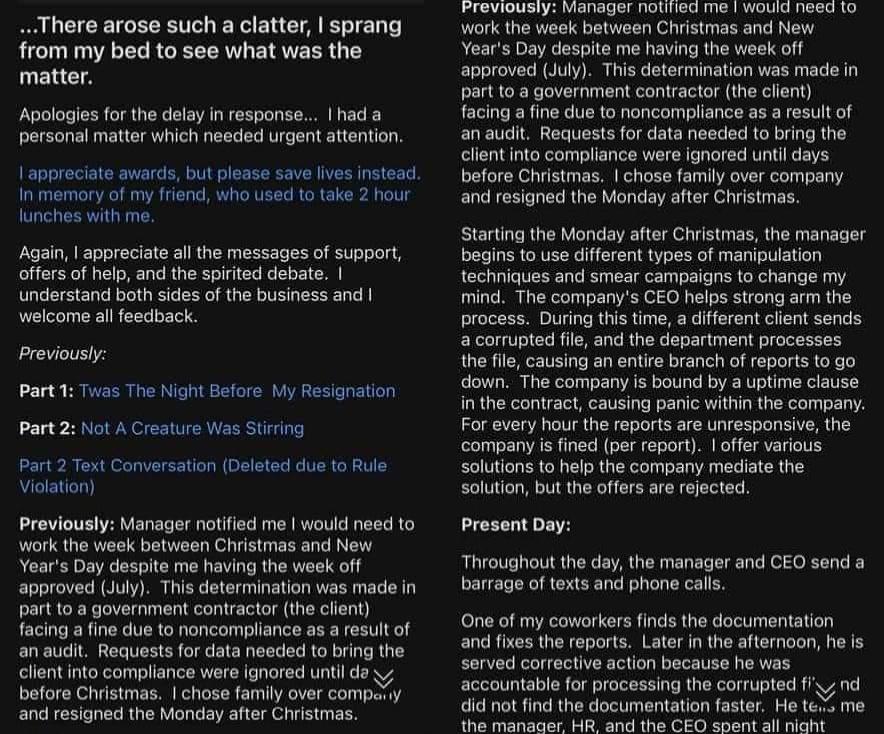 Article continues below advertisement
The employee says that the business manager (a liaison between company and client) that contracted the agency he worked for directly reached out to him and offered him a deal that was much sweeter than the one he proposed to his boss: double the hourly rate if the project was completed by the end of 2021, along with his signing bonus. There was also a prospective job offer on the table for the business manager's company, should there be open positions available.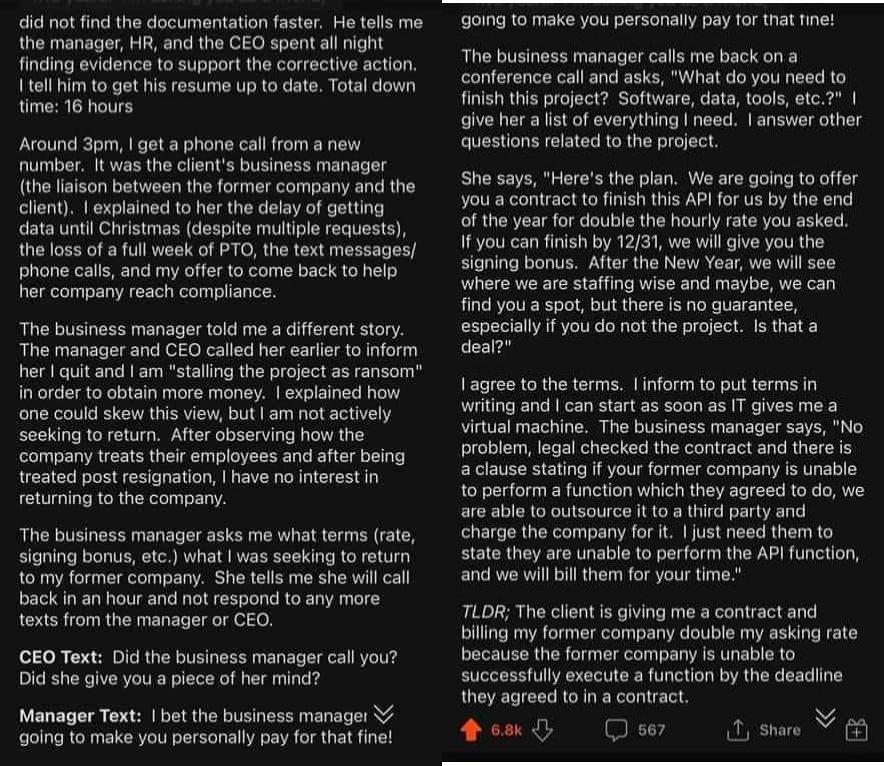 Article continues below advertisement
Sure, in the end, OP ended up working on Christmas despite saying that they wanted the time reserved for family, but at least they're getting paid handsomely for it.
Several people thought the story was fake, while others applauded the man's unwillingness to cave into his former manager's demands.
What do you think? Have you ever dealt with a boss who tried to guilt you into doing something you really didn't want to and seemed unfair?