Passenger Tests Positive for COVID-19 Mid-Flight — Forced to Quarantine in Bathroom
One woman on international flight discovered she was positive for COVID-19. She self-isolated in the plane's bathroom for five hours.
The world has collectively experienced two COVID-19 holiday seasons, and each time, there's been a huge surge in cases as folks tend to travel more to visit family members and friends. Unfortunately, the way viruses work is that they tend to transfer from human being to human being. And with a disease as communicable as the novel coronavirus, it's no surprise that there's been an uptick in cases.
Article continues below advertisement
And while there are lots of safety precautions one can take to ensure that they won't contract or spread COVID-19, it's impossible to prepare for every single eventuality that'll result in you contracting the disease. Thankfully, there are rapid tests available that let folks instantly see whether or not they have contracted COVID, even if there's some debate around how effective they are at detecting different strains.
A school teacher from Michigan, Marisa Fotieo was on a flight from Chicago to Reykjavik, Iceland on Dec. 20, 2021. During the flight, she felt like her throat was hurting. She immediately thought that she may be COVID positive, so she whipped out the rapid test she was carrying with her and went to town.
"Within what felt like two seconds, there were two lines," Marisa told Today.
Article continues below advertisement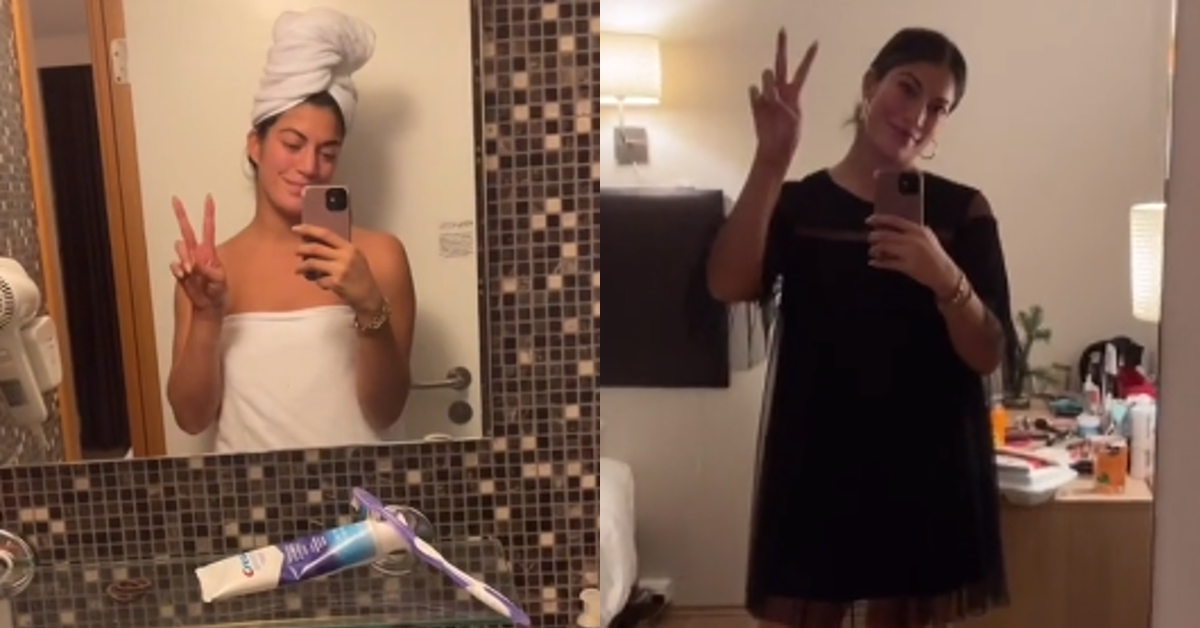 "There's 150 people on the flight, and my biggest fear was giving it to them," the educator continued. In order to keep people who were locked in an air-tight cabin with no way of escaping for six hours as safe as possible, Marisa quarantined herself in the plane's bathroom for nearly the entirety of the flight.
Article continues below advertisement
During that five-hour bathroom self-isolation time, Marisa documented her "VIP quarantine" experience on TikTok. She gave a shout-out to the Icelandair flight attendant who helped make the experience more livable too, a woman by the name of Ragnhildur "Rocky" Eiríksdóttir.
Article continues below advertisement
"She made sure I had everything I needed for the next five hours from food to drinks and constantly checked on me assuring me I would be all right."
It's unclear how long before flying Marisa had tested negative for COVID-19 prior to boarding the plane, according to MSN.
Article continues below advertisement
Upon landing in Iceland, Marisa had to quarantine (as she tested positive), but Rocky came through again, hooking her up with a little bit of Christmas cheer as she was basically going to be all by herself in Iceland during the holidays. "She bought me flowers and a little Christmas tree with lights so I could hang it."
Article continues below advertisement
TikTok users who saw Marisa's post praised the woman's immediate action and willingness to sit inside of a bathroom during the entirety of the flight. They also showed love to Rocky for attempting to make Marisa's less-than-ideal stay in Iceland a bit more festive.
Article continues below advertisement
Iceland requires that individuals who've tested positive for COVID-19 self-isolate for 10 days. As of this writing, Marisa is still posting TikTok videos from her hotel in the Nordic country.
Article continues below advertisement
The best way to prevent contracting or spreading COVID-19 is to get vaccinated. Thorough hand washing, social distancing, and wearing a mask or cloth facial covering are also extremely important. If you feel you may be experiencing symptoms of coronavirus, which include persistent cough (usually dry), fever, shortness of breath, and fatigue, please call your doctor before going to get tested. For comprehensive resources and updates, visit the CDC website. If you are experiencing anxiety about the virus, seek out mental health support from your provider or visit NAMI.org.