TikToker Demands Barista Remake Her Drink for Not Matching Her Makeup
A Starbucks customer's TikTok is going viral after they shared their "petty" drink remake request, and loads of people are angry at them.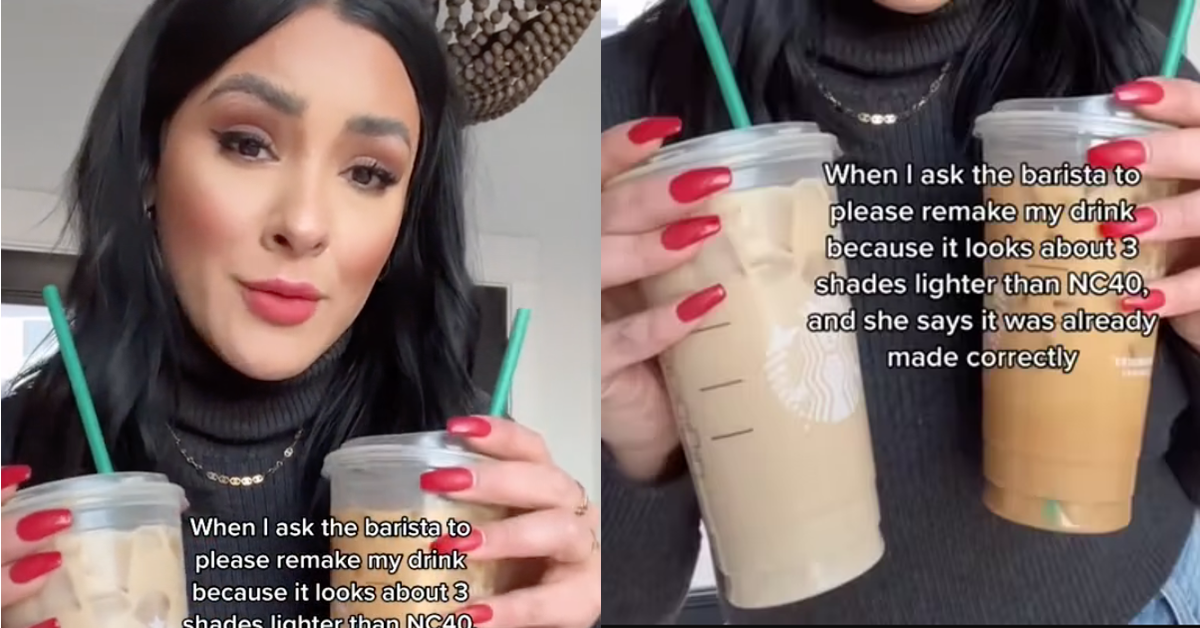 Starbucks Baristas are no strangers to some pretty ridiculous drink requests, in which they've seen an uptick after mobile ordering became more widely used in the wake of the COVID-19 pandemic.
There's something about the anonymity of the internet that allows people to test the waters — or just become their unfettered, truest, weirdest selves.
Article continues below advertisement
But Starbucks has maintained a policy that its customers should be able to get their beverage just the way they like it, regardless of how illogical, strange, or unconventional that particular order may be.
It's also pretty much understood that if your barista doesn't make your drink up to your standard, you can request for it to be remade.
After all, the profit margins on coffee are pretty high, and you're already paying a button of money for a cup of joe, then you're going to want it to taste just the way you like it.
But what would you say to a Starbucks customer who was upset that the coffee they ordered didn't match the exact shade of their favorite MAC Cosmetics color?
Article continues below advertisement
The TikToker in question, @conniecantu (whose account seems disabled for the moment), holds the Starbucks drink to the camera and lip-syncs an audio clip that says, "That was embarrassing. I really hope you're embarrassed."
Article continues below advertisement
The viral video's on-screen text reads: "When I ask the barista to please remake my drink because it looks about [three] shades lighter than NC40 and she says it was already made correctly."
It didn't take long for TikTok to dogpile on the customer for her "petty" drink remake request.
Article continues below advertisement
"Girl, if it's not the right shade, you should be making your own coffee at home," one commenter wrote.
"These people have no lives. If your biggest problem is how your coffee is made, then you are privileged and should be grateful," another said.
Others echoed the sentiment of entitlement, like @qwueer who wrote, "Tell me you've never worked retail without telling me. The audacity, man."
Another wrote, "NC40 isn't a standard measurement, to be honest. Like, who would know what that looks like?"
But there were other commenters who thought that the TikToker made a valid point with her criticism of the Barista's work.
Article continues below advertisement
Even those who said they were baristas thought that the original poster made a valid point: "Hi, I'm a barista and espresso drinks should always turn out the same color. If the espresso [is] messed up — not your fault. We should remake it for you," @aubriecsmith writes.
@Moriahsalena also wrote, "I always want my coffee NC45. Today I feel seen."
Article continues below advertisement
Others just thought she had the right to request a remade drink given the amount of money she was paying for it: "Not the baristas getting mad. Like, ma'am, I pay $8 for a drink. I expect it to be correct. NEXT," @hannahlarnerd wrote.
Tons of Starbucks employees have launched efforts across the country to join unions to ensure that baristas receive better wages and overall treatment in the workforce. It's also no secret that Starbucks employees have been treated pretty crummily during the pandemic. Do you think a customer being upset that their drink didn't match their favorite makeup shade is another example of this?