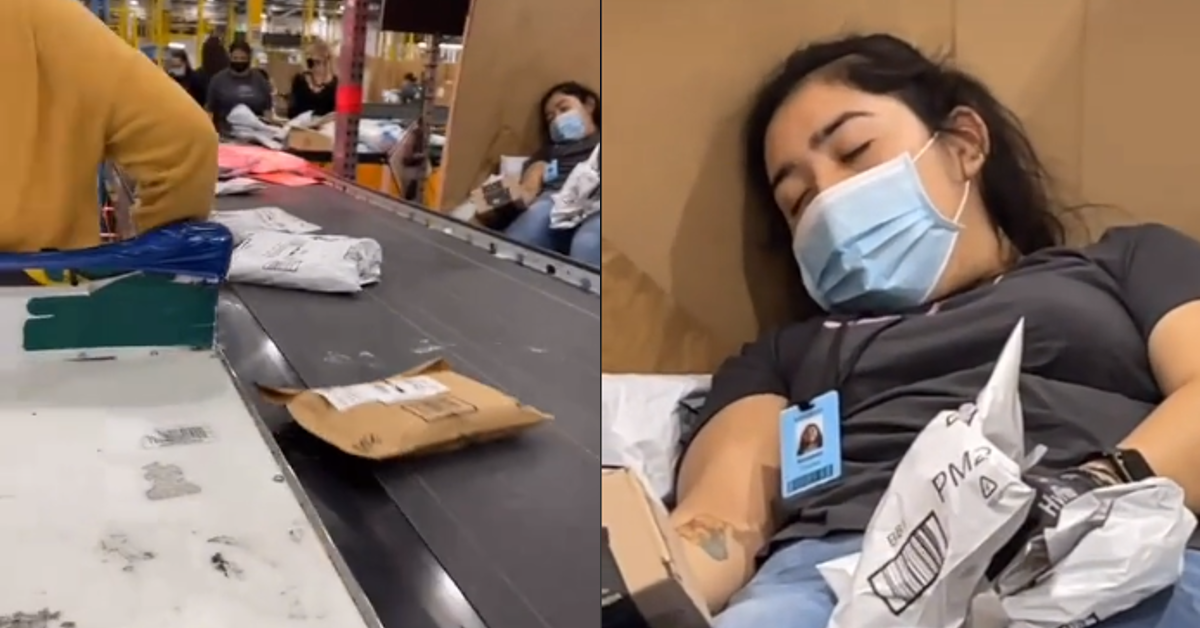 Amazon Employee Records Co-Worker Sleeping on Packages, Sparks Overworking Debate
An Amazon employee was caught in a viral TikTok sleeping on packages and it started a conversation on the social media platform.
Amazon's profits have skyrocketed since the onset of the COVID-19 pandemic, with some reports clocking in over 200% increases for one of the world's most profitable companies.
This understandably has culminated in a higher employee demand, especially for warehouse and delivery jobs with the company.
Article continues below advertisement
And while Amazon workers have gone viral recently for some pretty salacious reasons, many folks sympathize with the corporation's employees for being overworked and overtired. And a viral TikTok that captured one of its warehouse workers falling asleep on a pile of packages started a conversation on employee treatment.
Article continues below advertisement
The text overlay for the video reads "Work at Amazon they said" and shows an Amazon employee crashing inside of a giant box of soft packages. The young woman in question is wearing a mask and she appears to be completely asleep as a line of deliveries whizz by her.
Article continues below advertisement

Many of the comments seemed to commiserate with the worker. "Employees at Amazon work 40-60 hours guys," @a.c.m_15_ wrote.
@vickyg619 stated, "I've heard of Amazon employees fainting cause they don't get breaks or only one restroom on the entire building, ever since Bezos left the company."
Article continues below advertisement

Another TikTok user with the handle @doom_vq penned, "Amazon pays good but stress they put on your ain't worth it."
Others Amazon employees chimed in, like a new hire who watched the video and said that seeing a worker sleeping on the job made them nervous.
Article continues below advertisement

For TikToker @nightmotherlistener (weird username but OK) they thought that the woman sleeping and the behavior of all of the employees surrounding her was indicative of a larger problem: "it's pretty concerning that everyone else is business as usual like it's an everyday occurrence that someone passes out."
Article continues below advertisement

And then there were users who were worried about her possibly losing her job, while others wondered why the TikToker in question (@rigo.a_) didn't wake her up and "watch over" her instead of recording her falling asleep on the clock.
Article continues below advertisement

However, there were some other users who didn't really think there was an excuse for the woman to be sleeping on the job. Some wrote that it was "poor time management" and said that Amazon gives its workers 10 hours of PTO and 20 more hours of unpaid time.
Article continues below advertisement

Useer @ry_ry.22 sarcastically quipped, "Omg Vanessa I had to work THREE days in a row I'm soooo tired."
@scullkrushr writes, "how you blaming Amazon because you don't know how to have a good sleep schedule."
Article continues below advertisement

What do you think? Is this a case of Amazon employees being overworked to the point of exhaustion? Or do you think that the worker should just be better at managing their time outside of the warehouse?