TikTok Divided Over McDonald's Customer Who Complained to Store Over New Sandwich
A McDonald's customer was angry that the fast food chain expected him to put together his own Land Air & Sea Sandwich.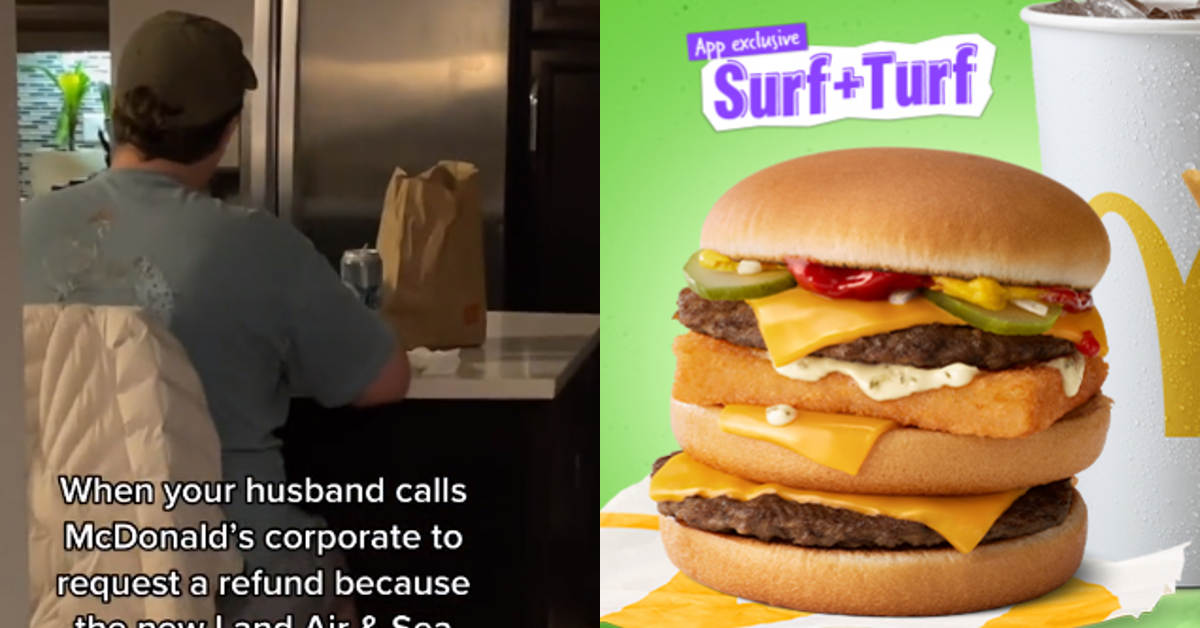 Years ago, Jack Black went on television and shared a bespoke McDonald's order of his: the McSurf & Turf deluxe. The amalgamation combined a cheeseburger, a fish filet, and a chicken sandwich all in one.
It was a bold, calorie-defying concoction that captivated the hearts, minds, and arteries of all who saw it, and there were probably many Americans who went to go and try the meal for themselves.
Article continues below advertisement
McDonald's has had some success in recent years by featuring the "custom orders" of celebrities and known figures. Travis Scott's Cactus Jack Meal, for example, had people ordering quarter pounders with cheese with added bacon and lettuce along with fries that he dipped in barbecue sauce and a Sprite.
Other artists had their own meals featured as well and although McDonald's has always allowed customers to remix their meals (like adding Mac Sauce and shredded lettuce to a triple cheeseburger to get a three patty wonder instead of a middle filling of bread), the chain has recently begun highlighting this fact in a bid to get more people customizing orders.
Like the Land Air & Sea Sandwich, but one individual who purchased it wasn't exactly enthused with the way it was presented to them.
Article continues below advertisement
In a now-viral TikTok, posted by Anna Kathryn Kasson, the video shows a man she calls her husband calling up McDonald's to complain that his Land Air & Sea didn't come pre-assembled. Instead, McDonald's gave him a Big Mac, a McChicken, and a Filet-o-Fish sandwich.
Article continues below advertisement
In a text overlay on the video, Anna writes, "When your husband calls McDonald's corporate to request a refund because the new Land Air & Sea sandwich comes as three separate sandwiches."
Article continues below advertisement

In the video, the man is talking to what sounds like a service rep from the company, he says pointedly, "It was not one sandwich. It was apparently three sandwiches that I had to make myself into a Land Air & Sea. If I wanted to make my own sandwich, I would have stayed home and made my own sandwich."
Article continues below advertisement

He went on to say that he was "very unhappy" about the way his order came through, and a ton of TikTokers shared their own opinions on the matter, as is usually the case with recorded squabbles on the platform.
Article continues below advertisement

Some folks thought that the individual was overreacting about the entire thing as "it literally says build it yourself. A refund? How about you read?" one commenter quipped.
Article continues below advertisement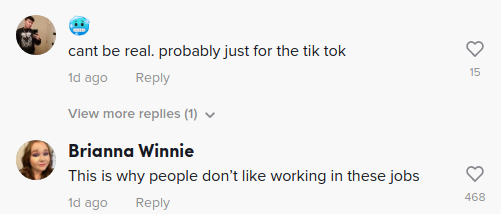 What they were probably referring to was the copy on McDonald's website: "Order them by name, build them by hand and hack the McDonald's menu because this isn't our menu, it's yours."
Perhaps the man didn't think the "build" part of it wasn't meant to be taken literally.
Article continues below advertisement
Other users called the man a "McKaren" but then there were those who pointed out the fact that the company's menu hacks website shows the sandwich already assembled.
What do you think? Is he being a McDiva? Or would you want your sandwich pre-assembled if you were to get it?