Uber Driver Accidentally Picks Up Guy She was Dating While He Was with Another Woman
A TikTok user revealed that she only found out her boyfriend was cheating while on the clock for Uber when he entered her car with another woman.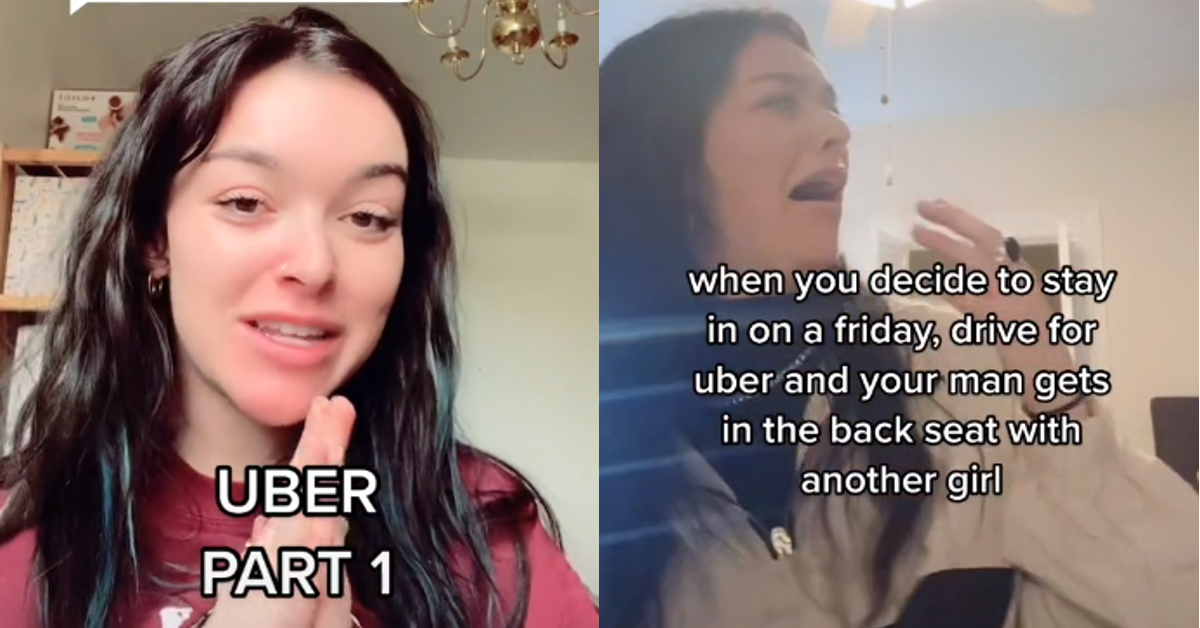 It's always a huge gut punch whenever you find out that a romantic partner of yours is cheating on you. Heck, it's no fun to see someone that you're casually dating out and about with another love interest, either.
But when you're in a committed relationship and you discover that another person is capable of lying to you and is giving the same type of love and affection you thought was reserved all for you, it's downright heartbreaking.
Article continues below advertisement
And while there's really no "good time" to find out when your significant other is doing you dirty behind your back, there are definitely instances where it's way more inopportune to have this crushing revelation fall on your head. Like, let's say when you're in the middle of working.
But how does one deal with finding out someone they've just started seeing is just seeing someone else?
That's exactly what TikToker @jword444 (Jen) said happened to her while driving Uber to make some extra cash.
She published a video to TikTok with a text overlay that reads, "When you decide to stay in on a Friday, drive for Uber, and your man gets in the backseat with another girl."
Article continues below advertisement
That caption alone gives us a lot to unpack. Firstly: her "man" has to know that his girlfriend drives Uber, right? And he also has to know what her car looks like, so it's hard to imagine that he's the one who was booking the vehicle, unless he really wasn't paying attention?
Article continues below advertisement
It's safe to assume that the woman he was with must've booked the vehicle and if that's the case, still, why didn't he see the car and come up with an excuse to not go inside? "Oh man that's my ex and she's crazy, I'm not getting in that ride can we cancel it?"
Article continues below advertisement
Or did he honestly think he could just get in the backseat and she wouldn't notice him because he was wearing a face mask? There are so many questions that this post leaves the viewer with.
Article continues below advertisement
Jen clarified in a follow-up story that she and this guy weren't "officially" dating, but they met on the app Hinge and things were going well between them.
On the Friday in question, she asked him what he was doing over the weekend and he said he was going to a "Pens game with a buddy" and that they would hang out over the weekend instead.
Article continues below advertisement

It turns out the "buddy" was a woman that she met during a friends group hang out and yes, she was the one who requested the Uber. Jen said that while the woman looked familiar she didn't want to say anything because she wasn't sure.
Article continues below advertisement

Her Hinge date and the woman in the backseat start talking about their mutual friends that Jen just met and that's when the coals started burning in her head: she looked in the rear-view mirror and made eye contact with the guy. "I knew it was him, he knew it was me," she says in the video.
Article continues below advertisement

She also said that while they were in the car together for "the whole entire ride" the guy doesn't say anything. She said that after dropping him and his female companion off at the arena he calls her within 5 minutes and apologizes for the awkward interaction and that he should've said something to her when they were in the car.
Article continues below advertisement

She follows up by saying that she mostly thought they were just friends and it was a "crazy coincidence" but she then remembered him saying there was a girl he "had a thing with" from his friend's group but that they weren't seeing one another anymore. They then hang out on Saturday, and he tells her that the woman he was with wasn't an ex of his after Jen flat out asks him.
Article continues below advertisement
Fast forward to Sunday when Jen is hanging out with her friends at a bar, and the waitress then says she saw Jen's viral TikTok and that she knows the other girl her Hinge date used to see...but they aren't "just friends."
She then contacts the guy in question about it, they share a drink, he comes clean that yes he was still hanging out with the girl and he ended up picking up the entire tab and left a hefty tip.
What would you do if you found this out? Would you continue to see the guy under a different relationship pretense? Maybe milk him for some more free bar tabs?