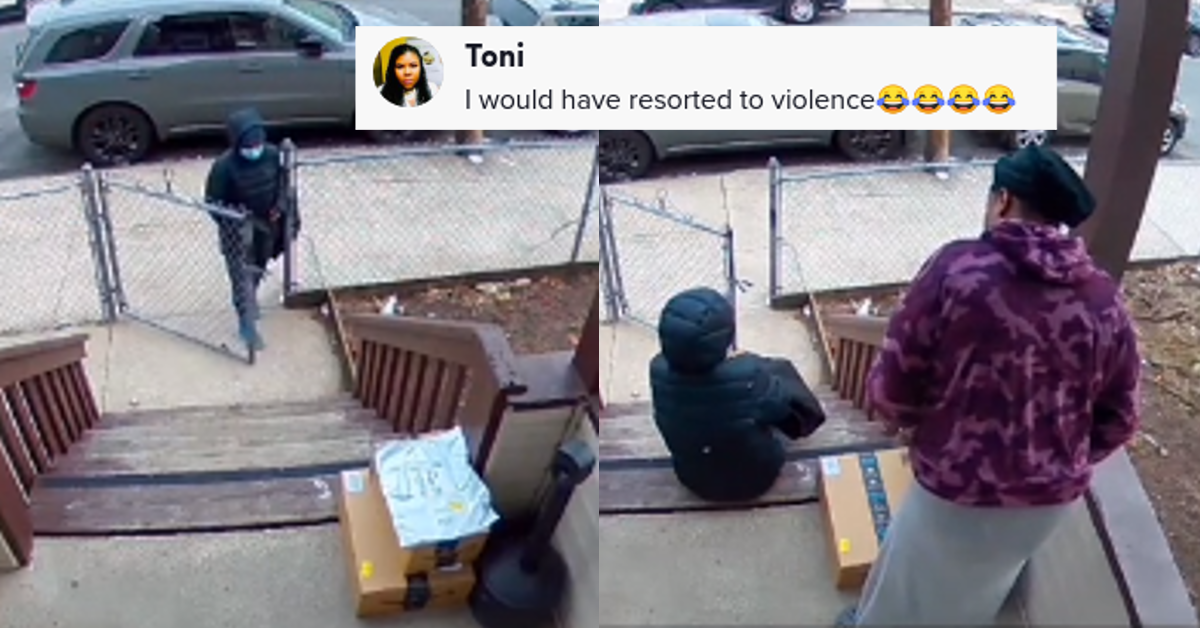 Homeowner Confronts Amazon Package Thief Who Waited for Delivery in Viral TikTok
Online shopping is ridiculously convenient and for those of us who are all old and crotchety and scratching our heads at each new social media application, fashion trend, and slang word that comes out, we have to wonder just how in the heck we managed to get all of our products in our homes before mega online retailers like Amazon made it so effortless to get pretty much anything we wanted delivered straight to our doorsteps.
Article continues below advertisement
Part of the reason why Amazon is so successful is because of its relatively quick turnaround time. The company's Prime membership made 2-day delivery a standard on many offerings and folks clearly don't mind paying a premium for the subscription, especially since it comes with access to a bunch of original shows and movies, along with licensed flicks that all come bundled with it.
And while Prime members ultimately do get to enjoy some perks over customers who aren't enrolled in the service, like super speedy customer service responses and a perceived willingness to refund or re-send products that may have not been delivered, there's one thing Prime can't stop and that's porch pirates, i.e. people who pilfer your paid goods right from your house.
Article continues below advertisement
Anyone who's ever been a victim of this can attest to how infuriating it is, which is probably why this TikToker's clip (@bendasyoupee) is going viral.
Article continues below advertisement

In the video, mere moments after an Amazon delivery driver drops off a package, you can see an individual walk to the person's front door with an empty canvas bag and begin to steal the products that the homeowner paid for.
Article continues below advertisement

What the thief didn't know is that there was someone home and they went outside to go and ask if they could help the thief, who stood there frozen. There's a tense moment between the two of them and the thief walks off with some of the items that they were able to steal.
Article continues below advertisement

The homeowner in the doorbell camera video, a woman, goes back inside with one of the boxes, as the thief makes off with her other goods. The original poster of the video said that they didn't realize the other products were stolen until well after the fact.
Article continues below advertisement

Some thought that the homeowner should've kicked the thief upside their head, while others said it could've been very easy to whack them in the cranium with a frying pan or call the police.
Article continues below advertisement

However, as it was discussed in the comments, the woman who came out of the house to accost the thief was pregnant and they weren't sure how the porch pirate would react. While those items could be replaced, any potential damage done to her or her unborn child may be irreversible.
Article continues below advertisement

How would you have handled discovering that someone brazenly, in broad daylight, was willing to stroll onto your property to steal something that you bought? Have you been a victim of delivery swiping in the past?
At least they had a doorbell camera to use as evidence for a refund, and to file a police report that'll hopefully help to stop this person from taking things that don't belong to them.