Instacart Driver Posts Receipts After Customer Tried to "Tip Bait" Her
An Instacart shopper rejected a customer's accusation that they didn't purchase all of the items in an order in a viral TikTok.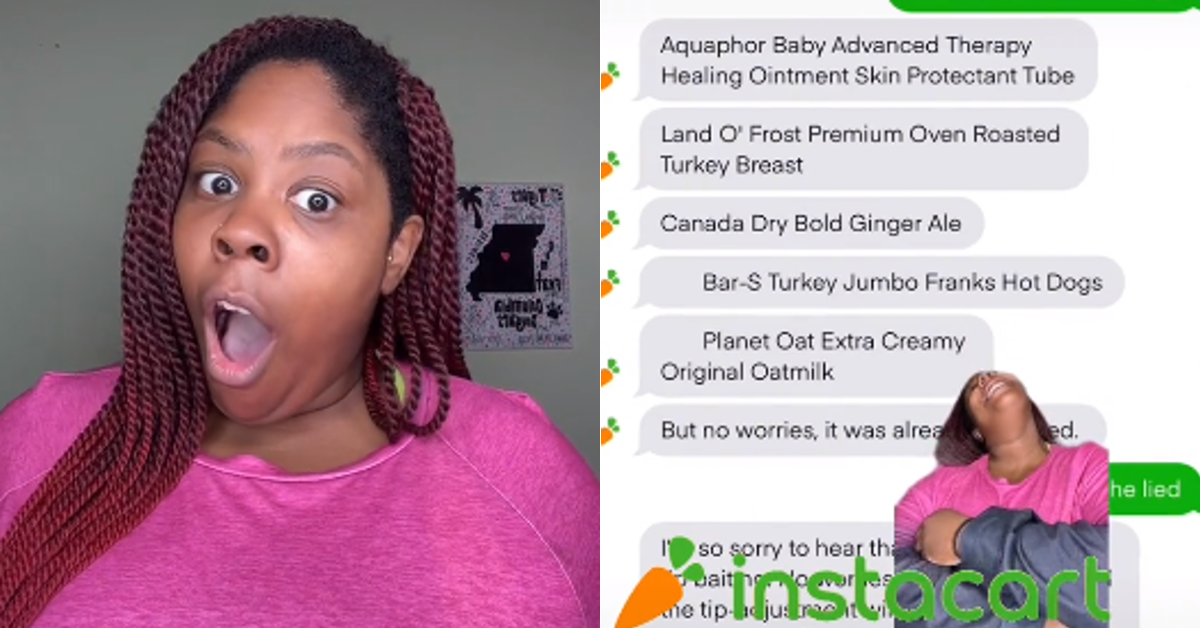 Working for delivery services like Postmates, Doordash, Instacart, etc. certainly has its ups and downs. Sure, it's nice that you're able to set your own hours and work whenever is convenient for you and take a break on your own schedule, or work a few extra hours when you want to secure additional dough, but there are some drawbacks.
Article continues below advertisement
Getting paid on these platforms is a mixed bag and between gas prices, traffic, and how much a customer tips, you could be breaking even for your time.
And sometimes, customers raise a stink about your job performance, getting you in trouble with the folks who run these applications. What's worse is that there are app users who will do this for the sole purpose of getting discounted/free stuff.
It's a nasty trend that is inconsiderate of the effects it has on the employee servicing the customer, but there are ways that workers can protect themselves from such allegations.
Like this one Instacart shopper, Emma Gibbs, who thankfully had the receipts from an order she completed.
Article continues below advertisement
In a now-viral TikTok clip, Emma relays a story about a customer who said that several items were missing from an order she was tasked with fulfilling.
"I get on the app and see that my money I made for the day had gone down, so I investigate," Emma says in the clip.
Article continues below advertisement
Emma reached out to Instacart customer service, who said that the user removed Emma's tip because several items that they asked for were not included in the order.
Article continues below advertisement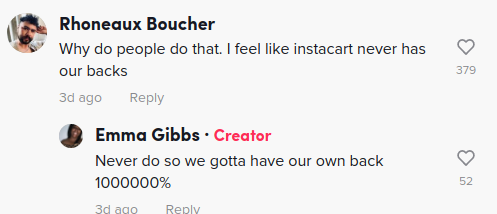 Emma thought this was strange because she did in fact deliver all of the products that the customer requested, and even provided time-stamp photos of the delivery proving that they were brought to the purchaser's doorstep.
Article continues below advertisement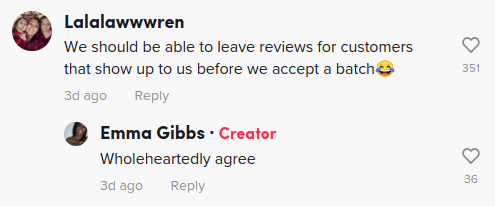 "You're lying for what? I don't get it, like why?" Emma says in the video.
Even though Emma showed photographic evidence of her delivering the products that the customer said were missing from the order, Instacart informed the TikToker that it couldn't give her the tip the customer rescinded.
Article continues below advertisement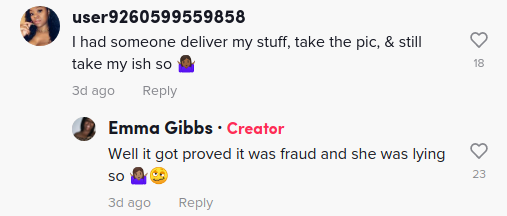 However, the application did say that it would take a gander into the customer's account and see if they did anything similar in the past. If this was a repeatable offense, then they would consider pausing/deactivating their Instacart privileges to protect other shoppers from going through the same thing.
Article continues below advertisement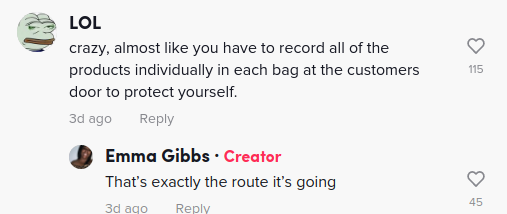 What's more is that the customer hit Emma with a 1-star review, which she says was removed in a follow-up video because Instacart's service team looked into the matter and discovered that her claims against the TikToker were fraudulent.
Article continues below advertisement

Tons of TikTokers expressed their disdain for customer shadiness while working for Instacart, some said that one feels the need to take photos of each product individually to protect themselves against behavior like this in the future, while others said that it seems like the application never takes the sides of the drivers.
Article continues below advertisement

Have you used Instacart before? What kind of experiences have you had with the app as either a shopper or customer?