TikToker Claims Amazon Driver Came Inside Her House While She Was Sleeping to Deliver Package
A TikToker was shocked to discover that an Amazon delivery driver had entered their home without their permission as they slept to delivery a package.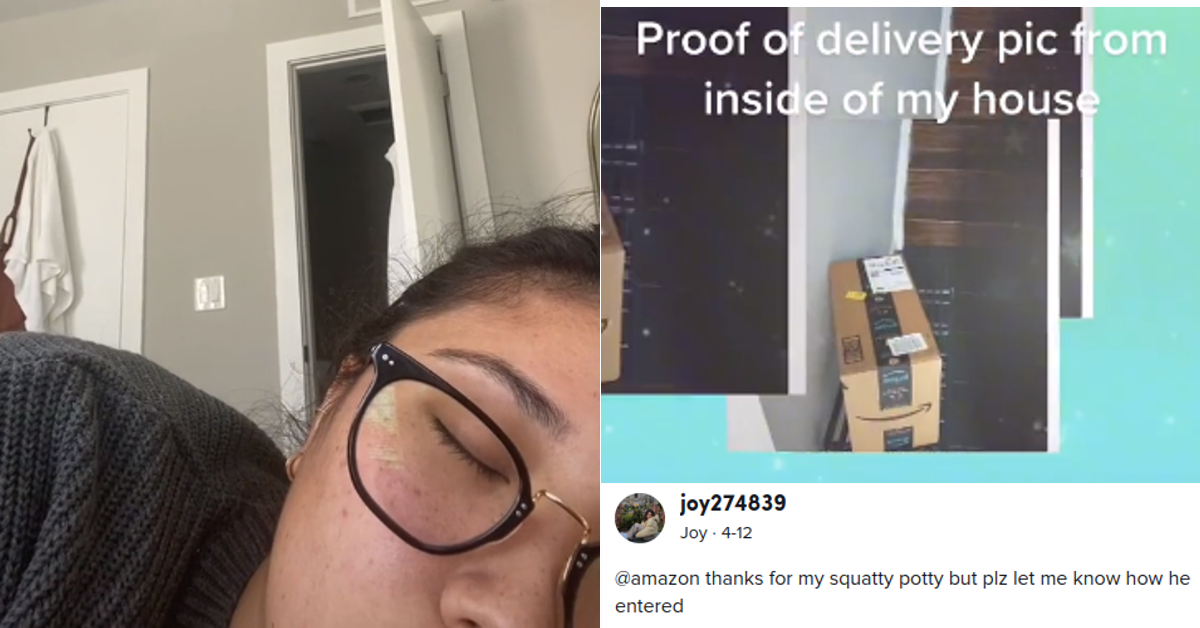 Working as a delivery driver, especially for a high-volume provider like Amazon can definitely be a nerve-wracking experience for employees. From having to cover shifts of co-workers after you've completed all of your deliveries, to coming across less-than-ideal home scenarios, like having to suss out a customer's apartment or walking through a complex or apartment leaving packages with a doorman or someone working the main lobby, there are tons of seemingly little obstacles that can add up and put a damper in your efficiency.
Article continues below advertisement
And different drivers deal with this in different ways. Sometimes, packages are delayed as a result and are delivered the following day, or they're held off to give to someone else on another shift.
But if someone's trying to hit their targets they may resort to some...other means of ensuring that a package is delivered.
Like what this TikToker claimed an Amazon delivery driver did as they were sleeping in their new apartment. Joy, who posts under the username @joy274839 posted a clip of them sleeping on camera with a text overlay that reads: "Me: sleeping peacefully in my new city apartment, having locked the doors before bed."
Article continues below advertisement
The video then transitions to an insert of a picture that shows an Amazon package waiting at the bottom of a staircase which the TikToker says is physically inside of her apartment.
Article continues below advertisement

This means that if the delivery driver chose to do so, they could've walked up into the TikToker's home. Not exactly a happy thought for someone who believes they are otherwise secure in their home.
Article continues below advertisement

She added additional text to the video, stating that the picture of the package at the bottom of the stairs was "proof of the delivery pic from inside my house."
Article continues below advertisement

Joy asked Amazon in the now-viral clip to tell her just how one of its employees had managed to gain access to the inside of her apartment, and it turns out that there were a lot of other commenters who had experienced similar situations.
Article continues below advertisement

One TikToker wrote that they heard someone enter their townhome and when they went to go and investigate, the Amazon delivery driver ran away. Another stated that a near-identical situation occurred to them and the employee "freaked out when he realized [they were] home."
Article continues below advertisement

Just by perusing the internet, there are other stories suggesting this Amazon delivery entry without permission is a global phenomenon. As per Mashable: "A homeowner in Bradenton, Fla. reported Monday that an Amazon delivery person entered his home without permission, setting off the alarm and leaving the door unlocked. A woman in Scotland had a package delivered directly to her living room sofa last July, even though all of her doors were locked."
Article continues below advertisement

What's worse is that there's even been stories of delivery drivers stealing other packages after delivering one of their own: "And last November, an Everett, Wash. couple witnessed (via security footage) a delivery driver stealing a UPS package off their porch after delivering one from Amazon."
Article continues below advertisement

Have you ever had an Amazon delivery driver enter your home without your say so? How would you react?