"Really Know How to Kill the Vibe" — Woman Criticizes American Tourists Abroad, Sparking Debate
A woman who criticized American tourists abroad while out to eat sparked a viral TikTok debate.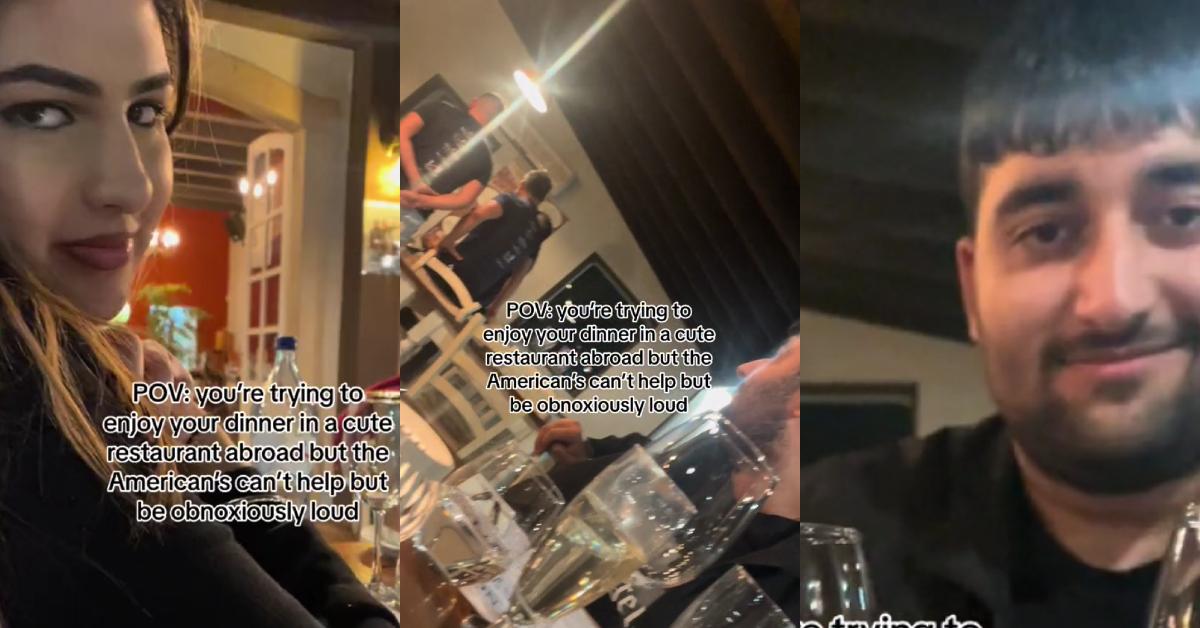 A TikToker's criticism about a party of Americans dining at a restaurant she visited abroad sparked a viral debate about traveling etiquette and things got pretty nationalistic pretty quickly.
Article continues below advertisement
The social media user, @jasm1nex0, went viral on the app, accruing over 3.8 million views and inspiring nearly 7,000 comments from throngs of folks who had a lot to say about the phenomenon of the "loud American," traveling abroad.
The TikToker's video begins on her face — she looks into the camera and then pans it over to a table of other guests, some seated, some standing a few feet away. The camera then turns to her dinner date's face, who looks deadpan into the camera: neither of them appear to be happy.
Article continues below advertisement
The man in the video shakes his head, signifying his dissatisfaction with the behavior of his fellow diners. The woman in the clip shakes her head as well, also unhappy with the way the evening is panning out and it looks like they're blaming the other restaurant guests.
Article continues below advertisement
That's because @jasm1nex0 writes in a caption for the clip: "Really know how to kill the vibe," and a text overlay pasted in the video further delineates she she means by this.
"POV: you're trying to enjoy your dinner in a cute restaurant abroad but the Americans can't help but be obnoxiously loud"
And judging from some of the comments penned by other users on the platform, there were other folks who weren't too keen on the ways that Americans act when they're overseas, either.
Article continues below advertisement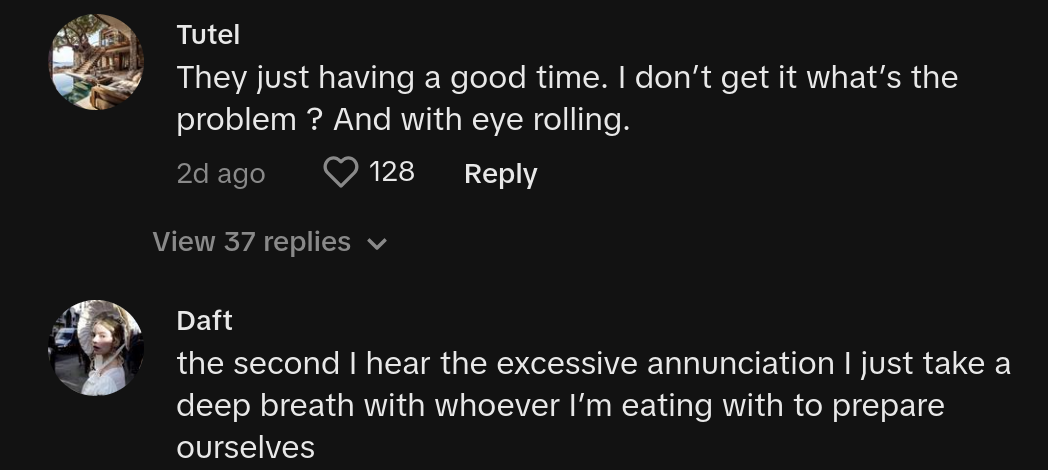 One wrote: "table of Americans at the restaurant ACROSS THE STREET were able to be heard above the music in the restaurant we were in," stating that they too had a bad time at a restaurant while abroad and citizens of the U-S-of-A were behind the bad times.
Article continues below advertisement
Someone else remarked: "as someone who works an international hotel reception...all the predujices are right. they are all true"
Another viewer echoed: "I can't imagine how loud it must be in Restaurants in America dude nah I couldn't eat in a loud atmosphere"
But there were another subset of commenters who thought that the TikToker and their dining partner recorded in the video were being overly judgmental and kind of stuck up.
Article continues below advertisement

"I mean you two look super fun," one commenter penned sarcastically.
Someone else quipped, "You guys would be so fun at a party," while another pointed out that even though the guy seated at the table in the video was shaking his head at the American guests, he certainly enjoys repping US cities on his clothing: "Funny how he's wearing a Los Angeles shirt tho."
Article continues below advertisement
One person penned that the loud ways can ruin tourist activities and vacations for some travelers: "Try being stuck on a canal boat with them for 2 hours while they ask the guide 100 questions and completely take over the whole tour"
Another commenter said that although the Americans they met abroad were loud, they ultimately ended up having a great time with them once they resolved to party: "Had this happen once years ago, joined them and had a blast!"
Article continues below advertisement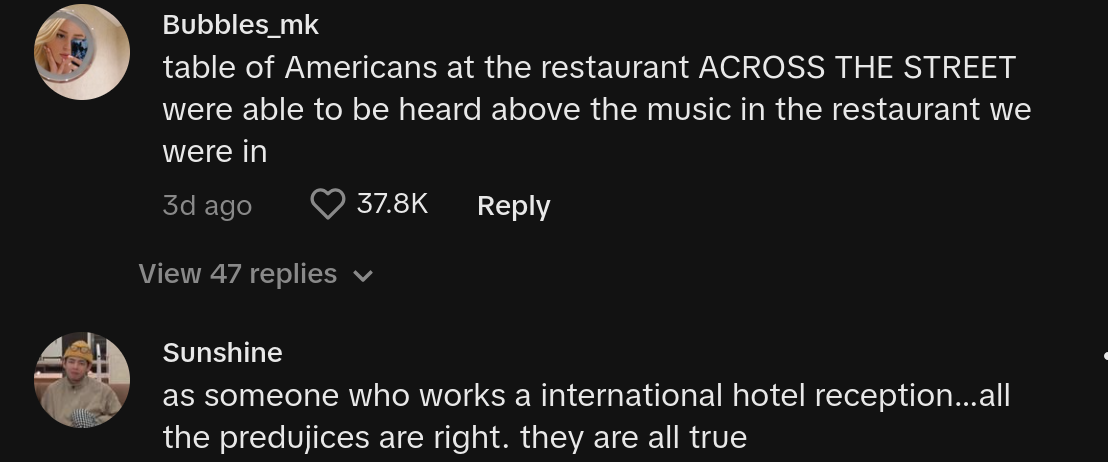 Which seemed to be a self-aware sentiment expressed by someone else who commented: "As an American, it's true, I am very loud but at least I am nice to everyone"
Article continues below advertisement