Groom-To-Be Takes Aim at American Weddings, Urges Couples to Reconsider Big Ceremonies
A groom-to-be called American weddings a rip off and strongly advocated for destination weddings in another country.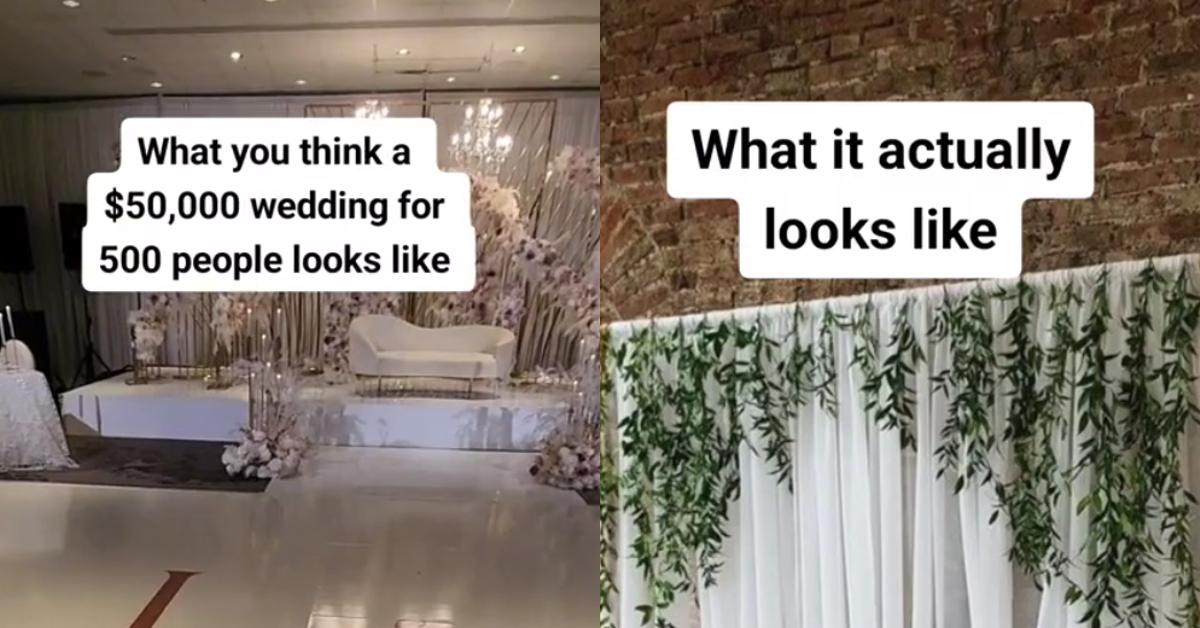 The wedding industry is an institution that preys on a universal dream that almost every single person has: and it's meeting the love of your life. But if you see a lot of married people walking around and talking about holy matrimony, it's hardly conveyed as the sexiest or most alluring relationship.
Article continues below advertisement
You see throngs of couples holding hands with one another out of begrudging acceptance and/or obligation, with their heads hung low or looking elsewhere at their surroundings. There's nothing exciting or sensual (usually) about the arguments married couples get into: they're usually bitter and filled with vitriol or passive-aggressive comments that'll have you looking for the exit door or wondering just what the heck is taking the waiter so long to bring the check.
But lots of people get married and want to throw a massive celebration of their relationship, even if they haven't met "the one," but they sure as heck are going to front as they did with the way they're tossing out centerpieces, catered cocktail hour delicacies, and an all-out celebration that they usually don't have the money for.
And this TikToker doesn't understand why so many people spend so much money on their weddings in the first place, even if the folks genuinely are in love.
Article continues below advertisement
@realbrandonfromvegas begins his clip with a stitched video posted by another user on the platform named Noha (@yegweddingplanner) who uploaded a video of a wedding budget "expectation vs reality." In the above video, Noha shows off what people think a down payment on a nice home in a good neighborhood will get them in a wedding, only to transition to a photo that looks like something someone set up on the side of an abandoned brick warehouse building in their town.
Article continues below advertisement
Brandon, in his clip, goes on to call American weddings a scam in his response to the clip: "American weddings are such a rip off if you're getting married in the next year you've got to hear this story."
Article continues below advertisement

He then relays a cautionary tale to everyone thinking about getting married in the rest of his video: "Last year we started looking at venues for a wedding and we realized it was 20, 25, 30 thousand dollars in America just to book the venue and get like cocktails and a few appetizers for people."
Article continues below advertisement

He continued, stating that other places in the world charge the same amount of money for way more luxurious options and accommodations, "We had just gotten back from Spain and so we kinda checked on some of the venues there and we realized we could an entire mansion with a vineyard, feed people breakfast, lunch, and dinner, with an open bar for the same price that American places were charging just for the venue."
Article continues below advertisement

"Y'all I'm telling you you think it's crazy but it's cheaper to get married outside of America than to get married here. And if you do a destination wedding you don't have to invite a bunch of bums that you don't want sucking up to your open bar. I got you."
Article continues below advertisement

One TikToker wrote that they "did a destination wedding and loved it," while another quipped, "I'd love a destination wedding but some of my family members won't be able to come back."
Article continues below advertisement

Other people shared their own ideas on how they saved money for their wedding: "My wife and I booked a rooftop bar for 50 of our friends and family and had the time of our lives. $800 rental, $4k for food, $2k decorations."
Someone else said they "married for free on the beach small amount of people, the venue was free. hired a taqueria they also made homemade ice cream and churros"
Article continues below advertisement

What do you think? Would you rather go to a banquet hall wedding or do you think that renting out a bar and getting food catered with some dope decorations is the way to go?