Amusement Park Worker Forced to Walk Up Roller Coaster Stairs to Enforce No Cell Phone Policy
An amusement park worker was seen walking the length of a roller coaster ride in stairs to take a guest's cell phone.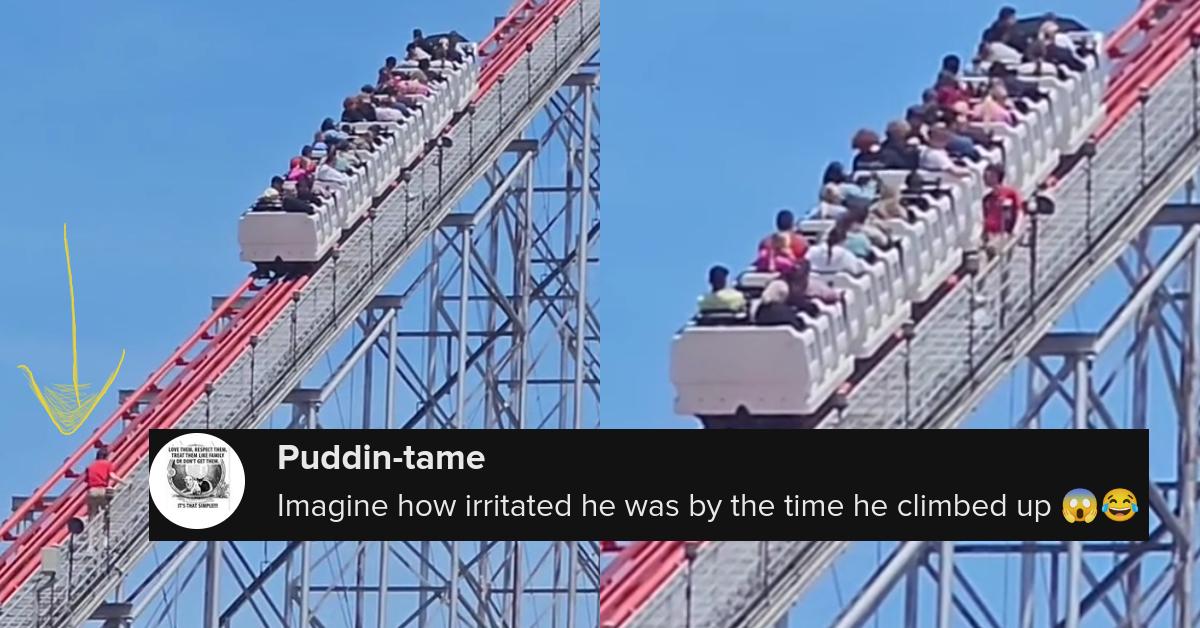 There are a number of amusement parks that have put the kibosh on guests bringing cell phones and recording devices onto certain rides and attractions.
Article continues below advertisement
The most cynical of us would probably assume it's so that they could potentially try and put people in the position where if they want a photo of their experience at the park, they'll have to fork over money for one of the candid screaming photos that park guests can see when the ride is over.
However, there is sensible logic behind banning smartphones on fast moving and high flying rides. Usually, any kind of loose items, like change in one's pocket, or jewelry that can fly off, or even hats are allowed on rides because they may whip off of someone's body in an instant.
Article continues below advertisement
Not only does this result in a guest losing a personal item probably forever, but it could become a major safety hazard for other guests. If the item gets lodged in the track it could cause a Final Destination-esque scenario.
Of course, there are plenty of videos on social media that show folks get away sometimes with bringing their smartphones on to roller coasters, but this amusement park employee wasn't having it.
Article continues below advertisement
TikToker @davidhi5066 uploaded a video of a stopped roller coaster Cedar Point amusement park in Sandusky Ohio, walking up a long stretch of service stairs beside the coaster.
Article continues below advertisement
The ride appears to have stopped somewhere at the Midway point of the initial ascent of the coaster, and the TikTok user who uploaded the video wrote when a caption for it: "They stopped the ride roller-coaster to take someone's phone"
Sure enough, after the employee reaches the park guesting question, they tell them to hand over the phone, and the individual obliges.
Article continues below advertisement
Upon receiving the device, they begin their descent back down the numerous stairs and the video cuts out before there's any sign of him reaching the bottom.

Article continues below advertisement
Several commenters who saw the video where shocked at the links to which the employee went through to retrieve the guests cell phone: "Y'all pls be nice to these ride operators especially Cedar Point they really be in the sun, heat, dealing with crazy guests for 17hours daily."
Another remarked that they could only imagine how frustrated the employee must have been to walk all of those stairs: "Imagine how irritated he was by the time he climbed up"
Article continues below advertisement
Someone else said that during their own visits to Cedar Point amusement park they've seen this same exact thing occur : "I was on a couple rides at cedar point that that has happened"

Article continues below advertisement
And while it may seem like overkill for a park employee to completely shut down a ride, presumably on a day when there are tons of guests waiting for their turn to enjoy a roller coaster or two, there have been reports of folks being seriously injured by cell phones on amusement park attractions.
In 2016 the outlet Great American Thrills wrote about a Six Flags Great Adventure guest who was smashed by a flying cell phone while riding El Toro in the Jackson Township, N.J. theme park.
Article continues below advertisement

It's also not uncommon to spot cracked and broken cell phones on the ground beneath a roller coaster from guests whodidn't properly secure them prior to the ride starting.