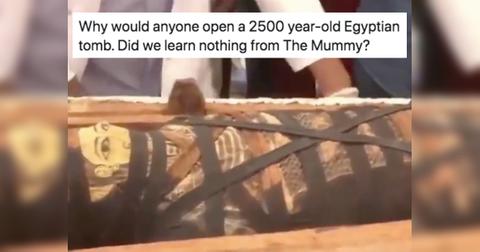 A 2,500-Year-Old Egyptian Tomb Was Just Opened and People Are Terrified It's Unleashed a Curse
By Robin Zlotnick

Oct. 6 2020, Published 4:20 p.m. ET
Have we learned nothing from the multiple movies about mummies being exhumed? It never ends well. But recently, a trove of at least 59 2,500-year-old Ancient Egyptian tombs was discovered in Saqqara, one of the centers of ancient Egyptian life. And what did the researchers decided to do? Well, they decided to open one of the tombs. 
Article continues below advertisement
The video of the tomb being opened is pretty freaking cool. I'll admit that. But it went viral not because it's awesome but because people are jokingly (kind of) concerned that opening an ancient tomb in the middle of the Dumpster fire of a year that is 2020 might not be the best idea. Of course, the jokes ensued.
Actor Josh Gad has seen the movies. He gets it. 2020 is bad enough as it is. We don't need any other nonsense headed our way. We're full up on nonsense for this year.
Article continues below advertisement
This is way too accurate. We know that we're already in the midst of the apocalypse. We've got fires, storms, plagues, and more. We don't need the curse of a mummy who really didn't want to be disturbed on top of the rest of it.
I pretty much sing this to myself all day long. Sometimes it's about 2,500-year-old mummies being discovered and sometimes it's about the socks my dog steals and runs around the house with. But this Monsters Inc. refrain lives in my brain pretty constantly.
Article continues below advertisement
I mean, at this point, a mummy's curse is just the sour-cream icing on the turd cake that is 2020. At this rate, we might as well be playing with genetic sequencing to turn birds back into dinosaurs and growing super algae that can dissolve cars.

— Chris Hanson (@CPH2009) October 5, 2020
Chris is kind of right. 2020 has thrown everything at us. Why not a mummy's curse? It wouldn't even be shocking at this point. 
It's truly baffling that they've made like five different Mummy movies and we are still opening tombs willy-nilly as if that's a good thing to do. The one silver lining in all this craziness is that the story of the actual tomb being opened went so viral and reminded so many people of the Mummy movies that Brendan Fraser also started trending and people just started talking about how he is a national treasure.
Article continues below advertisement
I like how the first thing people think of when news breaks of a mummy tomb being opened is The Mummy with Brendan Fraser. Just goes to show you how fantastic the 1999 movie was.

— Jamin 🃏 (@GhostShady_) October 5, 2020
Because he is. Brendan Fraser is incredible, the original Mummy movie is fantastic, and Brendan Fraser deserves to be trending all the time in our hearts and minds. It's great that he popped up on the trending list. I think we should make celebrating Brendan Fraser a regular thing.
Remember that mummy who's tomb got opened last year and we all laughed about how we're we're gonna be cursed? Well pic.twitter.com/AAwnhH6VZF

— Hitch aka Mr. Anti Pipsqueaks (@yeeshmasterlil) October 5, 2020
Remember how they opened a bunch of tombs last year? It happened! In October 2019! And what happened in early 2020? Global pandemic. Coincidence? I mean, probably, but still. While most people found jokes to make about the opening of the Ancient Egyptian tomb, some weren't so quick to find humor in it.
Article continues below advertisement
Can you imagine if people from a foreign land tried to come to America dig up George Washington or Thomas Jefferson's grave, and put their bodies on display in their museums? There would be outrage like we've never seen before.

This has never, and will never sit right with me. https://t.co/wfch9gn2Ix

— Miles Morales (@ThatsJustMC) October 5, 2020
This viral tweet was one among many that criticized the joking about "curses" and instead focused on the idea that this digging up of old tombs is disrespectful to the highest degree. This person claimed that "people from a foreign land" came to dig up these ancient mummies. Even though this tweet has nearly 400,000 likes, several people stepped in to correct him because he wasn't quite accurate about some details.
Hey, Egyptian here. I understand what you're saying but moments like this are of great pride for us. This showcases what Egyptians accomplished thousands of years ago. Mummies are treated with utmost respect in Egypt, while their tombs help us understand more about our history

— Sarah I (@Flutter_ish) October 6, 2020
An Egyptian person stepped in to say that not only did Egyptians discover and open these tombs, but that "moments like this are of great pride" for them. Ancient Egypt, we all learn in middle school, was an incredibly special and advanced civilization. It's not disrespectful to want to learn everything they can about their own ancestors. 
"Excavating mummies has both cultural and archaeological significance in the Egyptian world," one person wrote. The discovery of 59 previously undiscovered and unopened tombs is amazing, and I hope and predict that there will be a lot to learn from them.