Did Andrew Cuomo Pierce His Right Nipple Before Watching 'Tiger King' or After?
Photos of New York State Governor Andrew Cuomo rocking a white polo with no shirt on underneath strongly suggests he's got a pierced nipple. Details.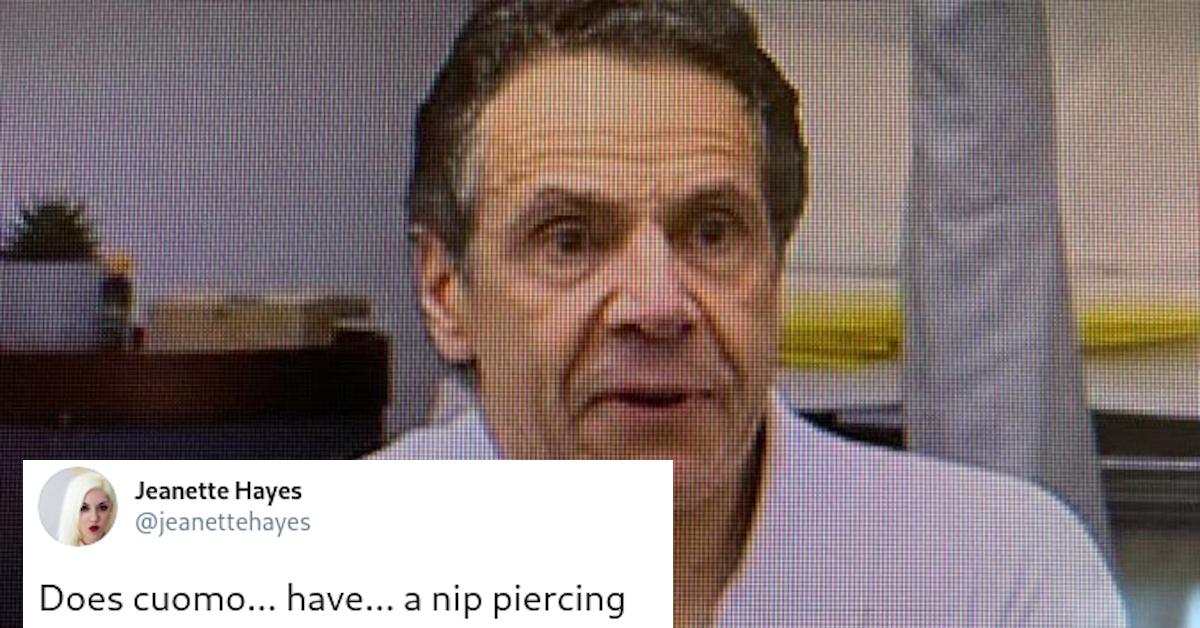 New Yorkers have seen a lot of Governor Andrew Cuomo's face on TV recently ever since NYC has become the epicenter of the coronavirus pandemic in America. With a higher concentration of cases and fatalities than any other spot in the country, New York is being looked to as the archetype for how others should (and shouldn't, in some cases) treat the panic surrounding COVID-19.
But an unlikely story has arisen from Cuomo's numerous appearances: a nipple piercing.
Article continues below advertisement
Some people think Governor Andrew Cuomo might have a... nipple piercing.
During one of his numerous appearances addressing how the state plans on tackling the spread of COVID-19, Andrew rocked a white polo with no undershirt on underneath. However, folks noticed a disparity in the nipple action peeking out from under the cloth between Right Cuomo Nip and Left Cuomo Nip: namely that the Governor's right nipple appears to be pierced.
Article continues below advertisement
Several folks have taken screenshots of Cuomo rocking the white polo and pretty much everyone is convinced that the man enjoys a little hardware on his mammary gland.
It definitely does look like there's a stud going through his flesh, but maybe it could be something else? Maybe it's an unusually pointy right nipple? Or maybe it's a third one that just happened to get half formed near his dominant nip?
Article continues below advertisement
In order for us to get to the bottom of this, let's ascertain just what kind of nipple ring Cuomo's rocking. I'm thinking it's the kind that looks like a tiny old-timey strongman barbell. Similar to the one this hirsute individual has on his nip.
Article continues below advertisement
I know what you're thinking, OK, the only way to truly know whether or not Cuomo has a nipple ring (because it's not like you're going to bring it up to him in a press conference, but given the state of politics today I wouldn't be surprised) is to see another person with a similar ring rocking a white shirt, and then comparing the two.
May I present to you: exhibit B.
Article continues below advertisement
I think it's safe to assume that the N.Y. State Governor is indeed rocking a nipple ring on his right pectoral.
People on Twitter didn't seem too perturbed by it, and why should they? If the guy wants his nips to pick up SIRIUS XM, then let him go nuts with piercings.
What folks also had a field day with, however, were the size of Cuomo's hands, something that his younger brother roasted him for on a live TV broadcast.
Article continues below advertisement
There were some Twitter users who didn't want to be privy to the fact Andrew Cuomo was sporting a nipple ring, while others didn't think he had a ring on at all. Just that his nipples were so pointy from constantly being on edge about having to deal with the coronavirus outbreak.
Article continues below advertisement
What do you think? Is Cuomo really rocking a nipple ring? Or is there some other explanation for that little bump on his lower chest conspicuously right by the nipple area?