These Are the Best Villager Catchphrases on 'Animal Crossing'
Some villagers' catchphrases on 'Animal Crossing' are inspired. Here are the best, and how you can change a catchphrase if you don't like it.
Though there are technically only eight personality types in the game, each villager on Animal Crossing: New Horizons has a distinct sense of style and aesthetic, along with a catchphrase that's unique to them. Some of them are pretty annoying, while others are so cute or funny, we may just adopt them ourselves in real life.
Here are some of the best Animal Crossing catchphrases among the most beloved villagers in the game — plus how to change a villager's catchphrase if you hate it or just want a change.
Article continues below advertisement
Here are the best 'Animal Crossing' catchphrases:
Bertha — "Bloop": Even though Bertha the hippo is not a snooty personality type, which is the most typical type to get mean and petty, we like to imagine she is saying this in the Nene Leakes way that implies the sound of a big turd hitting the toilet.
Broccolo — "eat it": So rude! I'm not sure if the game designers even know how rude this is! But Broccolo the mouse probably doesn't mean it the way most people do when they say "eat it."
Dom — "indeedaroo": I don't know why Dom the sheep is so endearing, but something about his chipper catchphrase and his rainbow hippie vibe makes him a beloved character.
Article continues below advertisement
Gaston — "mon chou": Look, the French Animal Crossing characters have the best catchphrases. I don't make up the rules. But the direct translation of this French pet name is "my cabbage," which is just the cutest.
Jacques —"zut alors": See? French catchphrases are just the best. Jacques the bird is low-key insufferable but we love his catchphrase, which is basically French for "darn it!"
Marina — "blurp": The sweeter side of "bloop," we love this one simply because it's so awkward and sweet, just like our favorite octopus.
Moose — "shorty": We like to picture this mouse as an early 2000s rapper flirting with us when he calls us "shorty."
Octavian — "sucker": This cranky octopus's catchphrase works on multiple levels. It matches his surly demeanor, plus he's an octopus so it's also a cute reference to his appendages!
Rory — "capital": Even though he's a jock personality type, we love that this lion is walking around with a catchphrase that makes him sound like a blue-blood aristocrat from the 1920s.
Article continues below advertisement
Sherb — "bawwww": Sherb sounds like what you'd expect a bashful goat to sound like if you told him how cute he is. So basically this is the perfect catchphrase for Sherb.
Soleil — "tarnation": This snooty hamster walks around sounding like Foghorn Leghorn and we wouldn't have it any other way.
Stinky — "GAHHHH": The sound of someone constantly surprised and scared, this cat sounds a little high-strung, sure, but we relate.
Vladimir — "nyet": Vladimir's name and contrary catchphrase make you wonder about his backstory. Where did this cranky Russian bear cub come from? Was he in the Moscow Circus until he defected to this deserted island?
Article continues below advertisement
Don't like your villagers' catchphrase? You can change it.
While not every villager comes with such an endearing pattern of speech, you do have some control over what they say. After you get to know your neighbors a little better by talking to them every day, they will eventually approach you for advice on whether to keep or change their catchphrase. When they do, indicate with your response that it might be time for a change, and then you can type whatever phrase you want them to say —as long as it isn't obscene; this is a kids' game.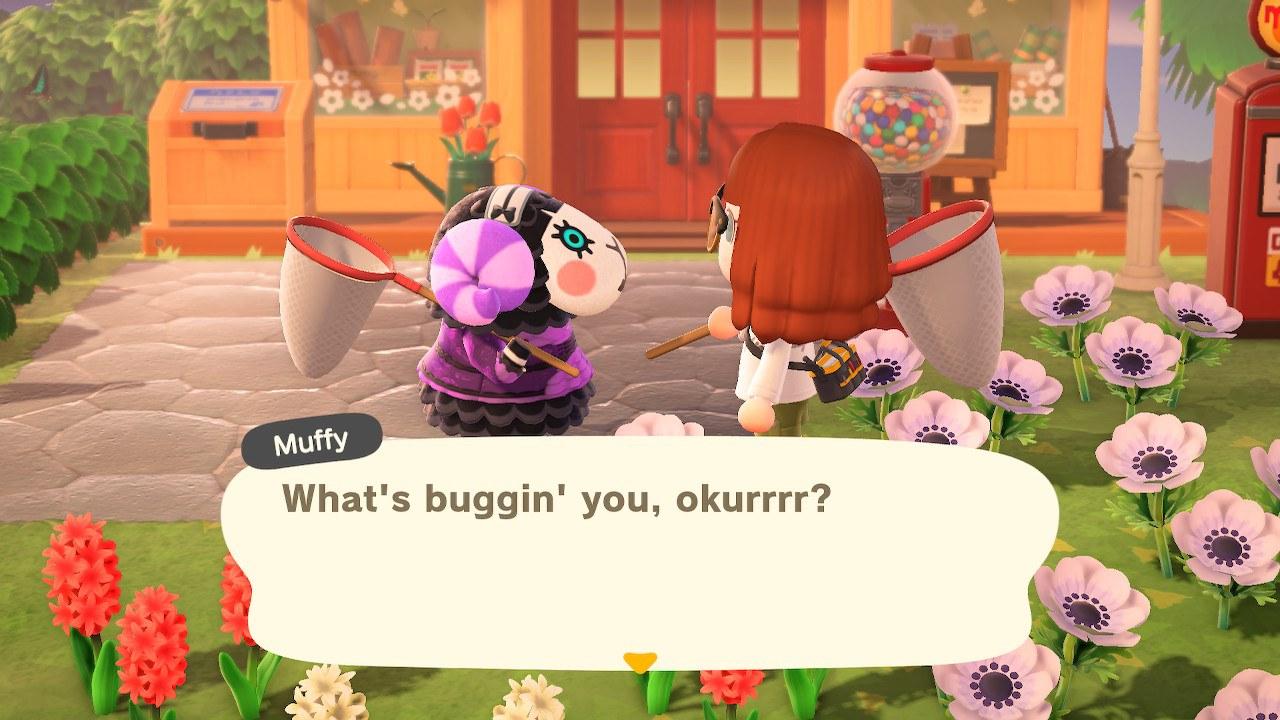 Article continues below advertisement
After a while, you may start to notice that, like slang tends to do in real life, your villagers' catchphrases will spread among other villagers, so choose wisely. Right now half my villagers are saying "okurrr?" like Cardi B and it's getting a little tired.
You can also change the nicknames your villagers use for you in a similar manner. Villagers will ask if they could call you something other than the nickname they started calling you by at the start. But just as in real life, you can't make up your own nickname. They'll float their idea for what they'd like to start calling you, and you can either say that's fine or that you'd prefer they didn't call you that. Be careful before you say yes, though, because after a while other villagers will start calling you that, too.