The former art director for Nine Inch Nails, Rob Sheridan, shared a story in a series of tweets to honor tech retailer ThinkGeek shutting down its business. The company managed to create the most annoying prank device of all time, called the Annoy-a-Tron.
This is the story of Rob and the NIN team using it to infuriate their tour manager at the time.
1. When you're traveling on the road with a major rock band, it's a high stress situation.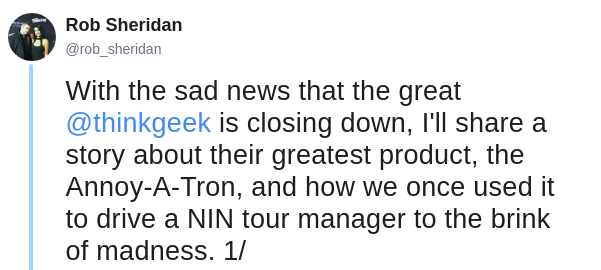 It's only normal to want to blow off some steam as a group. Which includes playing some light-hearted pranks on one another.
2. The best pranks and gags are the ones that make you question your sanity.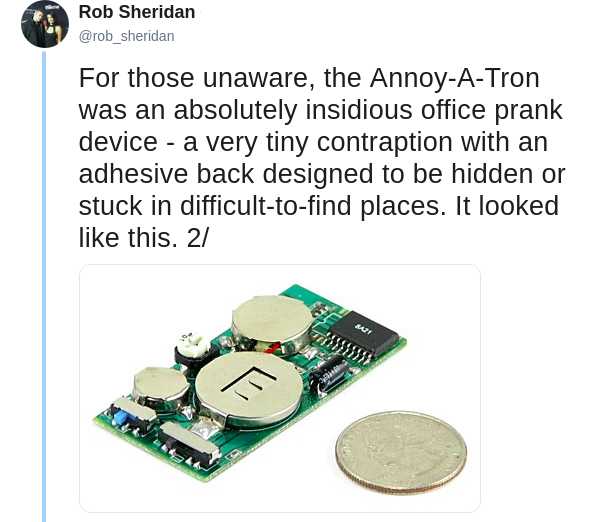 And the Annoy-A-Tron is the kind of device that's been designed to do precisely that. Look at how small it is, when compared to a quarter.
3. It's perfect for inconspicuousness.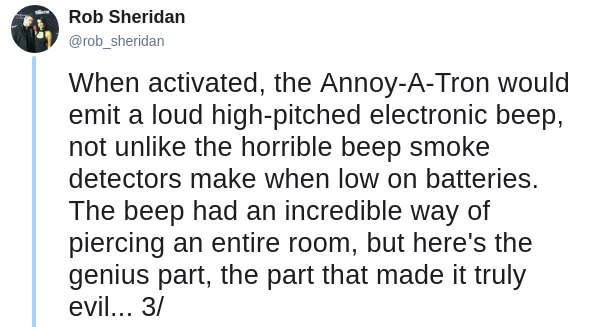 And for annoying the ever-loving crap out of anyone it comes into contact with. And while its piercing "beeping" noise is enough to grind anyone's gears, that's not the best part.
4. No, the best part is that there's no method to its madness.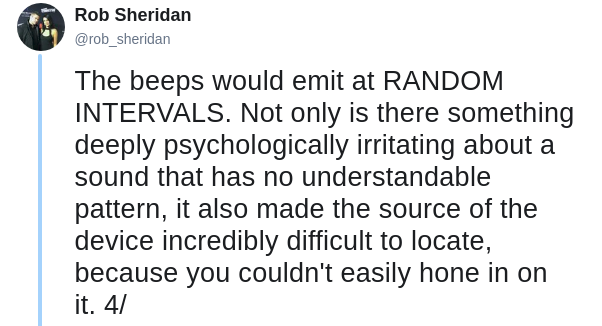 It's real genius lies in the utter random way the beeps go off and the fact that it's been programmed to emit at a frequency that's difficult to pinpoint.
5. Which means murder for anyone trying to disable it.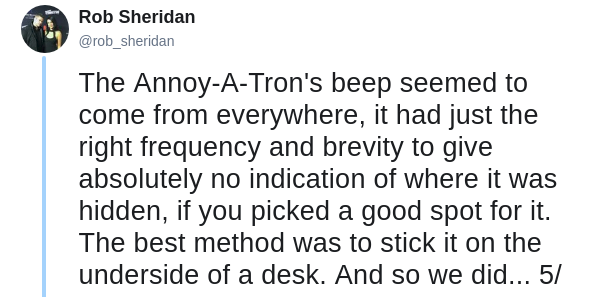 So let's say this bad boy is in a room that you're working in for hours at end, finding the source of the beep would be a very, very tall order.
6. Rob and co. decided that their target would be J.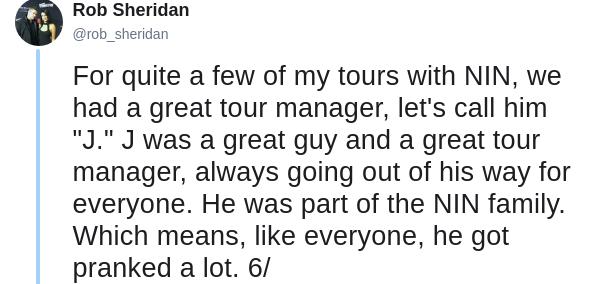 J, like everyone else a part of the Nine Inch Nails tour group got his fair share of pranks pulled on him, but there's a limit to someone in his position can be pranked.
7. The tour manager isn't someone to be trifled with.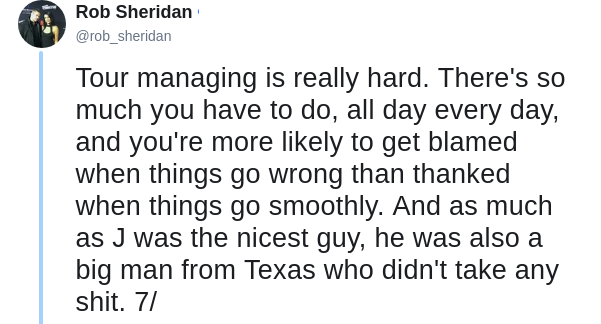 They basically hold your entire life in their hands while you're traveling. Your room, your meals. Your per diems. It also didn't help that J was a no-nonsense Texan.
8. You don't want to anger J too much.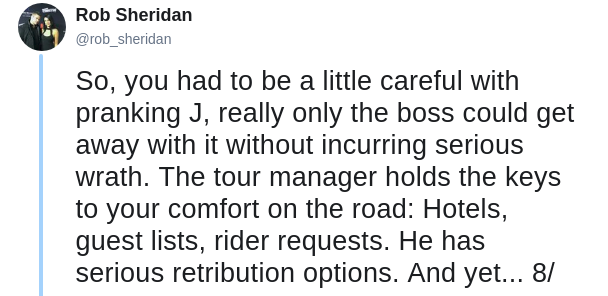 So this story has all the makings for an utter disaster, because J is the kind of dude that doesn't take too kindly to being enraged, it seems like.
9. So Rob purchased himself an Annoy-A-Tron.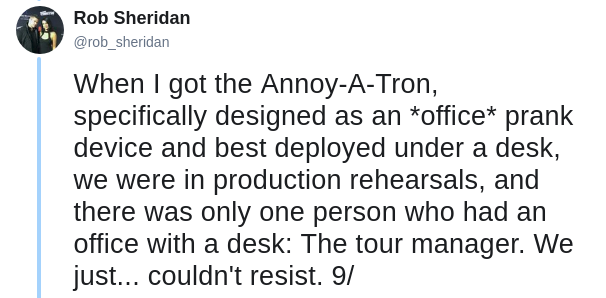 He immediately began devising ways to subject J to its madness, mostly because the nature of J's job lent itself perfectly to polluting his work environment with annoying intermittent noises.
10. A ruse was quickly employed.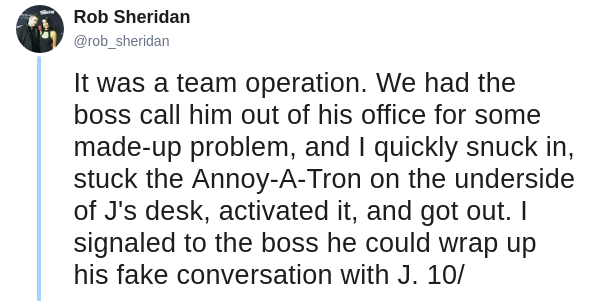 After drawing J away from his desk long enough, Rob went into his office and then placed the Annoy-a-Tron underneath his desk and then everyone just waited to see how it would unfold.
11. The prank worked.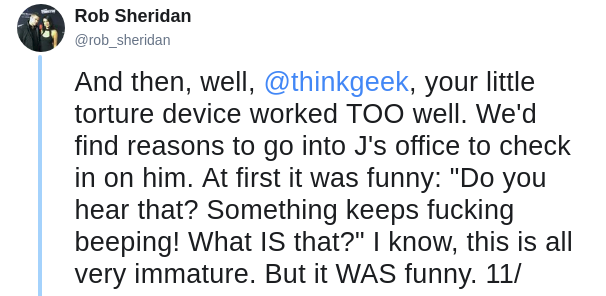 In fact, it worked too well. Of course, Rob knows that engaging in such tomfoolery is a little immature, but he and the rest of the NIN family just couldn't resist pulling the prank off.
12. It didn't take long for it to escalate to uncomfortable levels.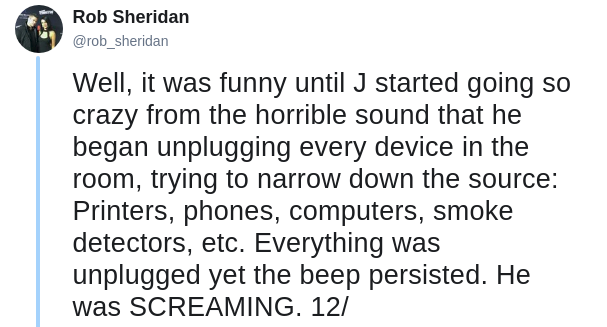 After hearing the beep over and over again, J was flipping out and screaming trying to find the source of the annoying beep.
13. It's bad enough the guy had a stressful job.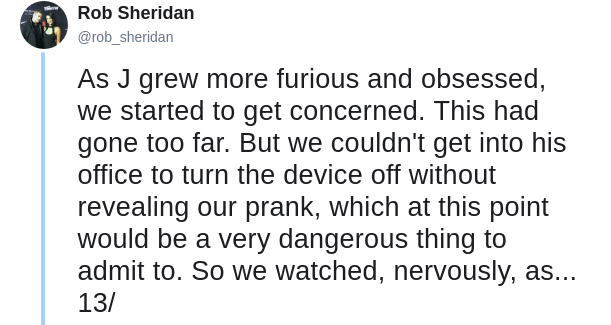 It requires a ton of concentration and balancing a lot of plates simultaneously. So to have a harsh, grating beep interrupt your every thought isn't exactly a fun workplace atmosphere.
14. He started tearing everything out of the office.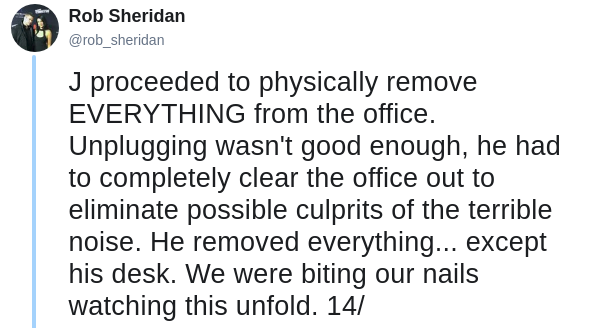 It was a frantic, rage-induced frenzy that saw J going wild to extricate the source of the beep from his work space. Things got scary very quickly.
15. He nearly cleared everything out.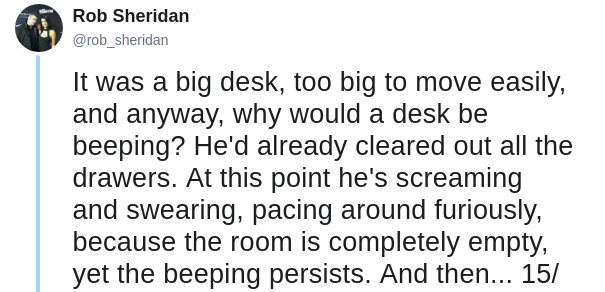 It never dawned on him to actually check the bottom of the desk, but in J's defense and by Rob's own admission, why would a desk beep intermittently?
16. J then turned his sights to the ceiling.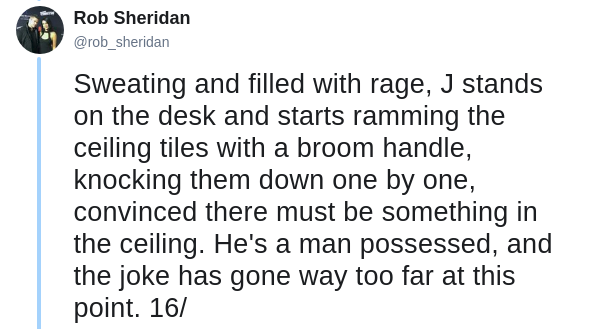 It became clear to Rob that he needed to find a way to pull the plug, but how was he going to put a stop to the beeping and the madness without suffering the rage of J?
17. Cue another fake problem.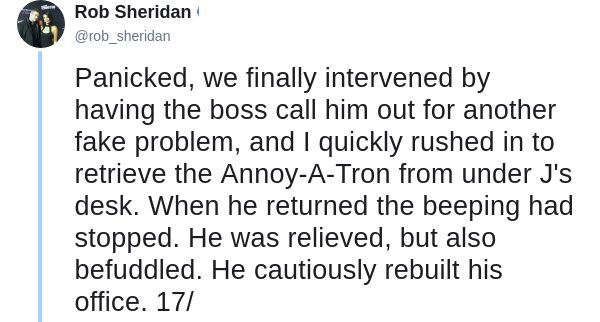 With J out of the office, Rob swooped in what I'm assuming was a panic and he retrieved the Annoy-a-Tron from under his desk. After J returned, he was happy that the beeping stopped and he began putting all of the items he removed from his office back into place.
18. Everyone agreed that telling J would be a bad idea.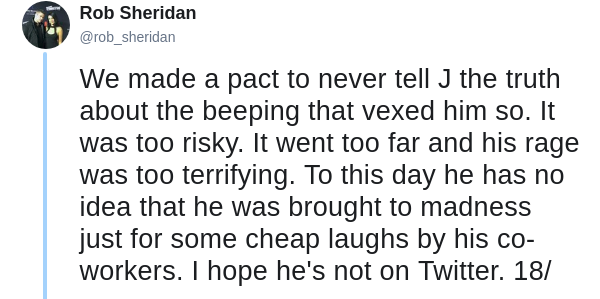 To this day, Rob seemed cautious about sharing the story online, but he felt it was necessary to give props to ThinkGeek. The retailer is closing after all.
19. Also, it's not like J was a prank saint either.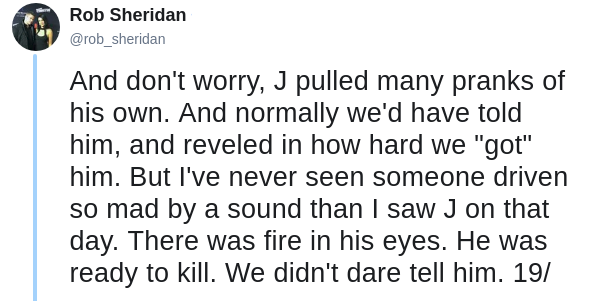 But it didn't matter, he was so angry that there was a "fire in his eyes" that struck fear into the hearts of everyone in on the gag. It'd be suicide to tell the guy that such an annoying prank was pulled on him.
20. Rob ended his story with a huge thank you to the retailer.

What Rob may have not counted on was the fact that his little story was going to go viral. Twitter added it to its "Moments" section, and well...
21. It's safe to say that Rob is very, very scared J now knows the truth.

Here's hoping the tour manager from Texas can find it in his heart to forgive him. Either that or Rob is going to wake up in his house one day with an annoying beep emanating from different rooms, without any idea as to how to stop it.