Tenant Pays $70 a Month for Trash Valet, Gets Told Normal Sized Garbage Bag Is "Oversized"
A tenant vented his frustrations about his apartment building's trash valet's service for claiming his garbage was was "oversized."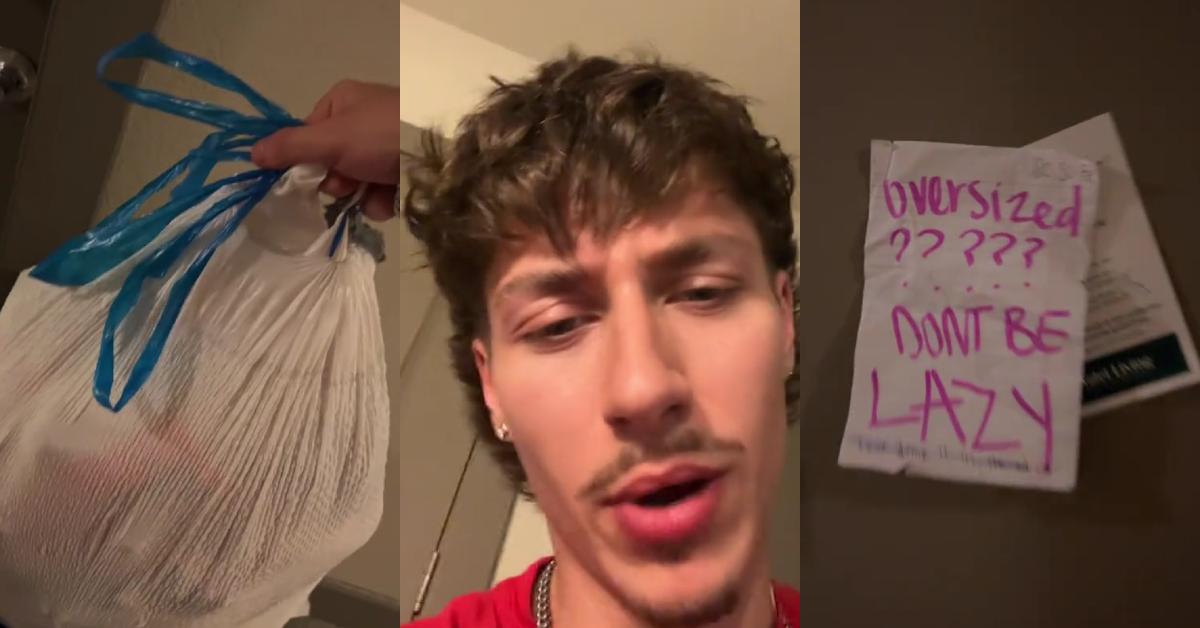 A tenant who pays $70 per month for a "trash valet" service was shocked to see that his garbage wasn't picked up by building management due to it being "oversized."
Article continues below advertisement
"I live in an apartment and one of the amenities is that a person comes around and picks up our trash every day, you just gotta make sure that the bag is not ripped and that the trash can closes, you know that you keep it out at a certain time and pick it up on time too."
Article continues below advertisement
At this point in the video, the TikToker goes to the front door and shows a notice that's been taped onto it, delineating his problem with the $70/month service in his building.
Article continues below advertisement
"These people...you see that? That is a note telling me that my trash bag was oversized. Oversized? Don't be lazy, look at this."
He then flips the camera around and heads on over to his trash can in order to show what he was attempting to get thrown out.
He cracks open the trash can, showing a neatly tied plastic bag that fits perfectly inside the bin: "Are you kidding? Oversized? Like a slight push of the trash and its out? Oversized?" he exclaims while gesturing towards the bin.
Article continues below advertisement

Gage appears to have posted a note of his own: in large red marker, he pasted a note that reads: "Don't be lazy bro," that he left for the building employee to see when they come around again to take out his trash.
Article continues below advertisement
One TikTok user who replied to Gage's post said that this was an issue they came across during their experiences with "valet living," writing: "Valet living is such a joke, the person that did mine would drag bags down 4 flights of stairs and the stairs started molding"
Another seemed to sympathize with Gage's frustration, pointing out that he went through extra lengths to ensure that the trash in question was as easy as it could be for the individual to throw out: "You even double bagged it for them"
Article continues below advertisement

Someone else said that they, too, had problems with building management doing their job at their own complex: "they would kick my trash over and then say 'it was knocked over' but my neighbor caught them on accident punting my trash can."
Article continues below advertisement
The hate against trash valet services just kept piling up, however: "Hated trash valet. Ended up taking it myself cause I didn't wanna wait for them," another TikToker wrote.
Someone else remarked: "Valet wouldn't take my recycling once because it wasn't in a plastic bag," while another penned: "i have this same issue with valet living. my bag was literally not even full and they did not pick it up"
Article continues below advertisement

Perhaps one of the more infuriating anecdotes about the service in response to Gage's video was a tenant who claimed that at their building they were constantly not getting their trash picked up by valet services, but were told by management that they had to keep paying for it regardless.
Article continues below advertisement
"No my last place would constantly leave the notices saying it was too heavy but they wouldn't let me opt out of it so I had to pay $25 a month," they wrote.

Article continues below advertisement
And another person, who said that they work in trash valet services, also seemed shocked by the "laziness" of the employee, mentioning that at the building they work with it's their job to get rid of the garbage regardless of its shape, size, and weight.
"damn at my job we had to pick it up no matter what lol they gave us a little cart"
Have you ever had an issue with valet services at the property you lived at? Do you think Gage was right to be upset? Or, after looking at the trash bag he presented in the video, can understand why someone wouldn't want to pick it up?