"That's a Vow to Remember" — Hornet Flies Into Woman's Wedding Dress During Her Vows
While in the middle of her vows, a woman starts to panic because a hornet flew down into her wedding dress. Read on for the full story.
Although we all want our wedding day to be perfect, chaos is bound to happen. However, no one could've prepared this lovely bride for the disaster that occurred in the middle of her vows.
Article continues below advertisement
In a viral video shared by TikTok user @frassetto_films, a hornet unexpectedly flies down into this woman's wedding dress during her vows. Keep reading to hear how this terrifying situation ends!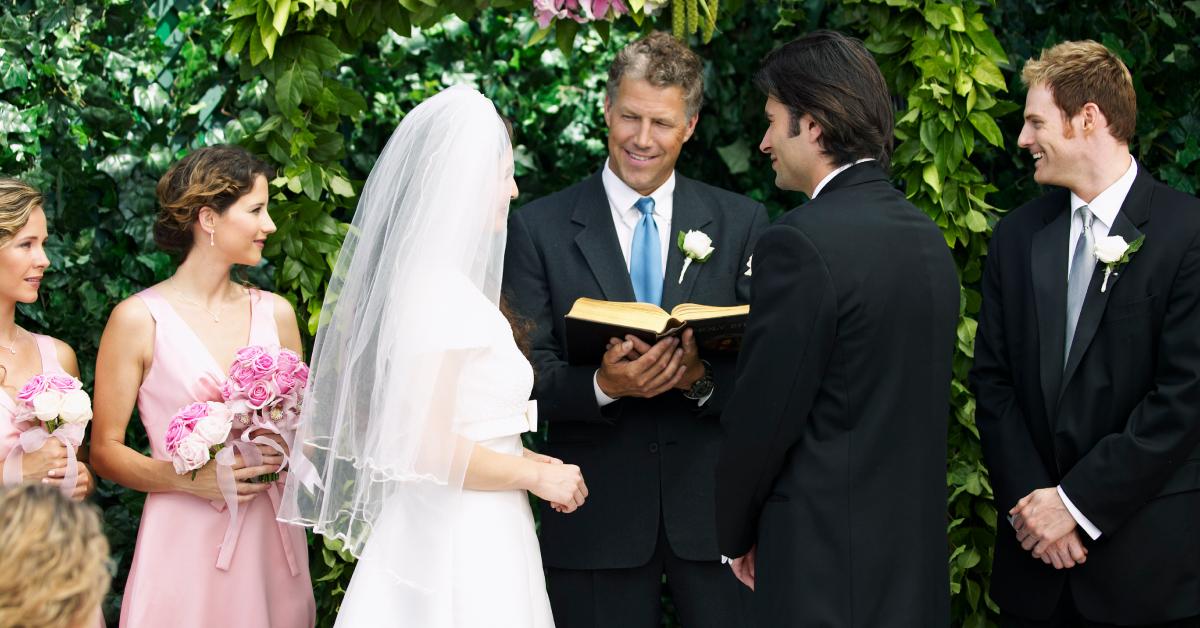 Article continues below advertisement
A hornet flies into a woman's wedding dress during her vows.
While reciting her vows, the bride, Haley, starts tugging on the back of her dress. She nervously giggles and gives her future husband, Austin, an uneasy look. Eventually, the wedding is put on pause because one of the bridesmaids sees that a massive hornet found its way inside Haley's dress.
Austin and the bridesmaid quickly start to unbutton the dress, and everyone tries to lighten the mood to ease Haley's nerves. One of her other bridesmaids said, "Honeymoon's coming a little early ... Look away Austin, look away."
Article continues below advertisement
As the hornet makes its way further down Haley's dress, Austin calms her down by reminding her to breathe. Luckily, he scoops out the hornet, throws it on the ground, and saves the day. Haley, who's relieved, jokes, "Now that's a vow to remember." Ugh — she is such a gracious queen!
Article continues below advertisement
Many fellow TikTokers said Haley made the right choice marrying Austin.
The video racked in thousands of comments, with fellow TikTokers sharing their thoughts on the incident: "Oh, she's marrying the right one," one TikTok user said. "He grabbed that hornet bare-handed and said, 'Not on my watch.'"
Someone else wrote, "The way he man-handled that hornet to save his wife. She made the right choice with this one."
"He risked getting his hand stung so she wouldn't get hurt," another TikToker commented.
Article continues below advertisement

One person shared, "The way he grabbed it ... A KEEPER," while another revealed that they "started crying after he took that hornet out." They added that it seems like Austin really loves Haley since he's willing to put himself in danger for her, and we couldn't agree more!
Many others also agreed, with a TikToker writing, "And, that my friends, is the type of man you want to marry. He was more concerned for her than being stung."
Article continues below advertisement
"He is a keeper! And so are you for keeping your cool ... beautiful couple," penned a TikTok user.
Others revealed they wouldn't have been as calm, cool, and collected as Haley: "The way I'd have ripped that dress off like the Hulk [because I'm] not being calm with a hornet in my dress," one TikTok user hilariously said.

Article continues below advertisement
"I would have passed out," shared someone else, while another person wrote, "OMG, I would have freaked out."
"I would feel so bad because I could NOT be that calm if a WASP flew into my dress," a fourth TikTok user commented before declaring that they will not have an outdoor wedding (can you blame them?!)
Someone joked, "I'd be running [around] screaming ... stop, drop, and roll." Honestly, same.
Joking aside, staying calm is likely what kept Haley from getting stung. Hopefully the rest of the wedding went off without a hitch.