Woman Shocked to Find Antique Store Selling Watercolor She Painted of Her Mom When She Was 5
A woman went to an antique warehouse sale "on a whim" and ended up finding the watercolor painting she did of her mom as a child.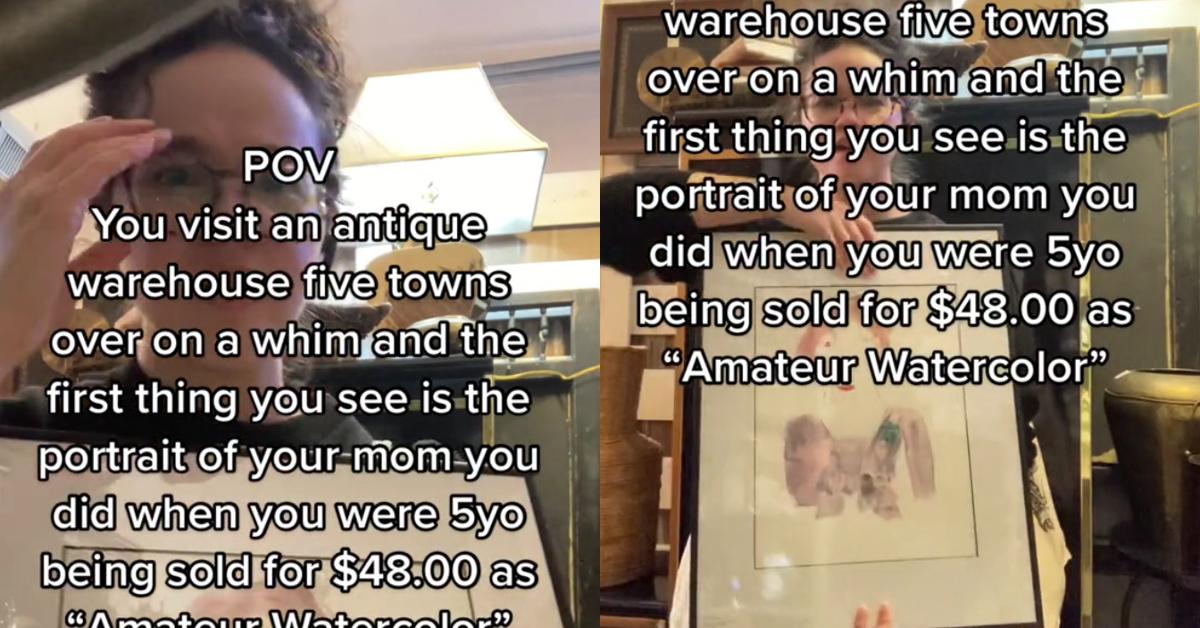 As a parent, it's almost impossible to try and hold onto and commemorate every single thing that your kid has produced or accomplished. The frog that they drew in kindergarten that's eating a cheeseburger? Every test that they took, their first 100 on their spelling test? The reading lover's certificate they got from the library?
Article continues below advertisement
Of course, you're proud of them for accomplishing these things, but keeping the verification of these accomplishments just isn't feasible for most, unless you digitize everything they've done and toss it on the cloud, or buy a dedicated filing cabinet used solely for housing all of this documentation.
And even though it's understandable why your mom wouldn't want to hold onto that rendition of a scene from Mortal Kombat's bridge stage that got you sent to the principal's office in the 2nd grade, it still hurts when you
Article continues below advertisement
Dominguez writes in a text overlay of the video: "POV you visit an antique warehouse five towns over on a whim and the first thing you see is the portrait of your mom you did when you were 5yo being sold for $48.00 as 'Amateur Watercolor'"
Article continues below advertisement
She holds up the painting that she made to the camera, as she looks around the store on camera, pantomiming confusion, appropriately set to the track "Confused" by Dean Martin.
So what exactly happened? Did her mom decide to take her daughter's drawing to an antique store and sell it for profit? Judging from the caption that Nicole attached to the video, this wasn't the case: "My mom was equally confused. On the plus side, they have it to me for free."
Article continues below advertisement

So while the TikToker was surprised and a little shocked to find the painting she made for her mother just hanging out in a random store she visited, at the end of the day, she was able to get it back without paying a penny.
Article continues below advertisement
The story gets a bit weirder — as it happens a random person in the comments section of the video just so happened to be at the same antique store that Nicole was at when she happened to make the discovery: "Was this in Aurora? I was there and overheard the convo at the register asking you for a pic!! The algorithm is wild."
Someone else referenced that they've seen similar stories to Nicole's on social media as well: like someone finding artwork they did as a kid, only to later discover that their school had donated it to a museum: "I saw a TT where something similar happened and it was the school who took the artwork and they found theirs in a museum"
Article continues below advertisement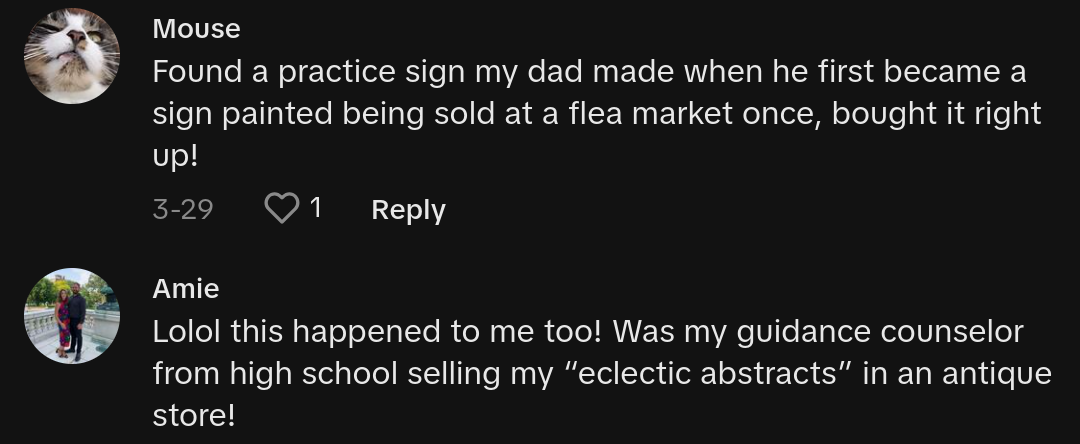 Someone else said that they came across an oil painting with a familial connection while frequenting an antique shop as well: "This happened to me but the oil painting was by my grandmother! $75"
Article continues below advertisement
And while Nicole said that her mother was "confused" by the find, there were some commenters who seemed pretty convinced that the painting was donated: "So mom donated it to a thrift store and a vendor picked it up to resell. Mom is busted!"
This isn't the first time folks have found personal items inside of secondhand stores, like this TikToker who found a photo frame sporting a family picture of some cute kids.
Article continues below advertisement
And then there was this touching story WECT News reported on where a Brunswick County, New Jersey find lead a woman to a 150-year long-lost piece of family history.
Article continues below advertisement
Hiding right inside of a glass frame of a donated painting laid a marriage certificate of William Deworth and Katey Havey from Bordentown, N.J..

The thrift store's assistant manager, Pam Phelps, discovered the certificate, which made its way to genealogist Connie Knox. After consulting with Ancestry.com, Knox was able to locate William and Katey's great-granddaughter Irene Cornish, and was able to hand over the certificate to the woman.