McDonald's Worker Says They Ring up Rude Customers for Items Individually Instead of a Combo
This McDonald's employee went viral after he shared how he deals with rude customers. Instead of charging them for a combo, he does this!
With all of the trauma that food service workers encounter on a daily basis, it's no wonder that self-service is the new norm.
From the waitress who pursued the party that ran out on their $600 check on foot to the delivery drivers who don't get tipped, there are plenty of stories out there that food service workers just don't get the respect they deserve.
Article continues below advertisement
McDonald's is one of the companies that is leading the wave in the self-service world. In 2023, the restaurant chain opened up its first fully-automated location.
That said, we have a feeling that the drive-thru will never go out of style.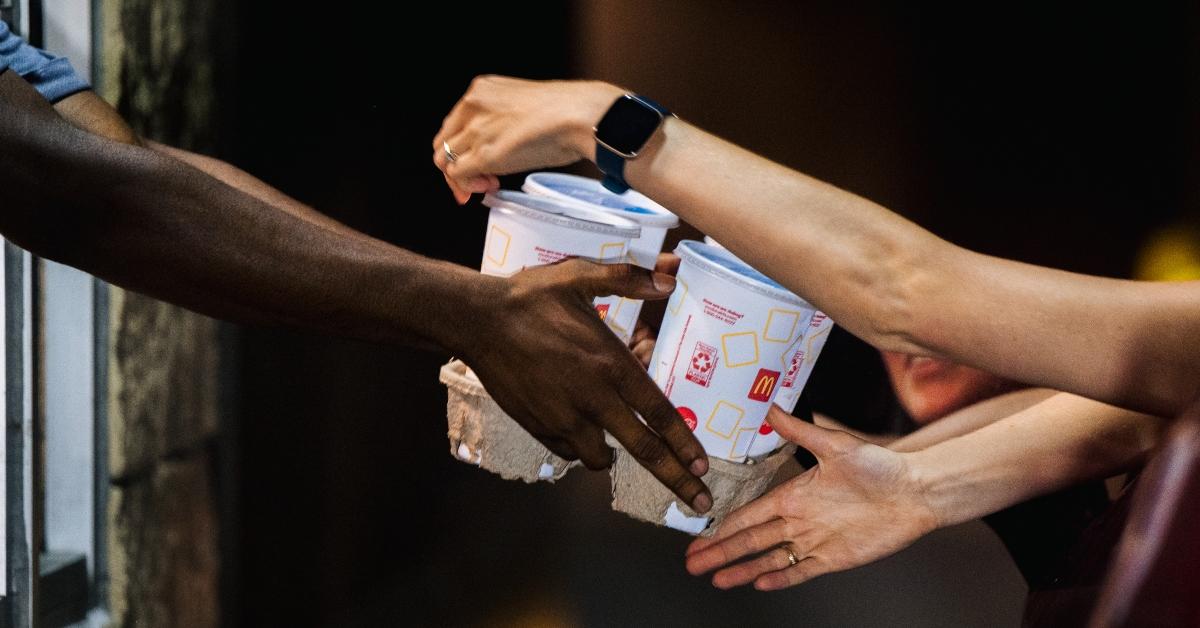 Article continues below advertisement
The drive-thru is a lane where a seconds-long interaction can spin into chaos. Just ask TikTok user @jettyjuju, who has a remedy for rude customers. In a now-viral video, he shares the tea.
This McDonald's employee joked about making rude customers pay more for their food — the internet reacts.
In @jettyjuju's viral TikTok video, he shared how he deals with hangry patrons at McDonalds. "When I ring up two ten pieces, two medium fries, and two drinks instead of two #5 combos because somebody decided to be rude," he captioned the clip.
He mouthed a quote from a viral Future voiceover: "It's [an] evil world we live in. But hey, I'ma keep living and loving life."
Article continues below advertisement
The TikTok user was obviously making a joke, but the popular post gained some pretty strong reactions: both from the employee's and the customer's point of view.
Article continues below advertisement
A few fast food service alums even admitted to doing the exact same thing.
"Or I press remove offer when they want a $3 bundle," one TikTok user commented.
Article continues below advertisement
Another TikToker added: "I ain't going to lie I did this once because a woman came in screaming at me for something that happened at a different location."
Some commenters even shared that they had been in the same situation as @jettyjuju — except in reverse!
"We got scolded by a boomer because we explained that a 20-piece is cheaper than two 10-pieces," @overgrownbush wrote. "She wanted two 10-pieces because she had two kids so we explained [it's] the same."
Article continues below advertisement
"No, because tell me why last time I put their food in a meal because they basically ordered a meal apart and he got mad that I did that," someone else chimed in.
Article continues below advertisement
Aside from commenters who echoed @jettyjuju's sentiments, there were a lot of commenters who asserted that he wouldn't be able to get over on them that easily. "See this could never work with me LMAO," a fast food aficionado in the comments said. "I know how much my meal is for every place I go because I get the same thing."
"Not with me [because] I memorize the price and plus I always check the receipt," another person shared in the comments.
Remember, folks! Kindness costs $0.00. So the next time you're in line at a drive-thru, do us all a favor and keep it cute.