'L&HH: Hollywood' Star Apple Watts Has Accused Her Sister of Stealing
Who is Apple Watt's sister? In a recent interview with the gossip site 'The Shade Room,' Apple Watts shared her belief that her sister stole her money.
Most fans of Love & Hip Hop: Hollywood are familiar with the name Apple Watts. Apple (born: Jontelle Lafaye Watts) was a cast member of the franchise for two seasons.
Although Apple departed the show in 2019, she is still a fan favorite. That said, many people rallied around the star after the news of her near-fatal car crash on March 23, 2022.
Article continues below advertisement
Naturally, fans were ready to pledge their support and coins to help Apple nurse her way back to health. In fact, a GoFundMe page was set up for Apple to help with her recovery along with family members stepping in to help the star.
However, recent reports suggest that not only has Apple not received any funds from the donation page, she is claiming her sister stole her. money. So, what's the deal with Apple's sister? Here's everything that we know.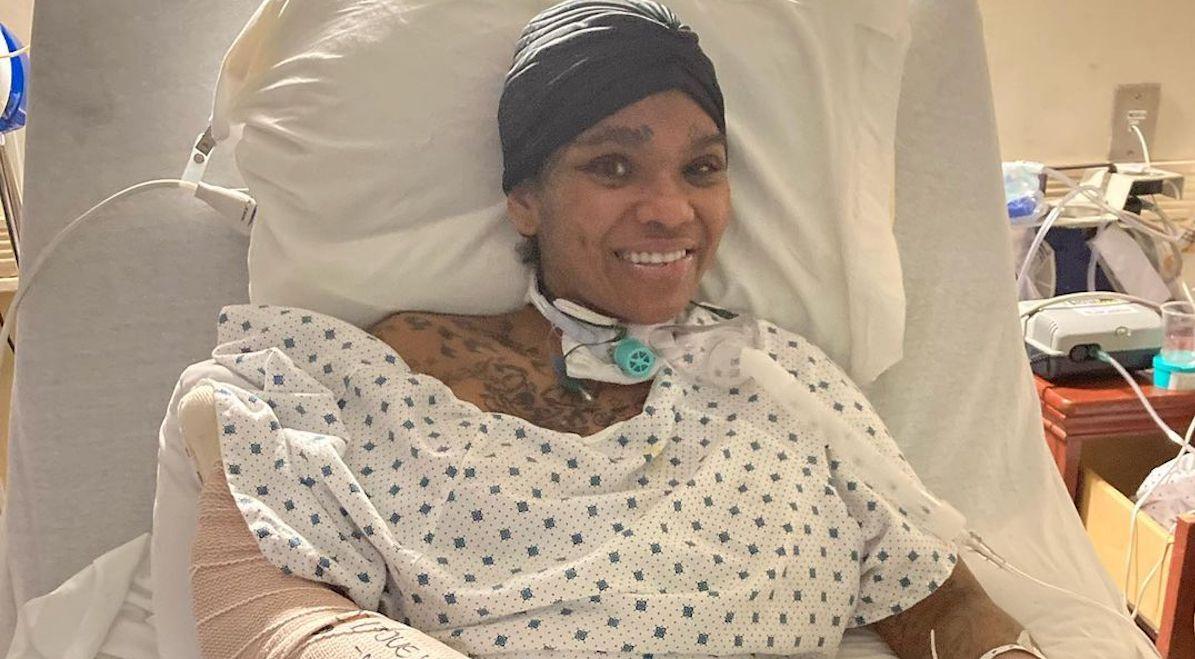 Article continues below advertisement
Apple Watts claims that her sister, Domonique Flournoy, treated her badly and stole her GoFundMe donations on instagram.
Can a sister really be so cruel? According to Apple's recent interview with The Shade Room — along with her attorney, Hazel Brown — it is exactly what Apple is claiming.
It's no secret that the reality star has been recovering from sustaining a broken spine, fractured skull, and shattered arm over the last six months.
That said, many fans believed that Domonique stepped up to care for Apple during her time of need — due to Domonique setting up a GoFundMe page for the star — but now Apple is saying that fans were hoodwinked by her sister.
Article continues below advertisement
Apple has been making several claims about Domonique via her Instagram page, but her latest interview with the outlet dissects just how bad things have been since being released from the hospital.
In a September 13, 2022, interview with the outlet, Apple shared that since Domonique "didn't want to carry her upstairs," she hasn't showered since being cared for by her sister.
Article continues below advertisement
Additionally, Hazel told the outlet that Apple's living conditions were unbearable.
"It was just a bed in a living room," Hazel told TSR. "Her sheets weren't clean, and the only time Domonique changed her was when I mentioned something to her about changing her."
Article continues below advertisement
Even worse, Apple shared that she had to pay for her medical expenses herself and never received the GoFundMe donations from Domonique.
"I had to pay for my health[care] myself," Apple told TSR. "I heard [it was] $20,000, then $50,000. It's my health and I can't get money for my physical therapy."
Hazel agreed and shared that Domonique simply got caught up in the spotlight and took the donated $30,000 for herself. Hazel accused Domonique of going on shopping sprees and gambling away the funds.
"I feel she got kind of addicted to the attention she was getting with Apple," Hazel explained. "And she just didn't do what she was supposed to do."
Article continues below advertisement
Domonique responded to the allegations and admitted to having Apple's money.
According to TSR, once rumors about Domonique stealing Apple's donations came to light, she went on Facebook Live to slam people for creating new donation pages.
Article continues below advertisement
"Y'all see those GoFundMe accounts, don't contribute to that," Domonique said on Facebook Live via TSR. "Me and my family didn't do that. My family is putting together a fundraiser for Vegas," Domonique said during the live stream. "I'm going to be right here with her (Apple), every day. Every day I can."
Interestingly, ever since Apple and Hazel have spoken their truth about the situation, Domonique has been noticeably silent — until now.
In a September 14, 2022, clip shared by 9MagTV's YouTube page, Domonique claims that she does, in fact, have Apple's money and that she's held on to it due to how the reality star is presently acting.
"I got her money," Domonique says in the clip. "She hasn't gotten it because of the decisions she's making. You can't say I did fraud. I never was attached to no other GoFundMe. I only had one GoFundMe for my sister... one."
Domonique went on the share that "she doesn't care how anybody thinks or feels." She claims that she knows what was going on and that Apple and others cannot prove what's been said in the headlines. Messy!