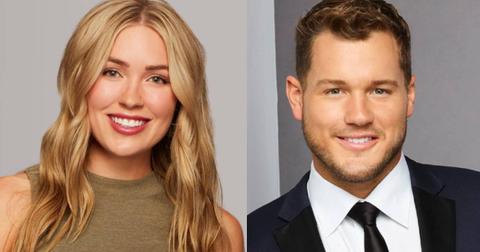 Do Cassie and Colton End Up Together on 'The Bachelor'?
By Allison Cacich
As we near the end of yet another season of The Bachelor, fans are starting to get antsy. They've gotten their fill of drama and are now ready to find out which contestant gets Colton Underwood's final rose.
It appears as though 23-year-old Cassie Randolph is this year's front-runner, but will she survive hometowns (and the Fantasy Suite)? We've got the tea.
WARNING: MAJOR BACHELOR SPOILERS AHEAD!
Are Cassie and Colton together?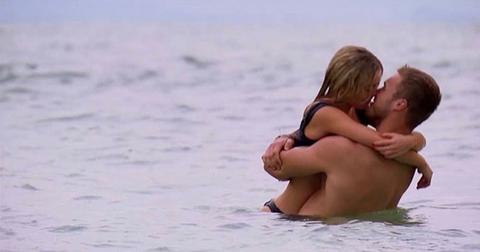 According to master spoiler Reality Steve, Cassie and Colton are together, but they're not engaged. In fact, this finale promises to feature one twist after another (and that's no Chris Harrison exaggeration)!
Cassie apparently leaves during her overnight date with Colton after realizing that she's not ready to get engaged. That's really bad news for our leading man given that he had already decided the speech pathologist is the girl for him.
After her unexpected departure, Colton ends things with Hannah G. and Tayshia (Caelynn is eliminated during the hometown episode) in order to try and win Cassie back. That involves going back to her hometown of Huntington Beach, Calif.
Reports suggest that Colton tells Cassie he just wants to date her and that they don't need to get engaged. This must've been music to Cassie's ears because as of right now, it looks like the duo is still a couple.
Recently, Colton was spotted hanging out with Cassie's sister's boyfriend, Gregg Sulkin...
Also seemingly confirming that Colton and Cassie are still an item is that fact that Colton was spotted hitting the gym with actor Gregg Sulkin, who just happens to be dating Cassie's sister, Michelle.
Now, if they had in fact split, that would make this outing extremely awkward. "Not that you didn't know this 3 months ago, but yet again, social media spoils again," Reality Steve tweeted. "Yeah, Colton's working out with Jake Miller. But how about the third guy in the pic who just so happens to be the boyfriend of Cassie's sister. Doh!"
And Cassie was spotted wearing a "Bride" tee!
One of Cassie's friends shared a photo of the blonde beauty wearing a white t-shirt that reads, "Bride," next to her "I Do Crew" popping champagne. "Sending support to [Cassie] for tonight," her friend captioned the snap. "Not easy to go out there and talk about everything." So, does this mean Colton and Cassie are not only together but now engaged?
We can't handle the suspense.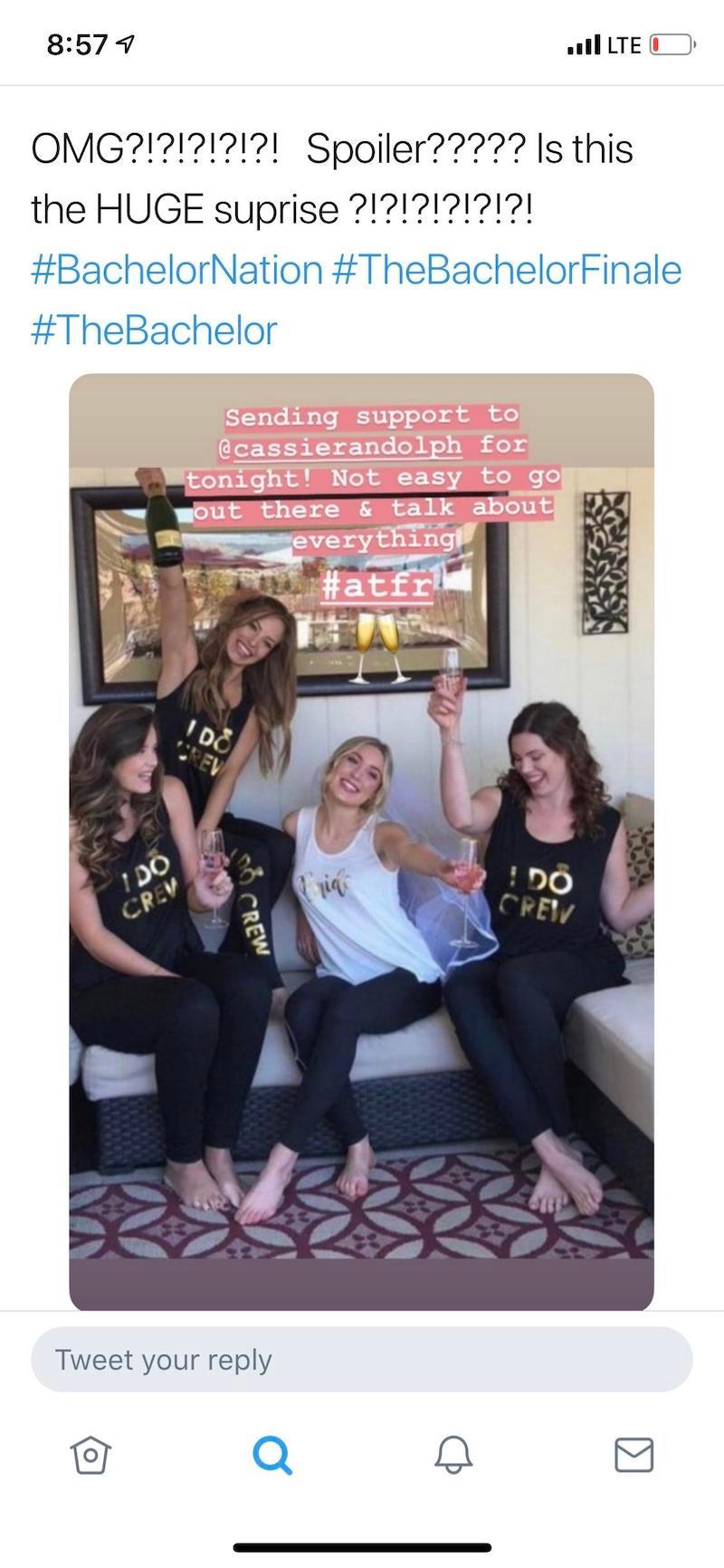 It makes sense why in a chat with TV Insider at the 2019 TCA winter press tour, Colton revealed that the last episode is definitely different from past seasons.
"The finale is unlike probably anything you've ever seen on the show," he admitted. "I feel like every Bachelor and Bachelorette does things their way and they put their own spin on the show and I can say that's sort of what I did."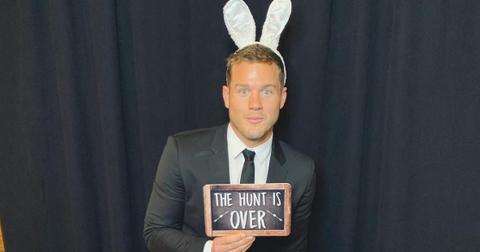 Colton also acknowledged that he hasn't always handled things well this season. "I could do a lot of things better. But I'm not gonna live with any regrets," he explained. "I'm gonna learn from it, I'm gonna move on, and I'm gonna try to get better."
The 27-year-old added, "My whole approach to who I am as a human being and life and what I want out of it... changed in this last year. It's mainly due to having these emotional check-ins with myself and really pushing myself to see what I want out of a relationship."
Watch new episodes of The Bachelor every Monday at 8 p.m. on ABC.