Jeffree Star and MMMMitchell Addressed the Rumors That They're Dating
Are Jeffree Star and MMMMitchell dating? During a video for Jeffree's Blood Lust collection, the two discussed the rumors that they are hooking up.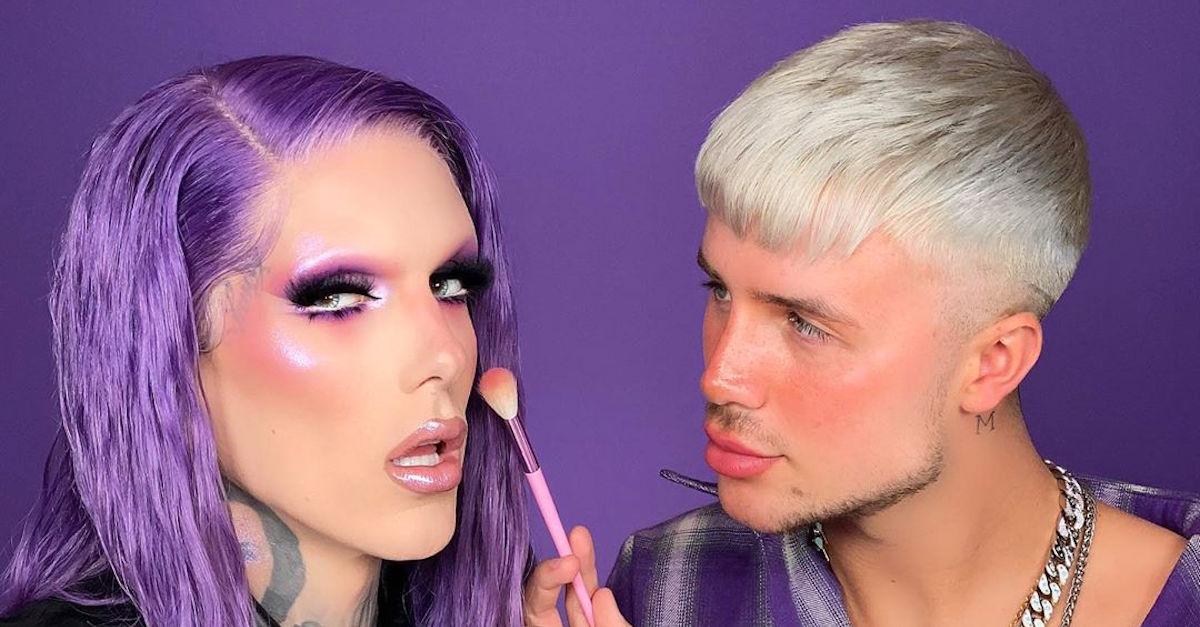 While YouTube beauty guru Jeffree Star's makeup collections are always buzzed about, his romantic life is also often the subject of speculation, especially in the wake of his split from longtime boyfriend Nathan Schwahan. When Jeffree announced that he was single in a heartbreaking vlog on Jan. 11, rumors about everything, from a potential reconciliation to new love interests, began circulating.
Article continues below advertisement
Jeffree's longtime friend and fellow makeup artist MMMMitchell is the latest to be included in these romance rumors. The two have collaborated on many videos in the past, and he's accompanied Jeffree on vacations before. The two were even supposed to do a makeup tutorial class together in Europe, but it was canceled because of Jeffree's breakup.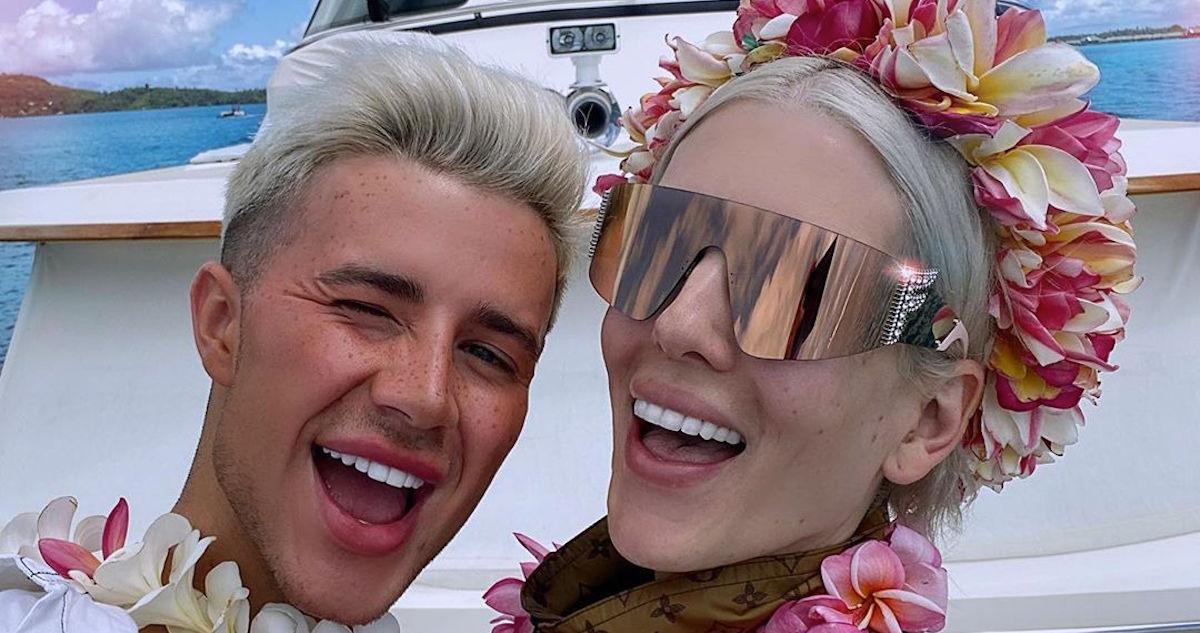 Article continues below advertisement
After posting similar Instagram stories of a sunrise, fans speculated that the two were more than just friends, and that MMMMitchell was spending the night with Jeffree.
MMMMitchell did Jeffree's makeup while promoting his upcoming Blood Lust collection, and they finally addressed whether or not the two are an item. Are Jeffree Star and MMMMitchell dating? Find out what they said in Jeffree's Blood Lust makeup tutorial video.
Are Jeffree Star and MMMMitchell dating?
Jeffree first started working with the British makeup artist in August of 2018, when they collaborated on a video together. Nathan and Jeffree were obviously still going strong at this point, and there was virtually no speculation that the two were more than friends.
Fast forward to 2020 when Jeffree is single for the first time in years, and now every time he is with MMMMitchell, fans and viewers alike are wondering if the two have begun sleeping together,
Article continues below advertisement
In Jeffree's Feb. 16 video entitled, "Addressing The Purple ISSUES.. Blood Lust Palette Tutorial," MMMMitchell used several shades from Jeffree's eyeshadow palette to create a unique look. While picking out said colors, Jeffree began to reminisce about his adorable friendship with MMMMitchell, and the photos that had fans thinking they were now dating.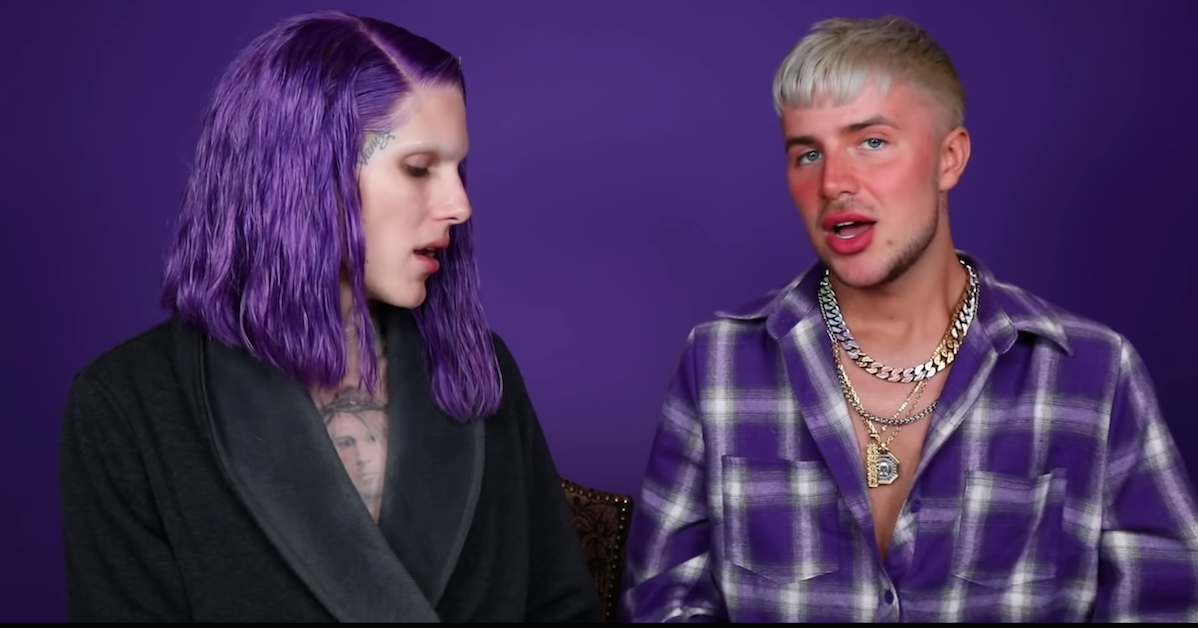 Article continues below advertisement
"We were just watching all of our videos that we've ever filmed together," Jeffree said. "And we're having a laugh today because MMMMitchell is here in town in L.A. — he's staying at my house —"
"In a separate room!" MMMMitchell interrupted.
Jeffree then described how the two posted similar photos of the sunrise on social media, which some thought was a coy way of hinting that they were together.
"So MMMMitchell and I were watching the sun RISE not the sun SET and for some reason, a few channels and news sites popped up, 'is this Jeffree's rebound?'" Jeffree said.
The YouTuber then said that not only was he not with MMMMitchell, but he was nowhere near being interested in dating someone else.
Article continues below advertisement
"All jokes aside, the last thing I'm trying to do right now is be in a relationship with anyone. Me and MMMMitchell are really close friends," he continued.
While the two would be a match made in makeup heaven (imagine the collaborations), they have had a long history of friendship and of working together. Though there might be some fan disappointment that Jeffree hasn't found romantic love again yet, he did say something that suggested he feels a deeper connection with MMMMitchell.
Article continues below advertisement
Jeffree did hint that he and MMMMitchell might have something in the future.
Though Jeffree denied being anything more than just friends with MMMMitchell, the social media star definitely knows how to get the rumor mills going. After discussing his lack of desire to date again so soon after breaking up with Nathan, Jeffree did say that he and MMMMitchell "should" get together in the future.
"No, we are not sleeping together, but I think we should start," Jeffree joked in the video.
He went on to say that 2019 was filled with "treachery" and that he wants 2020 to be more about the makeup. Though the "treachery" comment could have been referring to his makeup robbery, or the accusations that his collaboration with Shane Dawson had micro-hairs in it, some took this comment to be shade about Nathan.
Article continues below advertisement
Watch Jeffree's Blood Lust video below to see for yourself what his "treachery" comment was all about. The collection launches on Feb. 21 at 1 p.m. EST.