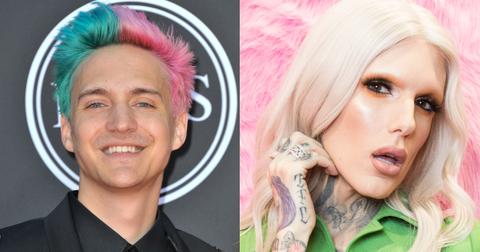 Are We About to Get a Ninja and Jeffree Star Collaboration?
By Jacqueline Gualtieri

Updated
Whether you watch them or not, it's hard to deny that Tyler "Ninja" Blevins and Jeffree Star are too of the biggest celebrities around today. With a combined audience of 40 million followers on YouTube alone, these two would make an unstoppable force if they teamed up.
And they just might. Ninja and Jeffree seem to be teasing their audience online by posting about their hangout sessions, but is there more to the story? Are we about to see Ninja collaborate on a new makeup palette? Or is Jeffree going to start to hang out with Ninja on Mixer?
Are Jeffree Star and Ninja collaborating on something?
Jeffree and Ninja weren't done teasing their fans.
Is there a chance that they're just hanging out?
Possibly. Although we hate to think that we're not about to get the colorful makeup palette of our dreams, they might just be hanging out. The pair formed a friendship back in May 2019 thanks to a strange common interest: Taco Bell. When Jessica saw Jeffree tweet about his Taco Bell craving, she tagged her husband and they became fast friends. They even planned a Taco Bell mukbang, which never came to pass.
Yes! @JeffreeStar Get a cheesy gordita crunch with a Nacho cheese dorito loco taco shell instead of the corn. You are welcome!

— Ninja (@Ninja) May 16, 2019
Since then, Jeffree has invited Jessica to his Morphe store launch in Chicago and even sent her a package of his cosmetics on her birthday. In July, Jessica and Ninja met up with the 34-year-old and his now ex Nathan Schwandt in California to have a double date at Taco Bell. Ninja commemorated the event on his Instagram.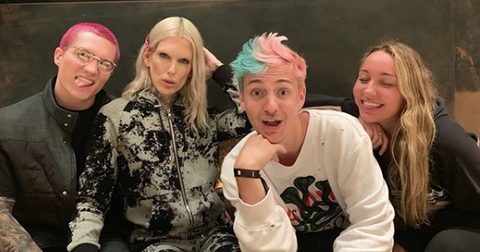 Will this supposed collaboration be the Taco Bell Mukbang all over again and simply never happen? Or are we about to see a collab that breaks records? We hope they don't leave us in suspense for too long.