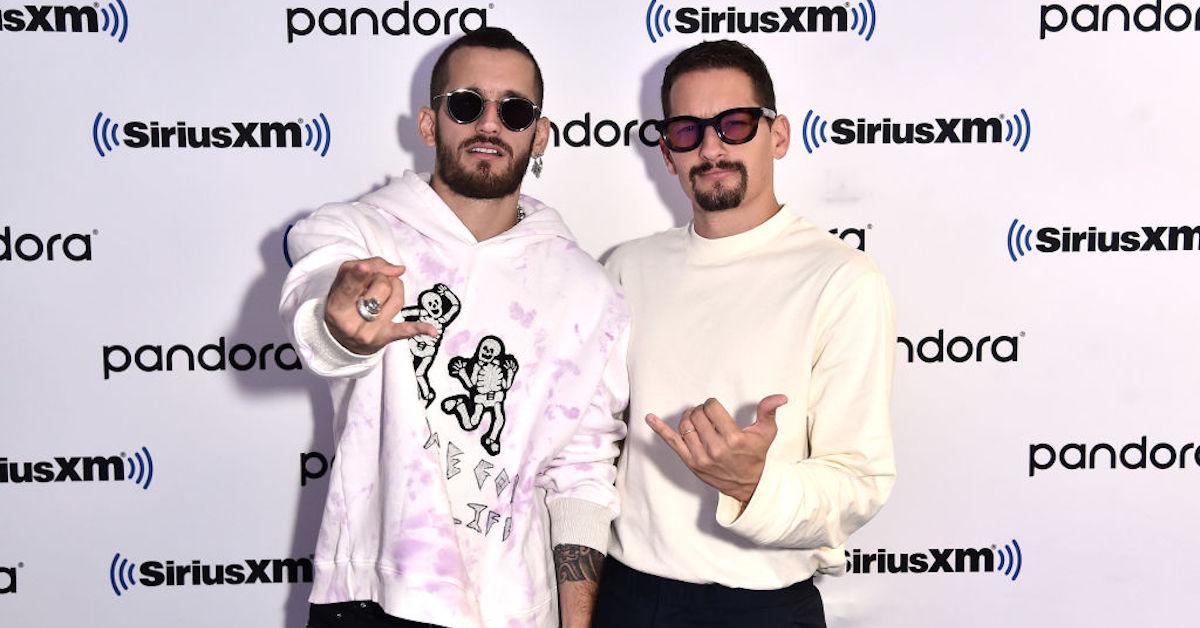 Latin Duo Mau y Ricky Look Identical — but Are They Twins?
Venezuelan Latin pop duo Mau y Ricky are hard to tell apart. The sons of Argentine-born Venezuelan singer-songwriter Ricardo Montaner, and brothers of actress and YouTube star Evaluna Montaner have been performing since 2011 and in recent years, have caught the attention of the whole world.
Article continues below advertisement
The "Desconocidos" artists have landed themselves on the top of Latin Urban Pop Charts, and last year, Mau and Ricky — short for Mauricio and Ricardo Jr. — were chosen by YouTube Music as the only Latin artists to be part of their "Artist on the Rise" selection.
Naturally, these brothers are inseparable and always seen together, even when they're not performing. So, are Mau and Ricky twins?
Article continues below advertisement
Are Mau y Ricky twins?
Although they look nearly identical, and know it, Mau and Ricky are not twins. The brothers are actually three years apart, with Ricky, the oldest, born in 1990, and Mau born in 1993.
When the brothers were 10 and seven, respectively, they moved from their birth city of Caracas, Venezuela to Miami, Fla.
Their father, the legendary Ricardo Montaner, after whom Ricky is named, inspired the young musicians to pursue a creative field. "We saw the love that people had for him and the love that he had for the art," Ricky told Billboard.
Article continues below advertisement
"I think I was about like, 12 when we started making music together," Mau recalls, before joking, "Rick is three years older than me, and obviously, I look like I'm older. I feel like I've lived life roughly."
"Ricky is the oldest and the more handsome of the two of us," Mau said to Univision in 2018.
Article continues below advertisement
Are Mau and Ricky married?
When the pop duo teased over the summer that they were expecting very exciting news on Aug. 7, the rumor mill went crazy assuming that the brothers might become fathers at the very same time.
After all, they both famously have two gorgeous women at their side. Mau married Sara Escobar in 2018, and the couple recently moved to a new house. "Now we have a new little nest, and nothing makes me happier than being able to share it with her," Mau said on social media. "The nicest thing about realizing big or small dreams is being able to share them with someone."
Article continues below advertisement
As for Ricky, he popped the question to Argentinian actress and TV host Stefania "Stefi" Roitman on Oct. 4. Ricky's father Ricardo was among the first people to congratulate the bride-to-be. "You make me very happy making my son happy," he commented on her Instagram page in Spanish. "I love you and will be witness to the joy that you both deserve. To have a Jewish daughter-in-law is a gift from God."
Ricky and Mau's little sister, Evaluna, who recently got married to Colombian pop star Camilo, is elated to welcome Stefi to the family, calling her "HERMANITAAAA" on Instagram.
We are so happy for Ricky, Stefi, and the whole Montaner family, and can't wait to see where they go from here.