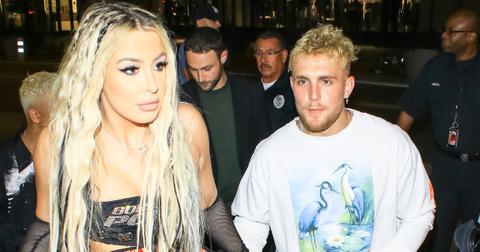 Tana Addresses Open Relationship With Jake and if She Profited Off Their "Wedding"
By Shannon Raphael
YouTubers Jake Paul and Tana Mongeau have certainly had an uphill battle when it comes to trying to prove to fans that they are a real couple. The pair walked down the aisle on July 28 for unofficial Vegas nuptials, and they've since faced rumors of infidelity, divorce, and having a wedding just for money.
Though the couple spent the first few weeks of their marriage apart, they're still claiming to the world that they are a married couple. In Tana's latest video, however, she discussed the very real problems existent in her marriage. Are Tana Mongeau and Jake Paul divorcing? Read on to find out what Tana said and if the cheating rumors are true.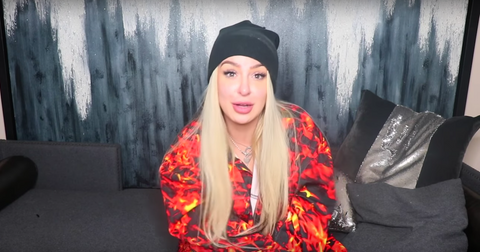 Are Tana Mongeau and Jake Paul divorcing?
Jake and Tana are open books when it comes to their respective YouTube channels, but they've been uncharacteristically tight-lipped on the status of their relationship since they got married. Tana decided to reveal more about what the state of her marriage is in a Q&A she posted on her channel on Nov. 20.
In the video, she answered 100 fan questions as quickly as she could, which meant she had little time to consider her words carefully. One fan asked Tana how she felt when others said she was too young to be married.
"You're right," Tana answered.
She was then asked if she would ever have a baby, to which she responded, "Never. "F--k you, Jake Paul."
Tana went on to say that she'd leave Jake Paul for fellow YouTuber David Dobrik, that getting married for love was the dumbest thing she had ever done, and that she and Jake talk "unfortunately too much."
She also noted that she won't release her single, "It's Everyday H--" because Jake got lunch with his ex, Erika Costell. She said the lyrics, which were supposed to be jokes would have been taken too seriously by fans after news broke that Jake and Erika had gotten a meal together.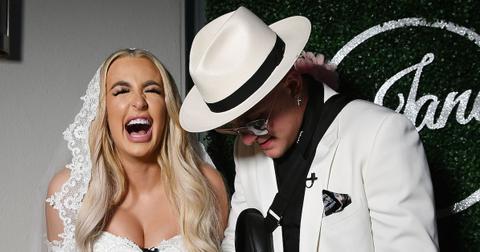 "I finished writing it, but it was before Jake got lunch with Erika, so now any digs about Erika, I feel like people would take too personally than when they were just jokes. So I don't know if I should release that," she admitted. She later said that she confronted Jake about seeing his ex.
"On which video will the divorce video be uploaded?" Tana was asked.
"Probably the main one," she said in a jaw-dropping moment.
While Tana and Jake are clearly still in communication, Tana doesn't seem to be too thrilled about her hubby's antics, including his desire to date other women during their marriage. While the status of their relationship is up for debate, it's important to note that, since they were never legally married, they don't actually have to go through a divorce.
Tana says she didn't want an open relationship — but Jake insisted on one.
Later on in her Q&A, Tana discussed the details of her Vegas wedding. When asked if she liked her wedding video, she said that she wished the couple got married in a bigger venue, that was somehow more intimate. She also claimed that she didn't get married for money.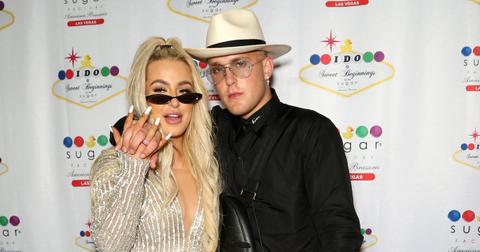 "Let's clear this up. Just like TanaCon, I made zero dollars off of the wedding," she said. "Allegedly, everything was refunded, but I also feel like Jake probably made some money."
When asked about having an open relationship with Jake, Tana said that it was his idea.
"I wish I wasn't [in one], it wasn't voluntary," she said. The interviewer then wondered whether she would ever be exclusive with her husband.
"Probably not, but not because I wouldn't want that."
Tana later said that Jake would probably be the one to divorce Tana, rather than the other way around. She referred to herself as a "doormat."
Her honest video is the most insight viewers have gotten into her marriage to Jake Paul before, and fans have been flooding the comments section trying to dissect her candid answers. Watch her NSFW Q&A below.