Could You Avoid Using the Banned Words if You Were a Guest on 'Around the Horn'?
If you're a fan of 'Around the Horn' then you've got to be familiar with the banned words on the program. Here's a list of what's banned.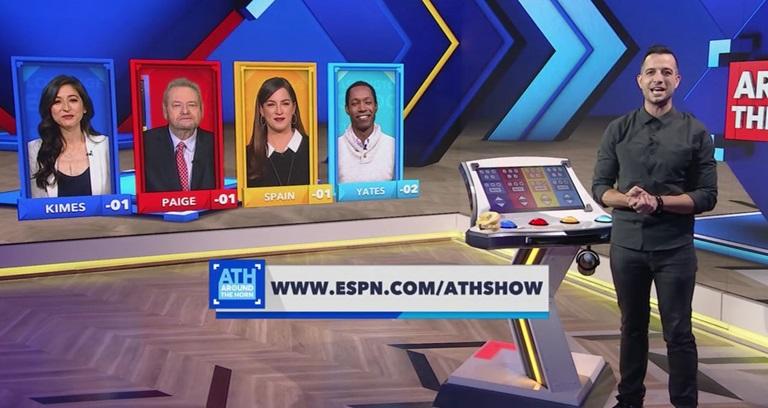 If you grew up without a lot of money like me, then you'd entertain yourself with games that don't really require much aside from your own imagination to have fun — like grabbing a deck of cards and setting up a rousing round of Mafia, or playing hot potato with mashed potatoes (way more challenging that way — you've got to try it and loser has to clean up.) Around the Horn continues this wonderful tradition with its banned words bit.
Article continues below advertisement
What are the banned words on 'Around the Horn'?
The show managed to "remix" the typical roundtable discussion by turning it into a game that culminated in points being awarded for specific arguments, and for contestants / guests being muted if they say any banned words in their responses.
The words are basically "buzzwords" that are used to fill in empty space or are so used and abused they've almost lost their original meaning.
Some examples of these words are: narrative, problematic, elite, and optics. If someone says a banned word then their microphone is muted. Over the course of the show and the different hosts who've led it, there have been several rule changes. With Tony Reali taking over hosting duties from Max Kellerman years ago, Around the Horn now penalizes panelists who've been muted with a -1 point deduction.
Article continues below advertisement
For the most part though, the show's taken on a bit of a Whose Line Is It Anyway? approach where the points are ultimately left up to Tony's discretion. Guests are also muted if they interrupt another guest whilst talking, and there have been instances where visitors have suffered deductions for shameless self-promotion or tooting their own horn for being right about a particular game prediction.
Article continues below advertisement
There are some recurring panelists who make up the "cast" of 'Around the Horn.'
The program has had some of the same recurring panelists appear on the program several times, with host Tony Reali being the show's primary mainstay. Clinton Yates can be regularly seen as a panelist as can Sarah Spain, J.A. Adande, Kevin Blackstone, Ramona Shelburne, Bob Ryan, Bill Plaschke, Woody Paige, Mina Kimes, Frank Isola, Israel Gutierrez, and many others.
Article continues below advertisement
One of the biggest discussions that was had on the series recently was the replacement of Los Angeles Clippers head coach Doc Rivers. Doc's one of the most respected strategists in the NBA and took the Clippers deep into the playoffs before ultimately succumbing to the Denver Nuggets in a series that Kawhi Leonard and Paul George's team, at least according to matchmakers, should've had in the bag.
Basketball fans were anticipating an L.A. vs L.A. showdown in the semi-finals leading up to the NBA Finals, but that simply wasn't the case. Sadly, a lot of the blame fell on Doc Rivers' head, not the fact that the Clippers were in dire need of a point guard, something that Kawhi Leonard has reportedly requested himself.
Article continues below advertisement
Ty Lue has reportedly been slated to fill in for Doc, who was actually very encouraging of Ty's initial foray into coaching, telling the basketball player as he was nearing retirement he'd be a natural leader for players. This was mostly due to "intangibles" like being able to tell those on the court what they don't want to hear.
Article continues below advertisement
What do you think of the Clippers' decision? Should they have kept Doc and just try to get a point guard? Or was Ty Lue the right choice? I guess we'll see what happens in the 2021 season.