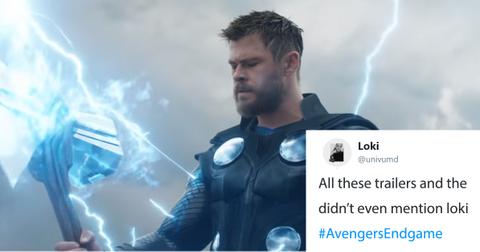 Marvel Released 'Avengers: Endgame' Trailer and Fans Are Freaking Out
By Mark Pygas
This morning, Marvel Studios dropped the official trailer for Avengers: Endgame, which releases in theatres on 26 April 2019 in the United States. Avengers: Endgame is the sequel to Avengers: Infinity Wars and explores life after Thanos erased half of all life in the universe with a snap of his fingers, including Black Panther, Spider-Man, and Doctor Strange.
The trailer shows Tony Stark, aka Iron Man, drifting in space after losing to Thanos on his home planet of Titan. The trailer then skips to Earth, where the United States appears to be at war with recruitment posters for the armed forces on every wall. We then get to see how more of the Avengers, including Captain America, Thor, Ant Man, as well as how Black Widow and Hawk Eye are holding up after losing their loves ones. And of course, we get a another look at Captain Marvel who is making her debut in the Avengers franchise.
Unsurprisingly, people are pretty hyped about the trailer. As well as a new poster for the movie that was released alongside it.
Social media has had plenty of reactions to the trailer. Including this tweet comparing movie posters from all the movies so far.
Others are more disappointed that we haven't heard anything about Loki, who may or may not have died in Infinity War, depending on whether you believe the fan theories.
Others just aren't looking forward to potentially losing more members of the Avengers.
Why would the Russo brothers do this to us?!
Others are already picking their favorite duos from brief glimpses.
That's an interesting look for Hawk Eye...
Mark Ruffalo, on the other hand, is just glad he wasn't snapped.
Thanos might finally meet his match.
Which was your favorite part of the trailer?