Everyone Has Awkward High School Pics — These Folks on Twitter Shared Their Worst
Thanks to digital cameras and smartphones, people have way more awkward high school photos to document this painfully embarrassing stage of life. Here, TK brave souls share their worst.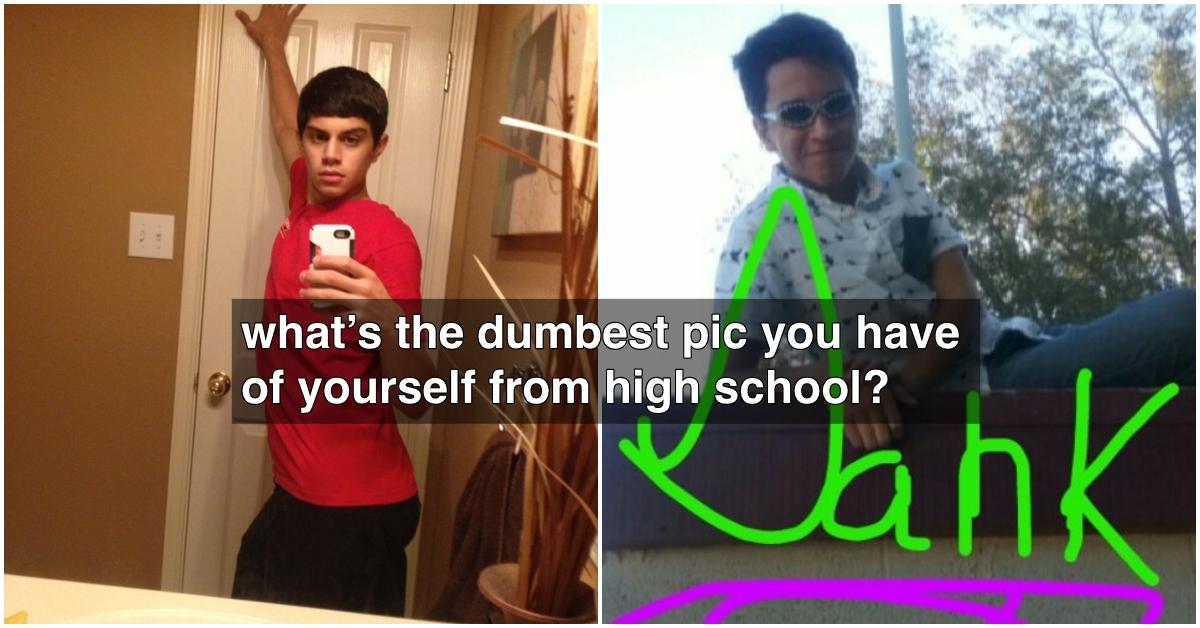 The fourish years American kids spend in high school comprise a huge chunk of adolescence. It's a period of milestones, way too many hormones, and so many situations ripe for awkwardness. Whether you look back on your high school years fondly or find them painful, you undoubtedly have a few cringeworthy photos of yourself from this time.
You may be tempted to delete them from existence, but a few brave souls on Twitter decided to embrace their awkward younger selves by baring them for the world to see. The results are equal parts cute and cringe-worthy.
Article continues below advertisement
1.
Brayden Bauer, aka @im_your_density, got the ball rolling with this pic from his high school days. Now he's a musician with tens of thousands of Twitter followers, but back then he was just a teen employee of Firehouse Subs who had yet to discover hair products.
2.
In high school, we were all trying so hard to impress each other and find acceptance. Ironically, we probably ended up looking way less cool than we had hoped. Like this guy here, who sent this pic to a girl he was ostensibly hoping to impress.
Article continues below advertisement
3.
Mollie here, along with many others in this thread, has learned a lesson that takes some people half a lifetime to integrate: the best way to overcome an embarrassing moment is to embrace it. "I didn't expect anyone to like this at all and I low key regret sharing it, but I'm gonna just lean into it," she wrote in a follow-up tweet.
Article continues below advertisement
4.
How could we forget planking, which took the world by storm for a brief shining moment in 2010-2011? Thanks to the ephemeral nature of this trend, we can easily tell this photo was taken approximately ten years ago.
Article continues below advertisement
5.
Adolescence is also when we become aware of ourselves as sexual beings and experiment with different strategies to make ourselves attractive to our preferred gender. Unfortunately, there's a lot of trial and error along the way...
Article continues below advertisement
6.
This photo was almost certainly taken around 2007. How do I know? Because this former teen appears to have taken lipstick to draw on some shutter shades, which were re-popularized by Kanye West in his video for "Stronger" off his 2007 album Graduation.
Article continues below advertisement
7.
In a follow-up tweet, this chap explains his response of "dank" was affirmative, and while one might conclude the girl immediately regretted asking him out, they did go on a few dates. Though it didn't work out, this photo probably wasn't the reason.
Article continues below advertisement
8.
I fail to see how this is cringey. It is a complete fashion moment. This absolute style icon confirms she still owns this article of clothing. Time to fish it out of the closet, because this is a total LEWK.
Article continues below advertisement
9.
Unto every generation, a new trilogy of Star Wars movies is born, and with is some Star Wars nerds taking ridiculous pics of themselves. Unfortunately for Chris here, his trilogy is the worst of them.
Article continues below advertisement
10.
Adolescence is rough across the board, but being queer and closeted adds an extra layer of discomfort. Thankfully, Eliza here broke out of that closet and seems to be living her best life.
Article continues below advertisement
11.
Honestly, depending on when this was taken, this young gent may very well have been the pinnacle of fashion. This is giving me Yeezy Season 2 vibes.
Article continues below advertisement
12.
Such a parenting power move to take a picture their kid would like to forget and immortalize it by giving it a place of honor in the living room for all time.
Article continues below advertisement
13.
OK, Parker, I don't think ironic shots obviously taken in the 'Awkward Family Photos" style count as truly awkward. This is too self-aware. Disqualified!
Article continues below advertisement
14.
Teenage parties are a petri dish for awkard, particularly if you're an introvert. Lucy here seems to be doing what all introverts secretly want to do every time they're in a social situation involving more than four people: just lie down and take a nap.
Article continues below advertisement
15.
The great thing about growing up in the golden age of meme culture is that you don't even need to date your photos. The photos date themselves. Even if Laura hadn't told us this pic is from 2013, her Pizza John shirt makes it pretty clear it was from the early 2010s.