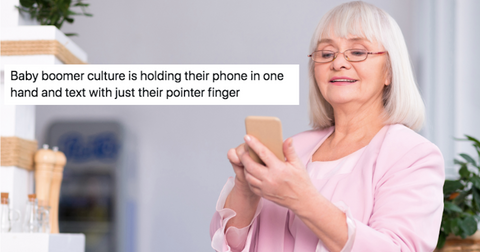 30 Funny Tweets That Describe 'Boomer Culture' to a T
By Robin Zlotnick

Nov. 6 2019, Published 4:21 p.m. ET
It can be hard to sum up just how infuriating baby boomer behavior is to younger generations. "OK Boomer" has become an all-time classic meme because it's such a simple way to roll our eyes at the old-fashioned, outdated, and frankly sometimes offensive things baby boomers do and say. No one has really summed up the problem with baby boomers better than George Carlin.
Carlin called baby boomers "whiny, narcissistic, self-indulgent people with a simple philosophy: Gimme it! It's mine! Give me that. It's mine! These people were given everything. Everything was handed to them and they took it all... But now they're staring down the barrel of middle-age burnout, and they don't like it. So they turned self-righteous. And they want to make things hard on younger people."
Sound familiar? Boomer culture is everywhere we look. And it's... well, it's the worst. At least these funny (yet very accurate) tweets will help us laugh about what this generation has left the rest of us with (hint: it's not a lot!).
Article continues below advertisement