By now, you've probably heard a thing or two about the 2020 Sonic movie — when the first trailer aired, Sonic fans angrily protested the hedgehog's strange new look. Once producers gave him a glow-up, fans became more excited for the film's release, and now, they're obsessing over a newly-unveiled aspect of the movie, Baby Sonic. Similar to the hype over Baby Yoda, fans are going wild over the adorably small version of the blue groundhog — Twitter's reactions to "Baby Sonic" are so priceless.
The reactions to Baby Sonic are adorable:
1. First, let me introduce you to Baby Sonic... prepare to cry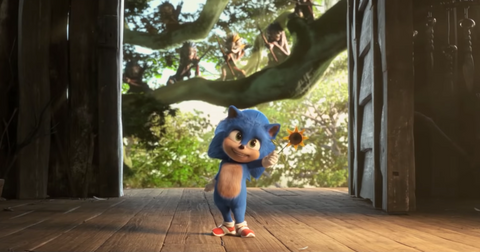 Baby Sonic is pint-sized, he's wearing teeny-tiny red sneakers, and his eyes are 10 times larger than they are now. Let's face it: Baby Sonic is the hero we all needed this year.
2. As you probably imagined, fans are spiraling over the tiny rodent
Baby Sonic is here, he's holding a little yellow flower, and his eyes are wider than the Pacific Ocean. Let's face it: we're all obsessed, no doubt about it.
3. Honestly, his cuteness might rival that of Baby Yoda's
Should I like or retweet this? TBH, I can't decide who I love more... I choose both.
4. He's melting hearts everywhere
If I could hug one cartoon character, it would — hands down — be Baby Sonic.
5. He's the wake-up call we all needed today
Is this a Christmas miracle? Has Baby Sonic swooped in to save 2019? It seems like Baby Sonic is truly the hero all of us needed.
6. And the very best part is watching him run
Even from a young age, Sonic was an avid runner. And watching the little tyke speeding around will truly make your heart melt.
7. He's seriously sparking some emotion up in here
Just saw baby sonic and started crying incase you were all wondering how my recovery and pain killer tolerance is going.

— Cyster Abigail (@LeaveItToDever) December 27, 2019
It's always OK to cry... especially while watching footage of Baby Sonic.
8. Fans can't help but wonder what Baby Sonic would have looked like, pre-Sonic glow-up
No ones talking about how hideously fugly baby sonic could have been, pre-fix.
I wanna see those concepts lmao

— Nix 🏳️‍🌈 (@Kerm0de) December 27, 2019
Regardless, though, we are loving how he turned out.
9. After giving it some thought: Baby Yoda < Baby Sonic
I will literally cook baby Yoda into a chilli dog for sonic

— HADley(RiStar) (@TheOnlyHadley) December 27, 2019
Sorry fam, it's true. Looking at this picture has truly changed me.
10. Fans are honestly shocked something this cute exists
Between you and me, I still can't believe Baby Sonic could actually look like this.
11. Fans think Baby Sonic is Kawaii
In the realm of Japanese anime, his cuteness level is totally Kawaii.
12. It might honestly be a masterpiece
baby sonic is exactlyyyyyy what i needed to see. perfect af.

— 𝖓𝖈𝖇 (@airemian) December 27, 2019
Like the Sistine Chapel or The David, Baby Sonic is literally perfection.
13. Forget what we said before... 'Sonic' is going to be amazing
omg baby sonic is SOOOO FUCKING ADROOOOBOABLE

buying 20 tickets to the 2019 sonic the hedgehog movie made by universal pictures right now

— misato katsuragi's armpit hair (@CinosLikesPizza) December 26, 2019
I, too, have already bought 20 tickets to see Sonic. April 2020 could seriously not come sooner.
14.
If I've learned anything at all on this gloomy between-Christmas-and-New-Years day, it's that Baby Sonic is far better than any other being on this planet — no ifs, ands, or buts. And while Twitter is head-over-heels, there's no doubt in my mind that I love him the most. He's truly the hero that 2019 needed, y'all — praise Baby Sonic.