A Bachelorette Party Pooper Sent This Crazy List of "Rules" — And She's Not the Bride
One woman begged to be a part of a bachelorette party and when she got an invite, released a ridiculous set of rules she expected everyone else to follow.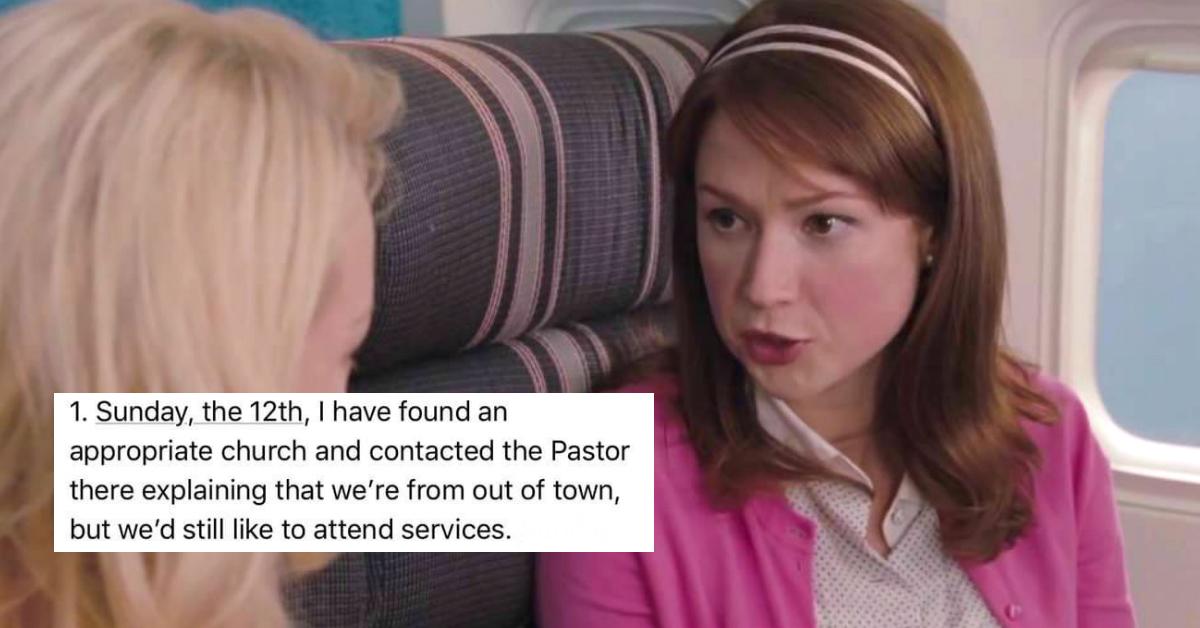 A party pooping invitee to a Vegas bachelorette party sent an unbelievably demanding email to her group of friends that the internet can't help but rag on.
We've all had that one friend who is a bit of a downer. Usually, however, even that downer friend can be brought to life when they're thrust into a situation with other people who want to have a good time.
Article continues below advertisement
There are some downer friends, however, who are just hardwired to be depressing and bring down any type of happy-go-lucky-vibe you're trying to create.
This could be a medical issue — some of us are just naturally depressive individuals. Then there are people who do this simply because they're buzzkills who want to impose their beliefs on everyone else no matter what the circumstance is. This woman is definitely the latter.
Article continues below advertisement
I grew up in a fairly religious community for the majority of my childhood and it was understood that "good, clean, fun" was the deal with pretty much every party. No foul language. No risqué music. No alcohol, and no illicit substances of any kind. And while I did abide by these stringent religious rules well into my mid-20s, I didn't try forcing other people to follow suit.
This woman, however, clearly sees no problem with that. After throwing a fit because she wasn't invited to a bachelorette party to Las Vegas because she was a notorious downer, the bride finally invited the young woman to the party.
The unwanted guest showed her gratitude by sending an email to the 17 other bachelorette party guests with a list of "rules" for a 6-day trip to Sin City.
And they sound like an absolute nightmare.
Article continues below advertisement
Article continues below advertisement
In her list of regulations, she included an early-as-hell church service she expected all of them to attend, and an express ban against liquor in the hotel room. For some reason, she put the names of these liquors in quotation marks as if they were street names for hardcore drugs.
We're talking about drinking tequila here lady, not smocking crack out of lightbulbs. And honestly, even if they did want to do that, it's Las Vegas — anything goes.
Article continues below advertisement
She went on to say that she will not tolerate any hanky-panky going on in the hotel room, as none of the women are married and should all be saving themselves for their wedding nights. Apparently she speaks for everyone and has control over their bodies.
She also demands $50 from each girl on the trip for groceries. $850...for groceries...for a weekend. And that's not even including her share. While I understand eating out can get pricey, it sounds like our girl here is trying to get everyone else to pay for her Vegas vacation.
Article continues below advertisement
She also bans anyone from taking drugs while on the trip, including blowing up another girl's spot for having an Adderall prescription. Even though she needs it for her ADD, Party Pooper here doesn't want to see that stuff on the trip.
The best part is she sums up the email with a promise of more rules to come, along with a very weird sign off, "Respectfully and with courteous passion."
Article continues below advertisement
A follow-up post on Imgur revealed more details about the build-up to such a deranged list of demands. As it turns out, she originally was upset because she wasn't invited to the wedding, and then started a social "smear campaign" against the bride for "betraying the trust" of sorority sisters. Here's the thing though: the two of them weren't even in the same sorority.
Fast forward to the bachelorette party and the woman threw another fit and the others decided to allow her to tag along. That's when the email was sent. Yikes.
Once her email went viral, people couldn't believe the woman went to such great lengths to tell other people how to live their lives during a celebration that has almost nothing to do with her.
It's one thing if the bride wants to set rules for the bachelorette party. Sure, it'd be a buzzkill, but it's her party.
Article continues below advertisement
How would you handle someone like this? Would you just change the date of the bachelorette party and not tell her? Or would you simply reply, with a hard, "no"?