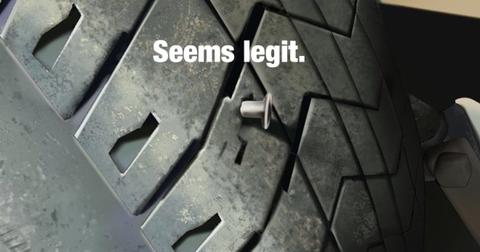 Woman Uses a Bad Photoshop of a Punctured Tire to Call out of Work, Plus Other Painfully Bad Lies
By Robin Zlotnick

Jan. 12 2020, Updated 5:31 p.m. ET
Some will say that the lesson of this article is not to lie. But they'd be wrong. The lesson is lie well. Don't be obvious about your lies. Construct them carefully. Think about every stage of the lie at which you could be caught, and create workarounds. Lying is an art form. But the people featured here are as far from professional artists as it gets.
Article continues below advertisement
Someone recently posted to Twitter the picture their coworker sent to get out of work. This woman claimed she'd gotten a nail in her tire, it went flat, and she wouldn't make it to the office. But the picture the liar sent her boss was so badly photoshopped that you couldn't even believe her story for one second.
It's literally a cartoon nail. The Clip Art of nails. And it's supposedly entering the tire at a totally impossible angle. Not to mention the tire itself, which is also clearly not real. This is a bad lie. A very bad lie. And the fact that it's so bad only serves to insult her boss. Did she really think her boss was going to fall for this illustration?
The tweet went totally viral and prompted all sort of responses, mostly of disbelief. One person even googled "nail in tire" and realized this picture was one of the first ones to show up.
She chose the fakest looking picture of the bunch! The sheer lack of effort put into the lie is astounding. Faking a flat tire is one of the oldest excuses in the book of excuses for how to get out of work, and nowadays, with Uber and Lyft, you don't really have an excuse to miss an entire day for a flat tire anyway. So if you're going to use the excuse, you have to work hard to make it look real.
One dude knew if he was going to fake a flat tire, he had to make it look real. By putting in that extra bit of effort, the excuse worked like a charm.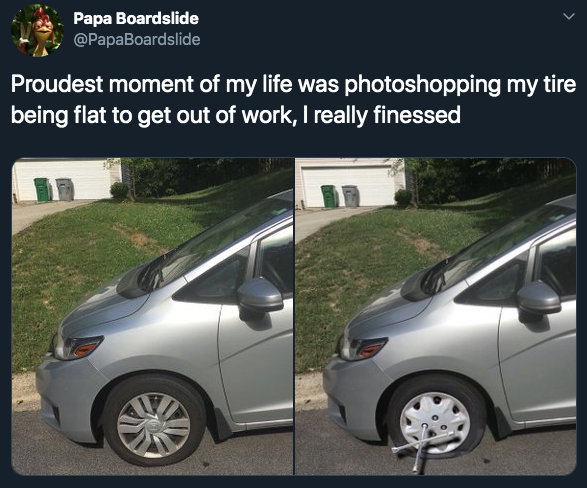 That's how you photoshop a flat tire, people! Sure, the hubcap looks different, but the chance is slim that their boss knows what all their employees' hubcaps look like. The only thing he has to do now is make sure he's not seen gleefully driving his car anywhere near his job.
Like I said, lying is all about believability. You won't get away with a photoshopped cartoon nail in your tire. And you won't get away with any lie that's so over-the-top most people would have a hard time believing it.