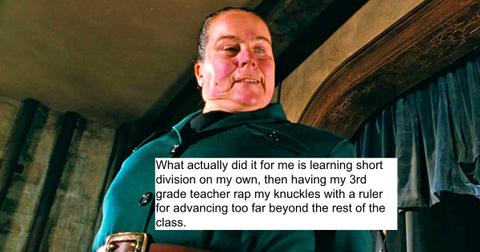 People Share Stories of Terrible Teachers Who Radicalized Them Against Authority
By Robin Zlotnick

May. 14 2020, Published 12:47 p.m. ET
Look, I am the daughter of a teacher. I love teachers. Teachers are so important and deserve to be paid more than they are. But there are also a lot of bad teachers out there, and in my school career, I had my fair share of them. In fact, I can remember the exact moment that I was "radicalized" against school and the adults who were in charge of us there.
Article continues below advertisement
For me, it wasn't a bad teacher, per se, but in fourth grade, I was so bored. We were handed boring worksheet after worksheet and they hurt my soul. My mom had a meeting with my teacher and basically came out of it saying, "She'll try to make things a little more exciting, but you just gotta do the worksheets. Do the work, do well in school because it's what will let you do cool things in the future, but don't expect that all your teachers are going try to make this experience great for you. They won't."
And that's when I understood. Fourth grade. Justin Boldaji also had a moment where he realized that some teachers aren't actually concerned with helping you be the best you can be. They're just trying to get through the year. He shared his story, and many others chimed in with similar ones, some more horrifying than others, but all terrible in their own way!