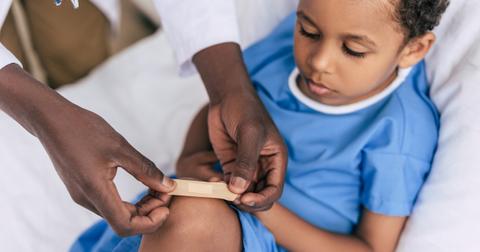 45-Year-Old Man's Reaction to Band-Aid That Matches His Skin Tone Is Too Pure
By Mark Pygas
A 45-year-old man's reaction to the typically mundane act of putting on a bandage has gone viral. Twitter user Dominique Apollon, the VP of Research for racial justice at Race Forward, took to Twitter to share the first time he'd seen a bandage that matched his skin tome.
"It's taken me 45 trips around the sun, Apollon wrote. "But for the first time in my life I know what it feels like to have a 'band-aid' in my own skin tone. You can barely even spot it in the first image. For real I'm holding back tears."
Apollon's tweet has since attracted over 500,000 likes and thousands of positive comments.
"Not like I didn't know these strips existed," he clarified in a further tweet. "But I definitely didn't expect the complex emotions that would swirl as I watched it just ... blend in. A seemingly trivial exercise I've repeated 1000x on my body with "regular" ones since childhood. Self-administered."
Apollon continued; "This felt like belonging. Like feeling valued. Sadness for my younger self and millions of kids of color, esp black kids. Like a reminder of countless spaces where my skin is still not welcomed. Feared. Hated. Like, 'Why am I really thinking all this 'bout an effing band-aid?'"
In regards to the response his post has received, Apollon stated: "I'm glad this thread has sparked some love, introspection, empathy, and conscious actions in others."
Many users explained that bandages were one of the first things that made them aware of race. "This was one of the first things that made me aware of 'race' when I was a kid," one user explained. I remember asking my mom about the bandaid color...Also the 'flesh' crayon."
"The 'flesh' crayon confused me so much when I was a kid," another user wrote. "My mom tried her best to help me find the crayon that matched me the best, but I remember being upset that nothing really worked."
"I can't begin to tell you how amazing that is," another user wrote. "Yet so simple and going why in the hell did it take this long to do something so simple that means so much to people?"
Small things can make a difference.