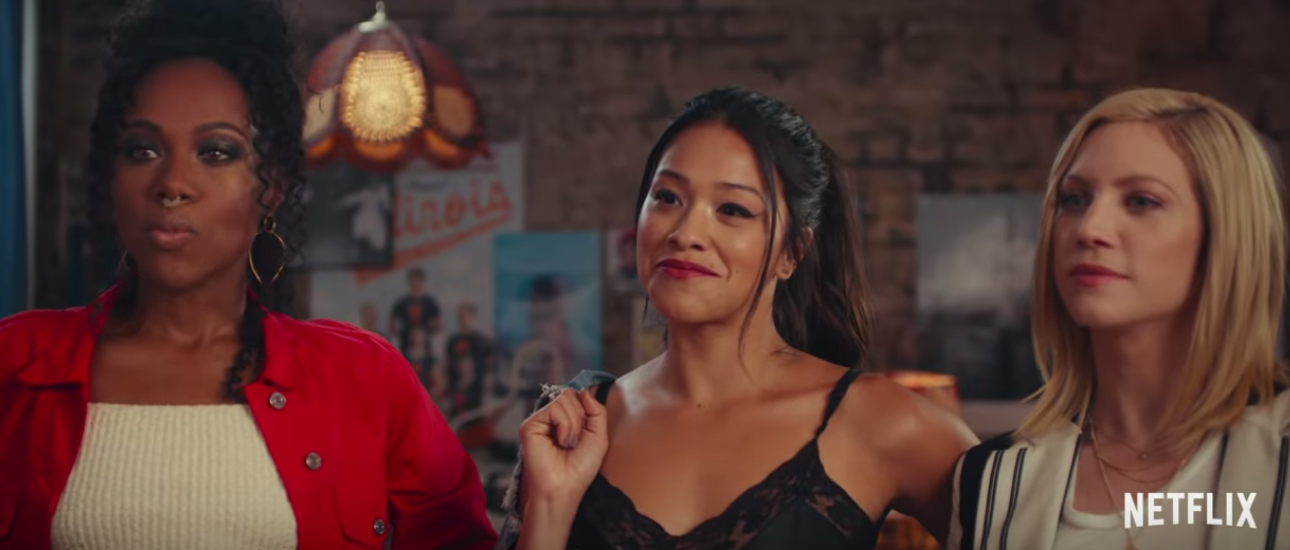 Netflix Dropped 7 New Shows and Movies Just in Time for Easter Weekend
We hope you started your Easter/Passover weekend early, because Netflix has blessed us with a handful of new releases, which dropped Friday, April 19 (with the exception of Grass Is Greener, which will understandably only be here April 20). Netflix has something for everyone, including Gina Rodriguez's new movie, Someone Great, Chris Lilley's zany new show called Lunatics, and Season 2 of a Brazilian comedy that follows a former child star's attempts to squash a nasty biopic being made about her. Since we'll all probably be on our couch eating Reese's Easter egg candy and carrot cake anyway, this is the perfect time to binge watch some good movies and shows.
Article continues below advertisement
1. 'Someone Great'
If you're heartbroken that you'll have to say goodbye to Jane Villanueva after this season of Jane the Virgin ends, then you've gotta meet Jenny in Someone Great (also played by the amazing Gina Rodriguez). The Netflix original movie is about a woman who gets broken up with when she tells her long-term boyfriend that she got a job in San Francisco and won't be sticking around New York for much longer. Jenny is devastated, but luckily she has her best friends (DeWanda Wise and Brittany Snow), who encourage her to live it up in New York while she can. Created by the same executive producer who brought you Bridesmaids, this feel-good comedy is about friendship, self-discovery... and a genius green juice Champagne hack.
2. 'Lunatics' Season 1
You'll love Lunatics if you can't get enough of Ja'mie: Private School Girl, since both star the wacky Australian comedian Chris Lilley. In Lunatics, Lilley plays six eccentric people, such as a dog medium, a fashion designer "diagnosed with a sexuality disorder," a very tall, 18-year-old YouTuber who gets her hair stuck in a ceiling fan, and more.
Article continues below advertisement
3. 'Rilakkuma And Kaoru' Season 1
To All The Boys I've Ever Loved Before's Lana Condor voices the unlucky Kaoru, who just can't seem to catch a break. Like, when she tries to "blow away" her negative aura with a fan, the fan dies. And then her boss tells her that "bonuses are going to be a bit lighter" this year. Luckily, she has roommates who happen to be...stuffed bears. This anime is adorable and just the thing to watch while you relax this weekend.
Article continues below advertisement
4. 'Grass Is Greener'
Just in time for 4/20: Grass Is Greener is a documentary about weed, music, and history. You'll feel smarter after watching this (and maybe more inspired to celebrate?).
Article continues below advertisement
5. 'Samantha!' Season 2
Samantha! Season 2 hilariously follows Samantha (played by Emanuelle Araújo) who was a child star in Brazil in the 1980 and now a grownup trying to be relevant again. And she is relevant again, but not for the reason she wants. When Samantha was a young actress, she had a reputation for being petulant and high-maintenance, and all of that is coming to light in a type of biopic she is desperately trying to stop.
Article continues below advertisement
6. 'The Ruthless'
Much like the mafia films that came before it (The Godfather, Goodfellas, Casino, etc.), The Ruthless is another look inside the glamorously sociopathic life of Italian men who don't like to follow rules. The Ruthless is set in 1980s Milan and follows Santo Russo (Riccardo Scamarcio), who gets involved in the mob life (which obviously involves a lot of cocaine, cheating on his wife, blowing stuff up, and hiding bodies).
Article continues below advertisement
7. 'Brené Brown: The Call To Courage'
If you need words of wisdom, smarts, and inspiration, Brené Brown (a licensed clinical social worked and public speaker) shares her thoughts on courage and vulnerability. The Call to Courage is very TED talk-esque and definitely something you should watch if you need the extra motivation or perspective.