Mom Warns Parents About Wired Grill Brushes After Son Is Rushed To Hospital
The Tovell family from Nova Scotia in Canada are one of those families who will be enjoying the sun and having a barbecue this season.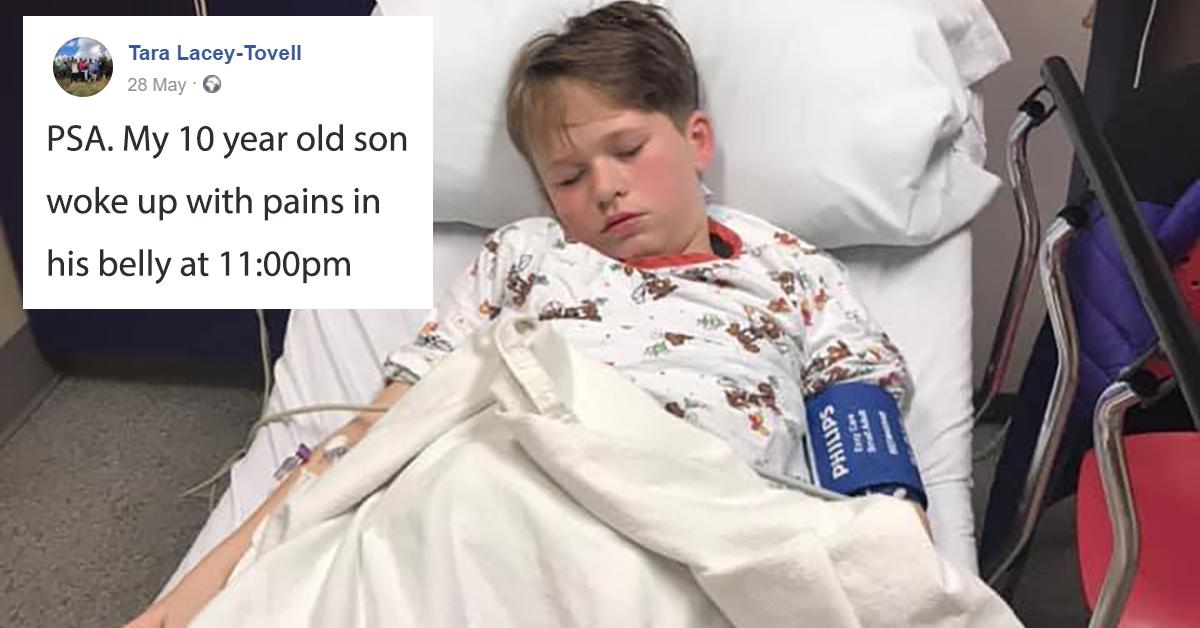 The sun is out and for most families, it's the start of barbecue season. The Tovell family from Nova Scotia in Canada are one of those families who will be enjoying the sun. But for their 10-year-old son Brady Tovell, a recent barbaque led to a trip to the Children's hospital, and not for food poisoning.
Article continues below advertisement
According to Brady's mom, Tara, the boy quickly came down with stomach pains and vomiting, and when Gatorade and other fluids blood work, a urine sample and an X-ray didn't do the trick, Tara decided to take him to the hospital just to be safe. And it's a good job she did. After blood work, a urine sample and an X-ray, doctors reportedly discovered that a small piece of wire from the brush used to clean the barbecue had pierced Brady's bowel.
Tara took to Facebook to warm parents of the danger of wire brushes and share Brady's story.
Article continues below advertisement
Tara starts by explaining Brady's symptoms.
"My 10 year old son woke up with pains in his belly on 11:00pm Friday night. My husband and I thought he was just constipated. He then started throwing up every 30-45 min for the next 15 hours. We thought maybe the flu? Then he was writhing in pain that just seemed to get worse and last longer."
Fearing that Brady might have appendicitis, the family rushed him to an emergency centre, who in turn rushed Brady to a hospital.
"I then took him to the Cobequid Centre because I had a fear that he was having appendicitis. He had urine samples, blood work and an X Ray. His blood work showed elevated white blood counts and the doctors decided to have him transferred by ambulance to the IWK."
Article continues below advertisement
Tara explains just how harrowing the entire experience was.
"He had an ultrasound on his belly and was in such pain that he passed out cold from the machine being pressed over his stomach. This was a parents worse nightmare! I had no idea what was happening with my son, the possibility of surgery was looming over me and all I wanted was for my child to be healthy and pain free."
Doctors first thought that Brady might have appendicitis and scheduled him for surgery.
"The ultrasound showed free fluid in his abdomen, inflammation and that coupled with his pain and the area the pain was in, the consensus was appendicitis."
"He was admitted at 1:30A on Sunday and since he was stable would have the surgery at 8am. I tried keeping myself pulled together as they took my youngest baby off to surgery."
Article continues below advertisement
While operating, the doctors discovered what was truly wrong.
"When the doctors came back to our room two hours later, I was more shocked than I ever thought I could have been. My son did not have appendicitis. He ingested a wire bristle from a bbq brush and it perforated his bowel."
Thankfully, they were able to repair Brady's bowel, but recovery would still be difficult.
"I am so lucky and grateful they the surgeons spotted it after seeing they his appendix was perfectly healthy. My son had to stay in the hospital after this and was restricted to no food or drink to let the bowel heal. There was still concern that complications would arise and he would have to have major surgery and remove a portion of his bowel."
Tara then took the opportunity to warn parents to avoid wire brushes, or to make sure that no pieces of the brush break off during cleaning.
"My son is doing very well so far and I am forever grateful to the IWK. I stopped at the Superstore for a few things to bring to the hospital and when I walked passed their isle stocked with wire bbq brushes, it took everything in me not to tear the display down. I implore you, if you have a wire brush, please throw it out and get a wooden or nylon one from Costco. Things could have been so much worse for my child."
Tara's post received over 4,900 comments and 28,000 shares as of the time of writing. Tara told Global News that she was glad she could get the warning out.
"It was at 14,000 shares, there were 3,000 comments, 6,000 likes on it, and I have been reached out to people from all over the world, as far as Australia."
"For me, I guess just wanted to bring some kind of positive for the horrible experience that he had to endure. If it saved one other person from having to go through this, then it would be worth it."
And yes, she's thrown away the brush.
"I threw it in the trash right away," Tovell continued. "We're going to try to be a little more organic when we're cooking."