If Someone Says You're "Beekeeping Age" on TikTok, It's a Compliment — Kind Of
What's the meaning behind calling someone "beekeeping age" on TikTok? Content creators and commenters are using the term to offer complements.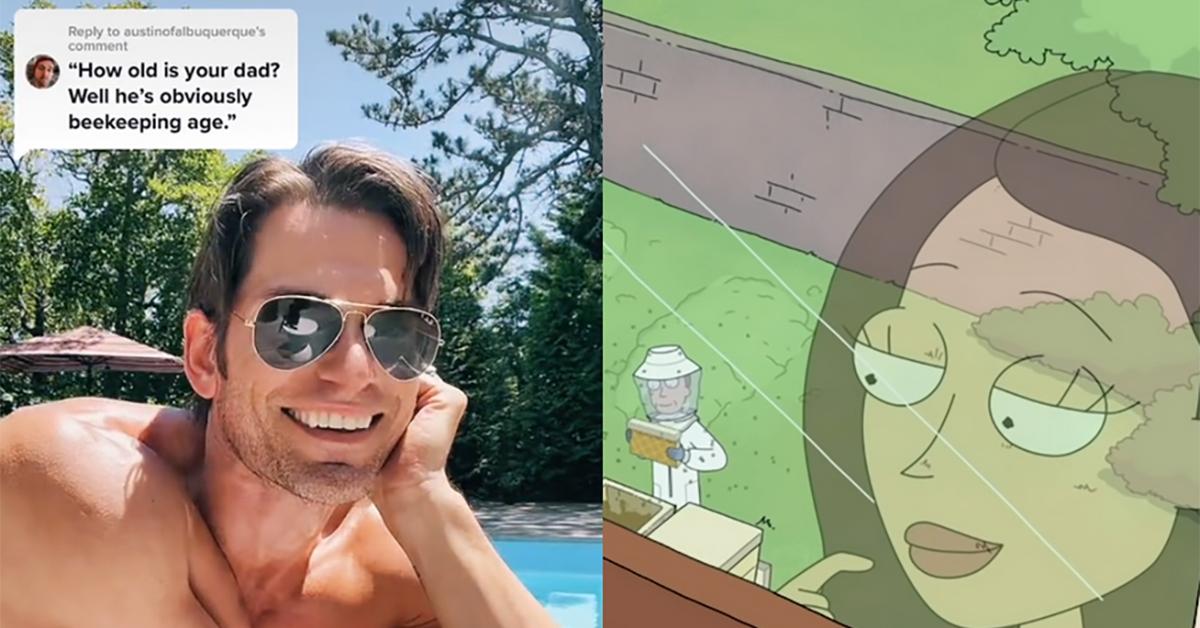 If Pedro Pascal's TikTok fancam sketch on Saturday Night Live has taught us anything, it's that it can be difficult to keep up with the things that folks on the platform are saying and doing lately. Lingo among generations is constantly shifting and evolving, and one would be excused for not knowing whether or not a new-fangled term is a compliment, an insult, or something else entirely.
For example, folks on TikTok have taken to calling people "beekeeping age."
Article continues below advertisement
Usually targeted at older dads or otherwise male-identifying adults, users on the platform have been saying that certain men "look like they're beekeeping age." Whether it's in the comments section or in entire TikTok videos dedicated to the term, calling someone beekeeping age is a statement that has been making the rounds lately. In one video, there are several comments where people call OP's dad in the video "beekeeping age" without actually explaining what that means. Here's what you should know.
Article continues below advertisement
What is the meaning behind calling someone "bee-keeping age"?
If you or someone you know has been called "beekeeping age," then don't sweat over it. For all intents and purposes, it's actually a compliment. If someone calls another person bee-keeping age, it essentially means that they find that person attractive for their age. It sounds like a completely innocuous, almost nonsensical statement off the cuff, especially if they have no interest in beekeeping. In reality, it's essentially a more SFW way of calling a man a DILF.
The term actually originates from Rick and Morty, the popular adult animated series about the eponymous mad scientist and his grandson who get into all sorts of horrifying sci-fi antics together.
In the post-credits scene for Season 4, Episode 7, "Promortyus", Morty's older sister Summer (Spencer Grammer) is seen hanging out with her friend, Tricia Lange (Cassie Steele). From the window, Tricia secretly observes Summer's dad Jerry (Chris Parnell), who happens to be beekeeping at the time.
Article continues below advertisement
Tricia begins going off on a tangent, offering weird praises and saying that "he's obviously beekeeping age" as a thinly-veiled thirst comment over his older age. The scene ends with Tricia openly admitting that she's attracted to him, much to Summer's chagrin.
Article continues below advertisement
The episode originally aired in May 2020, but the compliment has been popular among TikTok users throughout 2022 and into the new year. Many of them proudly call dad-types or older men beekeeping age as a way of saying they're into them. Anyone who uses it likely knows where it's from and what it means, but there are just as many people who are still baffled by its usage long after the term entered the social media ether.
In any generational context, people have always found new and subtle ways to say that they're attracted to someone with specific qualities. As of now, we seem to have evolved past raunchy acronyms and moved toward saying someone could be into beekeeping as a term of endearment.