Almost everyone knows and loves Ben & Jerry's for their wide selection of unique ice cream flavors, from Phish Food to Chunky Monkey. But the Vermont-based ice cream company is especially famous for their long list of flavors that were inspired by Hollywood. And just in time for movie night, I've compiled all of them into a compact list.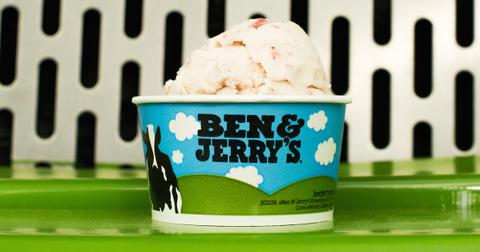 Tonight Dough (Still Alive!) and Late Night Snack (Deceased)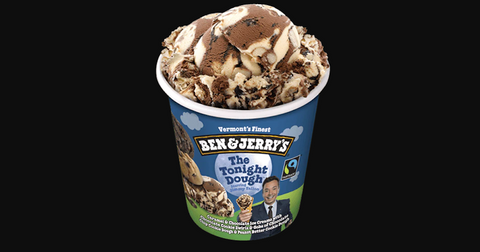 There's really nothing I love more than digging into a pint with Jimmy Fallon's face on it. Although Late Night Snack sadly passed in 2011, we now have Tonight Dough, which features caramel and chocolate ice cream that's laced with chocolate cookie swirls, chocolate chip cookie dough, and peanut butter cookie dough. Definitely perfect for a midnight snack.
Liz Lemon (Still Alive on Instacart!)
Ben & Jerry's' ode to 30 Rock was the perfect warm weather treat, featuring lemon greek fro-yo and a blueberry lavender swirl. Although we were pretty sure it became one of many to face imminent death in the flavor graveyard, it's exclusively available on Instacart... it's a miracle!
Netflix & Chill'd (Still Alive!)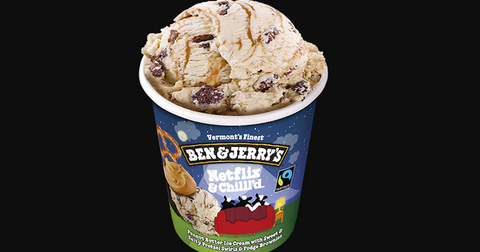 Netflix & Chill'd makes for the perfect movie snack. It combines sweet and salty flavors, blending peanut butter ice cream with sweet and salty pretzel swirls, and — last but not least — fudge brownie. Although it isn't based on any particular movie or show, it's brand new, drool-worthy, and honors the beloved streaming service.
Schweddy Balls (Deceased)
SNL fiends are all-too familiar with Schweddy Balls — the infamous sketch starring Molly Shannon, Ana Gasteyer, and Alec Baldwin was turned into a B&J flavor, featuring creamy vanilla ice cream and — of course — fudge-covered rum and malt balls. Yum.
Festivus (Deceased)
Known as "a flavor for the rest of us," Ben & Jerry's Festivus flavor is an ode to our favorite New Yorkers: Jerry, George, Elaine, and Kramer. It debuted in 2000, two years after the show ended, combining brown sugar cinnamon ice cream, gingerbread cookie chunks, and a ginger caramel swirl. It was no ~big salad~ but it definitely did the trick.
Vermonty Python (Deceased)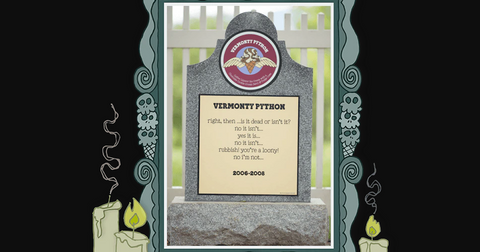 To honor the British comedy troupe, we had Vermonty Python! It featured coffee liqueur ice cream, chocolate cookie crumb swirl and fudge cows. If you're ever at the Vermont factory, take a gander at its tombstone in the Flavor Graveyard — it's magnificent.
Neapolitan Dynamite (Deceased)
Sadly, Neapolitan Dynamite didn't feature any tots, but it was delish nonetheless. According to Splinter News, it featured chocolate and cherry ice cream, aiming to rebrand the classic tri-colored flavor.
The Gobfather (Deceased)
You come to me on the day of my daughter's wedding... to bring me ice cream? The Gobfather blended chocolate ice cream with fudge-covered almonds and a swirl of creamy nougat, according to Huffington Post, and TBH, it was truly one of my favorites.
Goodbye Yellow Brickle Road (Deceased)
Goodbye Yellow Brickle Road was actually a nod to Elton John's first Vermont visit, according to The Impulsive Buy. It featured chocolate ice cream, peanut butter cookie dough, Brickle Candy pieces, and white chocolatey chunks.
Ron Burgundy's Scotchy Scotch Scotch (Deceased)
Good morning, San Francisco! Ben & Jerry's brought us this glorious creation just in time for Anchorman 2 many years back. It was decadent AF, blending butterscotch ice cream with butterscotch swirls.
See? Ben & Jerry's is chock-full of pop cultural references. Sadly, we won't be able to try all of these delectable Hollywood-inspired flavors, but the movies and TV shows themselves will live on in their memory.