Ben Roethlisberger's Family Recently Gained Seven Adorable Members
Ben Roethlisberger's family includes his wife, Ashley, and their three kids, who have been following in the Steelers quarterback's footsteps.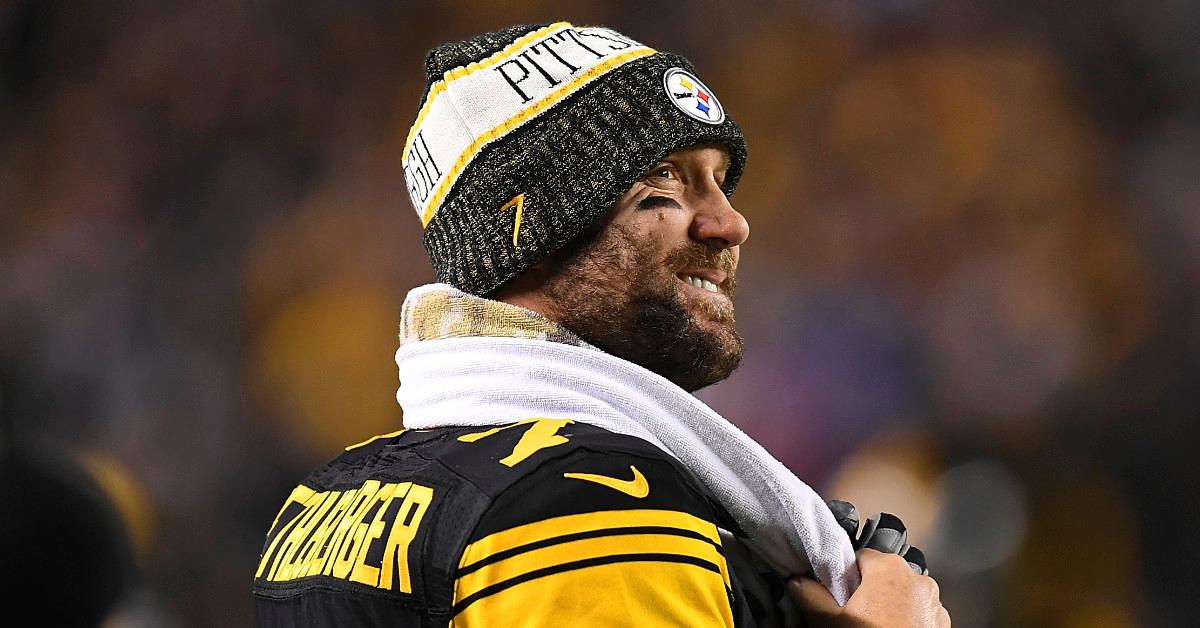 Imagine adding seven members to your family at once! That's what happened to NFL star Ben Roethlisberger, whose German Shepherd, Dakota, welcomed a litter of seven puppies this summer.
Article continues below advertisement
"Welcome to the 7 (yes, 7) newest members of the Roethlisberger family!" Ben's BigBen7.com Twitter account announced in July 2020, posting a pic of the pups and the new mom, who herself joined the family in September 2017.
Article continues below advertisement
With Ben currently leading the Pittsburgh Steelers in an undefeated season so far, it's a good time to learn more about the quarterback and his family.
In addition to the fur babies, Ben and Ashley Roethlisberger have three human babies.
Ben married physician assistant Ashley Harlan in 2011, and in the years since, they've welcomed three children: son Ben Jr. in 2012, daughter Baylee in 2014, and son Bodie in 2016.
Article continues below advertisement
When Bodie was born, Ben shared a photo of the family of five through the BigBen7.com Twitter account. In the snapshot, Ben and the older kids surround Ashley and Bodie on a hospital bed, with Bodie wearing a Pittsburgh Penguins onesie. "The newest member of #SteelerNation ready for his 1st @penguins playoff game. #LetsGoPens," the caption read.
Article continues below advertisement
The fam shared more photos on Facebook, writing, "Bodie was born this morning and weighed in at 7 pounds, 7 ounces, and he's 21 inches long. God is good!"
Ben is getting his kids into sports.
During 2019 off-season, Ben revealed he was getting Ben Jr. and Baylee into sports. "We started soccer," he said in a cast with former teammate Willie Colon, per 247Sports. "Our first organized sport. So that's our offseason. Working on organized sports. They knew nothing about soccer, obviously."
Article continues below advertisement
Ben and Ben Jr. had to start at square one, as the QB explained: "My son said, 'Dad, I don't know how to play soccer.' So, we got the nets, the ball, everything. We were out in the backyard. I was blowing the whistle, trying to do soccer drills and stuff. He scored a goal in his first game, somehow. I was on the sideline chanting, 'MVP!'"
Article continues below advertisement
Indeed, the two-time Super Bowl champ had a hard time keeping his cool with his oldest kid on the soccer field. "When I played sports, my dad always sat on the visitor's side because he didn't want to be part of the crowd," he explained. "I never heard anything from him. I always said that's how I'm going to be. … I had to reel myself back in."
At the time, Ben Jr. was really into the game. Baylee? Not so much. "My son is really athletic and competitive," Ben told Willie. "He gets into it. [Baylee is] the one that's kind of biting her nails and waiving. I'm like, 'Baylee get out there, play the game!'"
And as for Bodie? The toddler spent the summer taking a swing at golf, so to speak. "He takes the club and just swings as hard as he can," Ben said.