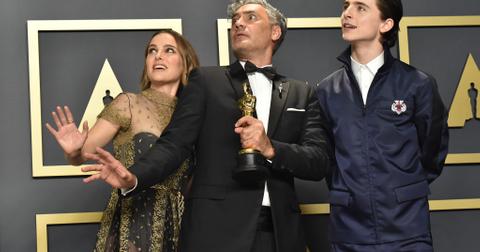 The Most Hilarious 2020 Oscars Memes That Perfectly Summed Up the Evening
By Gina Vaynshteyn

Updated
The Oscars are cool and all, but the memes that come after on Twitter are actually the best part. There's no better way to absorb everything that happened at the 92nd Academy Awards (like Chris Rock and Steve Martin's opening monologue, Bong Joon-ho being adorable, Eminem randomly showing up and performing "Lose Yourself," for starters) than to joke about it with the internet. It almost, ALMOST feels like we were there ourselves!
And now may we present you, the best 2020 Oscars memes that captured all the best moments:
Chris Rock and Steve Martin's opening monologue had us like...
Billie Eilish's reaction to Maya Rudolph and Kristen Wiig's little bit is random, but is also our new 2020 #mood.
Another one for good measure!
Martin Scorsese's face during Eminem's performance is our everything. We love you, grandpa.
The way Bong Joon-Ho is looking at his award! Squeeeee!
Timothee Chalamet's gas station chic track suit. That is all.
timothée swiss chalet said that's my emotional support tracksuit and this is the most ive related to anything that man has done https://t.co/aj4h37hHtT

— repos dominical😴 (@racailleux) February 10, 2020
Diane Keaton and Keanu Reeves: Someone make a movie about this already!
The moment Eminem started to perform "Lose Yourself" and we all felt very, very old (and confused).
The look on our dads' faces in middle school when he learned we were listening to 'The Eminem Show'
Taika Waititi being Taika Waititi.
That terrible moment we were reminded that the 'Cats' remake actually happened.
This isn't a meme. It's just a pure and wonderful photo of Natalie Portman, Timothee Chalamet, and Taika Waititi.
We'll be updating this post with more memes as they come in, so stay tuned!