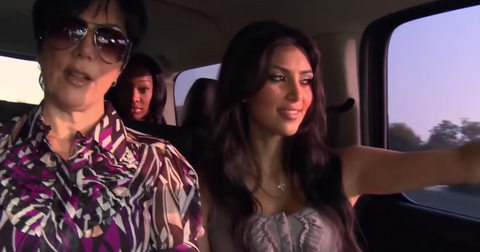 These Are, Hands Down, the Best Episodes of 'Keeping Up With the Kardashians'
By Michelle Stein

Updated
There have been some seriously epic episodes of Keeping Up With the Kardashians over the past 12 years. Between diva meltdowns, pranks gone wrong, and unconventional ways of spending their leisure time, there never seems to be a dull moment. And just when viewers think they've finally seen it all, the Kar-Jenners kick things up a notch.
Considering KUWTK boasts more than 200 episodes across 15 seasons, though, there are a handful that stand out from the rest. Let's take a look at the top 12 episodes of the beloved E! reality TV series to see if we can come up with the best episode of Keeping Up with the Kardashians of all time.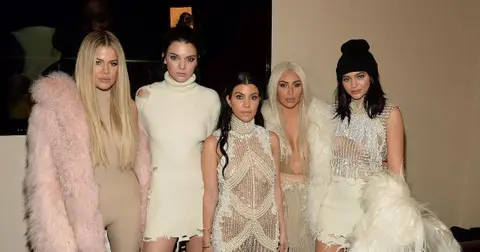 Season 6: Episode 10/11: When Kim melted down after losing her earring in the ocean.
Ah, yes. Who could forget the KUWTK episode during which Kim's boyfriend at the time, Chris Humphries, decided to throw Kim into the ocean — causing one of her $75,000 diamond earrings to fall out into the water.
Once Kim surfaced and grabbed her ear, she immediately had a breakdown. As Kris Jenner attempted to console her, Kourtney decided it was the perfect time to put things into perspective for her diva sister. "Kim, there's people that are dying," she deadpanned.
Thankfully, they ended up finding the earring. But the drama it caused was priceless.
Season 3, Episode 1: When Khloe was going to jail, but Kim was too busy taking selfies.
To make a long story short, Khloe violated her probation after getting arrested for a DUI — so she had to serve a 30-day sentence in jail. On the Kardashians' way to drop Khloe off to serve her time, they were all cracking jokes. Oh, and Kim couldn't stop taking photos.
"Kim, would you stop taking pictures of yourself, your sister's going to jail," Kris scolded.
Meanwhile, Khloe shouted, "Here, Kim, this one!" while pretending to choke Kris.
Ultimately, Khloe only served three hours of her 30-day sentence because of overcrowding, according to Entertainment Tonight.
Season 4, Episode 11: When Kourtney gave birth to Mason like it was NBD.
As you can imagine, there was quite a crowd in the delivery room when the first Kardashian grandchild, Mason, was born. And Kourtney handled childbirth like a champ.
"We're so excited. I'm actually holding Kourtney's leg while she's giving birth. It's just beautiful," Khloe said to the camera.
"Kourtney's acting like nothing is wrong. She just is so calm," Kim added. "She isn't even crying. I'm crying."
Not only did Kourtney not utter one groan or scream while pushing out her baby, but she actually reached down, pulled him out, and laid her newborn on her chest like a pro.
Season 7, Episode 10: When Scott officially became "Lord Disick."
Like Scott needed another reason to be ridiculously full of himself, right? But yes, he really did get knighted while in London. Seeing him decked out in a crown, draped with fur, and holding a cane was pretty hilarious.
"Becoming royal is really going to get the respect that I deserve," Scott said to the camera. "Like, I don't need to be walking around like I'm some peasant. I need to be walking around like royalty."
Season 1, Episode 3: When Brody Jenner babysat Kendall and Kylie, and they ended up on a stripper pole.
This whole episode is a giant, "WTF" — which is exactly why it's so amazing. After Kris and the older girls traveled to Mexico to model for a swimsuit line by Joe Francis of Girls Gone Wild, Bruce Jenner discovered what they were doing and goes to confront Kris. Bruce decided to leave his son, Brody, in charge of watching Kylie and Kendall. And somehow, that results in pre-teen Kylie and Kendall pole dancing in their parents' bedroom while exclaiming, "Girls gone wild!"
Season 17, Episode 12: When the Kardashians hilariously impersonated each other.
As part of a team-building activity, the Kar-Jenner ladies attended a dinner together with one interesting twist: They had to dress as one other member of the family and act like them. And the results were hilarious. Kendall's impersonation of Kylie, in particular, was spot on.
Season 12: Episode 5: When Khloe, Kendall, and Kylie went undercover.
Watching Khloe, Kylie, and Kendall get make-unders so they could take a tour of Hollywood without getting recognized is definitely up there on the list of best Keeping Up With the Kardashians episodes. Khloe posed as a 79-year-old grandma from Albuquerque — with Kylie and Kendall as her two granddaughters.
When the tour guide noticed the attention the Kar-Jenners were attracting despite their alter-egos, they mentioned, "You guys are more famous than I thought. What did you say you do in Austin?"
"It's Albuquerque," Khloe, yelled, adding "She's impregnated by a really popular YouTube sensation."
Reality. TV. GOLD.
Season 12, Episode 6: Kris got drunk while wine tasting with Kourtney and Khloe.
Most of the time, Kris is the level-headed mom-ager keeping everything together and making sure her daughters don't kill one another. However, Kris definitely let her guard down when she went wine tasting in Napa with Kourtney and Khloe.
"I think my mom is really into wine in general," Kourtney told the cameras. "She could just go on and on, and Khloe and I just want to, like, explore Napa."
Just press, "play" below to experience drunk Kris in all her glory.
Season 4, Episode 3: When Kris accidentally spiked Rob's drink with Viagra.
For reasons unknown, Kris thought it would be a good idea to put a little Viagra in Bruce's coffee. Somehow, Rob ended up drinking some — and he ended up with an hours-long erection that required a trip to the hospital. The whole storyline is just so out there and wild. Which is exactly why it's among the best episodes of Keeping Up with the Kardashians.
Season 3, Episode 9: When Kris Jenner got a pet chimp.
You know what? Forget what I said about Kris being the level-headed one. Because I have no idea why she agreed to take in a pet chimp. It did make for some seriously entertaining reality TV, though.
Season 6: Episode 15: When Kim Married Chris Humphries.
Granted, they were only married for 72 days before Kim filed for divorce. But you have to admit: Their star-studded fairytale wedding was a huge moment in Keeping Up With the Kardashians.
Season 6, Episode 6: When Bruce learned Kendall is on birth control.
In this gem of an episode, Bruce was convinced that Kendall being on birth control for period cramps was going to "open doors" for other things — so he enlisted the help of Khloe in order to talk to Kendall about the birds and the bees. It might be just a tad different than the average sex talk, though.
And there you have it! Sorry but it's literally impossible to choose just one best episode of Keeping Up With the Kardashians. I mean, there's a reason these guys have been going for more than 12 seasons.
But these top 12 episodes of KUWTK are a good place to start if you want to attempt to figure it out for yourself. Okurr?!