Vampires Beware — Here Are the Best Garlic-Infused TikTok Recipes to Celebrate National Garlic Day
National Garlic Day is upon us, and we think it's a day that calls for pure gluttony. Here are the best garlic-infused recipes TikTok has to offer.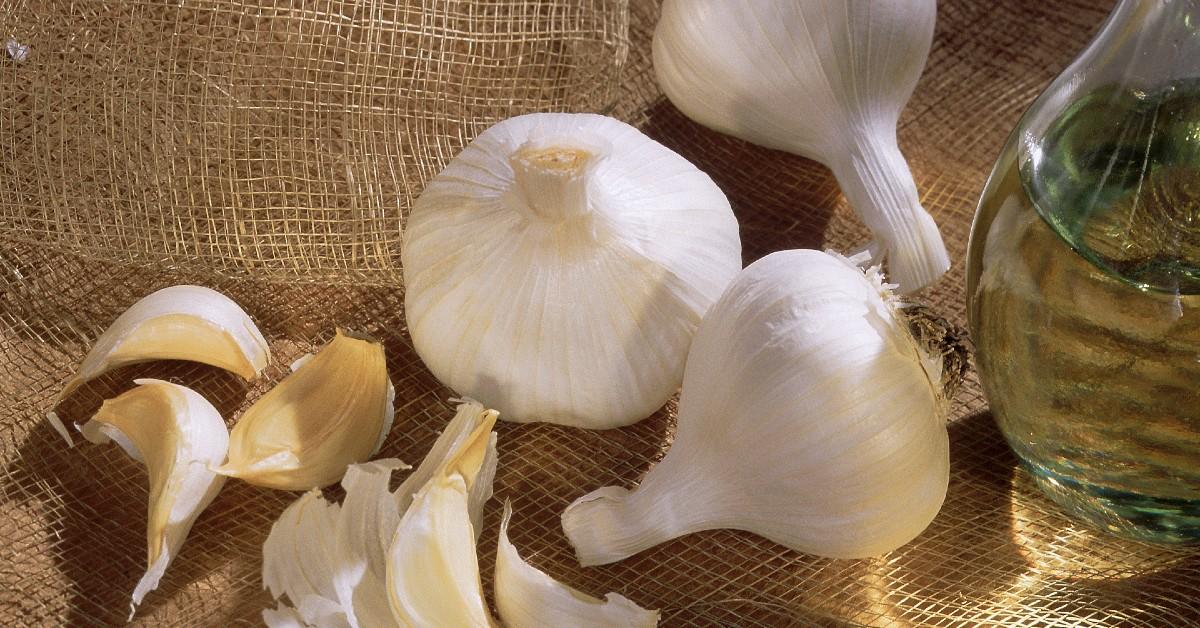 Bulbs of garlic may be known to ward off undead bloodsuckers (specifically due to the plant's chemical compound allicin), but when it comes to gluttonous foodies, it's a deliciously fragrant attractant. Belonging to the Allium family along with onions, leeks, and scallions, the pungent root veggie is often found in Italian food, Chinese food — you know, actually, most savory dishes could do with a harmless clove of garlic or two ... or three.
Article continues below advertisement
In honor of National Garlic Day, we've compiled a list of TikTok's best, most creative, and stinkiest garlic-infused recipes. If you cook your way through our list, not only will your breath reek of garlic, but the scent of the versatile ingredient will ooze from your pores as well. Don't let that stop you from living your best garlicky life.
This borderline sensual spicy garlic butter pasta is the stuff of our carb-tastic dreams.
With butter, chili flakes, oyster sauce, soy sauce, chives, parmesan, and — the star of the show — "crispy golden garlic chips," TikTok user @itsgnochgnoch has created an Asian-inspired recipe that'll get your tastebuds jumping for joy. It's so good that she downright encourages you to make your noisiest slurping sounds.
Article continues below advertisement
This sweet 'n savory chicken recipe calls for garlic in almost every step.
Complete with white rice and sautéed broccoli, TikTok user @firstnamewild presents us with a god-tier honey garlic chicken recipe. After seasoning some raw chicken thighs with salt, pepper, and garlic powder, Kyle Carillet throws the prepped meat in a pan with freshly chopped garlic. Eventually, he adds a scrumptious sauce made of soy sauce, rice wine vinegar, honey, and a scoop of chili garlic sauce. Don't mind us as we wipe the drool from our chins.
Article continues below advertisement
This creamy garlic sauce is the product of a 20-year-old family recipe.
We'd like to thank TikTok user @mxriyum's parents for giving her the OK to share this recipe with the world, as it is culinary art at its finest. Made from a blend of minced garlic, salt, egg yolks, lemon juice, and corn oil, this thick concoction is perfect for dipping fries, sandwiches, or your bare hands in. Listen, not all of us can control ourselves around calorie-rich dipping sauces.
Article continues below advertisement
This basic roasted garlic tutorial is a crucial must-know for garlic connoisseurs.
It's back to basics for us amateur chefs. TikTok user @tasteandtraveler felt her audience could benefit from some "basics" cooking videos, which are intended to be "quick and to the point." In Sarah Wohlner's roasted garlic recipe, she starts by cutting "a fourth to a half-inch off the top" of a garlic bulb, exposing all the cloves in the process. If you have trypophobia, we're so sorry.
Article continues below advertisement
After removing the dry, papery layers from the outside, coat the sliced bulb in about two teaspoons of extra virgin olive oil, put it in some foil, and throw it in the oven at 400 degrees for approximately 40 minutes. You know you did it correctly if "the cloves are soft and lightly golden brown." It's as easy as that!
Article continues below advertisement
This garlic naan is absolutely "food for the soul."
TikTok user @moribyan shared her "delicious and fluffy" garlic naan, which involves a lot of work but is more than worth it. After Hajar Larbah whips up her stunning naan dough (which she leaves in a covered bowl to rise for an hour), she combines melted unsalted butter, minced garlic, salt, and chopped cilantro in a bowl. While cooking the naan circles in an oiled pan, she suggests to "butter [them] up after [they] brown so the cilantro doesn't burn." Genius, really.
Article continues below advertisement
For the serious garlic addicts, here's a pasta recipe complete with 150 garlic cloves.
After being criticized because her original recipe was lacking in the garlic department (it literally included an entire bulb of garlic, but okay then), TikTok user @traziarae decided to beef up her creamy roasted garlic pasta recipe. Now boasting a whopping 150 cloves of garlic, Trazia Rae proved she responds to constructive criticism like a champ.
Article continues below advertisement
Also full of mushrooms, garlic oil, spinach, white wine, heavy cream, and Parmigiano Reggiano, she couldn't help but joke that her stellar dish "could use a little bit of garlic powder." In this house, garlic is a cologne as well as a cooking ingredient.