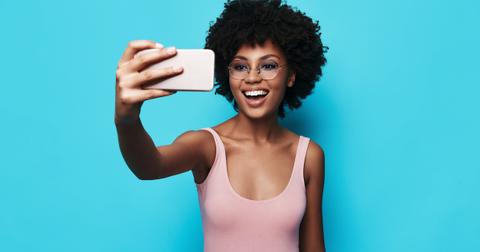 Instagram Has Seriously Upped Their AR Game — Here Are Some of the Best Effects
By Lizzy Rosenberg

Updated
Anyone who is relatively well-versed in the world of Instagram Stories is vaguely aware of the app's stellar AR (Augmented Reality) capabilities. Insta has significantly upped its AR game within in the last year, now featuring hilarious filters that can swap your face with animals, turn you into an inanimate object, "read" something about your personality, or even "predict" your future.
That being said, anyone who is moderately interested in completely revolutionizing their Instagram Story should probably consider checking out this extensive list of Instagram's best AR effects — each is basically guaranteed to bring your Story game up a notch (or three).
@curivinicius' Dia de Rock Bebe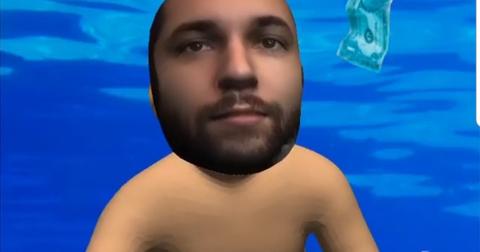 You'll quite literally reek of teen spirit with IG user @curivinicius' Dia de Rock Bebe filter. With the body of a baby and the head of a grown-ass adult, you'll look absolutely incredible swimming towards that dollar bill.
Taco Bell's "Which Taco Bell item am I?" filter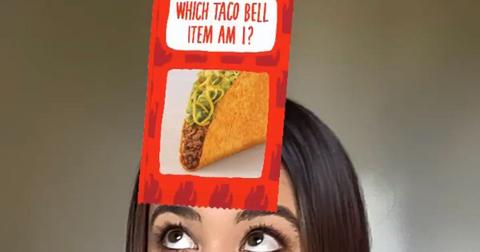 Taco Bell's latest and greatest AR filter can tell you if you best identify as a taco, a bean burrito, or a Crunch Wrap Supreme. Whatever the answer, though, I won't judge... I promise.
@artkatana's Mouth Everywhere filter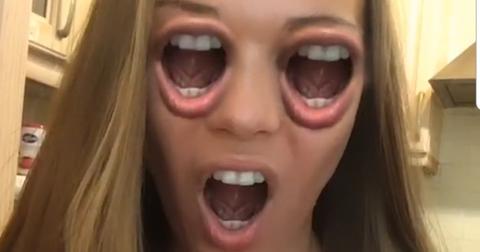 If you have a lot to say, multiply your mouths with @artkatana's Mouth Everywhere filter. You'll literally feel like your own personal Salvador Dali painting.
@mas.bruh's SUN BABY filter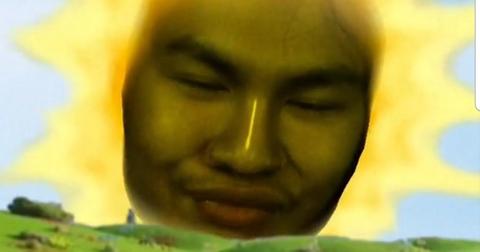 Rise and shiiiine! Emulate major Kylie Jenner vibes (or just say hi to all of your beloved Teletubby friends) with this hilarious filter that pastes your face onto an animated sun. You'll feel really, really weird but you'll look fantastic, I promise.
Chipotle's "What type of Chipotle customer are you?" filter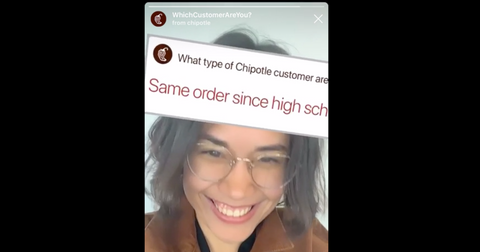 Whether you've been loyal to Chipotle from the start, or if you simply just became a fan, the chain knows what kind of customer you are. Stop lying to yourself and test the filter, if you dare.
@rxkyx's Wedding Prediction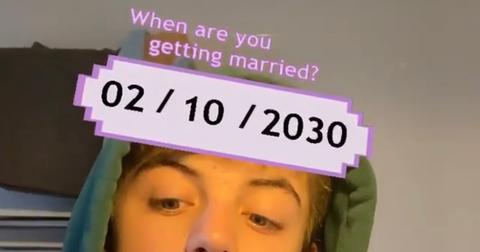 Planning life is important, so make sure to find out when you're gonna get married. @rxkyx's Wedding Prediction filter has been one of the top trending "Who are you!" filters this past week, and TBH I totally get it.
@luivencato's caos e destruicao filter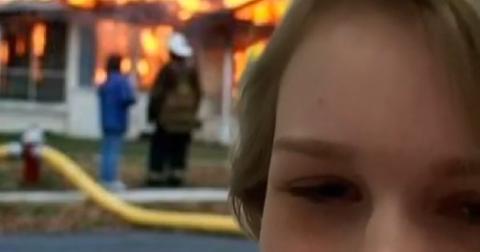 Remember the meme "Disaster Girl"? @luivencato's caos e destruicao filter puts your face onto hers, making you look exactly like the infamous tiny terror.
@neosoda's Poke Starters filter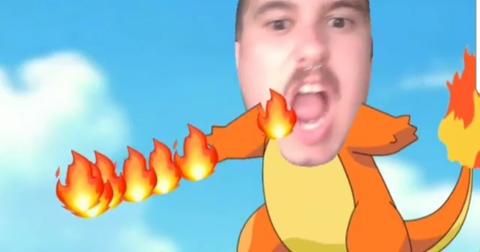 Evolve into the fire-breathing dinosaur you were always meant to be with @neosoda's epic Charmander filter. Just don't get yourself into any battles with Squirtle — that would be a total disaster.
@danielcabela's caregato filter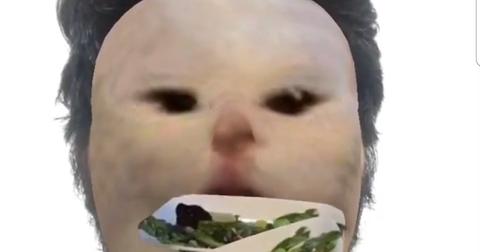 There is truly nothing funnier than @smudge_lord, the infamous salad-hating cat that's most often paired with Real Housewives' Taylor Armstrong. You can turn yourself into Smudge, the cat, who is disapprovingly hunched over a salad, but make sure someone is yelling at you in the background, to make it extra authentic.
@chenkushnir's avocado crown filter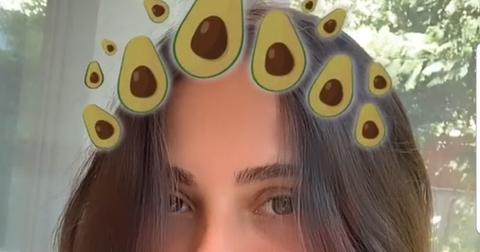 Last but not least is the vice of all millennial vices: an avocado crown. Combining the joys of flower crowns and avo toast comes this beautiful filter, which is sure to make your boomer followers (aka your aunt Linda) send you a passive aggressive "how nice" Insta DM.
While the possibilities are practically endless with Insta's AR filters, these are definitely a few of my faves. Now get out there and make your IG Story fabulous, y'all — your followers are depending on you.