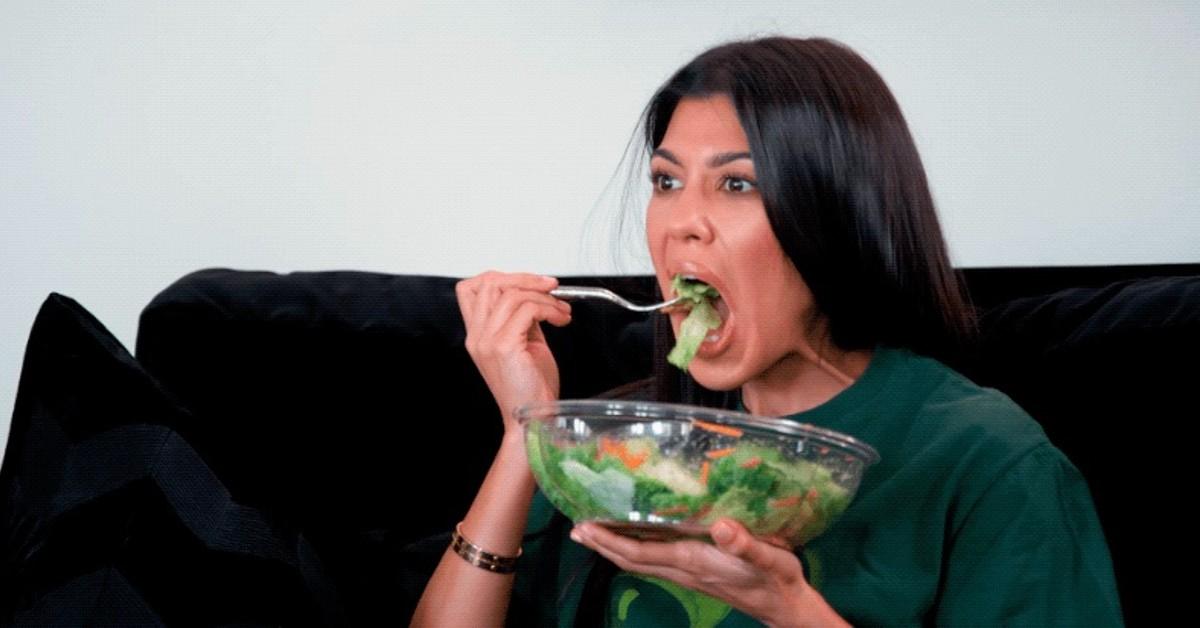 Rabbit Food, But Make It Delicious — Here are the Best Salad Recipes TikTok Has to Offer
The Kardashian clan knew what they were doing when they routinely crunched on Calabasas-based Health Nut salads for countless seasons of Keeping up With the Kardashians. The days of dreading limp lettuce salad lunches are gone, as the internet is jam-packed with flavorful, textured, and downright beautiful salad recipes to spice up your daily food regimen, not to mention your Instagram page.
Article continues below advertisement
Whether you enjoy sweet-n-savory salads with homemade honey dijon dressing and fruit toppings, or you'd rather keep it simple with some chopped green veggies and a squirt of Hidden Valley Ranch, TikTok has a healthy-yet-delicious recipe for you.
In honor of National Salad Month — which the Association for Dressing and Sauces created in 1992 — we've put together a list of the best TikTok salad recipes. Featuring celebrity concoctions and everything-but-the-kitchen-sink ingredient lists, not one of these recipes will leave you with a grumbling belly; they're as filling as can be.
Hot girl or not, this flavorful lettuce-free salad will leave you feeling spicy.
We've got to give credit where credit is due. With over 1.2 million likes, TikTok user @herdresscode's "hot girl summer" salad recipe helped her lose 20 pounds, "snatching her waist" in the process. The Salad Lab posted their version of her viral video.
With standout ingredients like chopped cucumber, bell pepper, hard-boiled eggs, red onion, pepperoncini, sunflower seeds, and Kroger's spicy Italian dressing (any Italian dressing will do), this salad will nourish your body and please your tastebuds.
Article continues below advertisement
Kourtney Kardashian's Poosh "edit meeting" salad is the girlboss-iest recipe on our list.
Of course we included a Kardashian-approved recipe. TikTok user @themodernnonna recreated Kourtney's famous weekly meeting salad (because we've all got one of those) — which includes a dressing she could "chug."
Stuffed with tender orange juice-marinated chicken breast, cucumber, julienned carrots, romaine lettuce, sliced avocado, and topped with honey dijon lemon dressing, this salad will make you feel like an E! reality icon.
Article continues below advertisement
This "glorious roasted vegetable" salad is just as pretty as your last selfie.
Tiktok user @emthenutritionist has created a warm-toned salad that's almost too gorgeous to eat. With bright pink, red, and orange hues, the stars of the show are butternut squash, red onion, red pepper, chickpeas, feta, and pomegranate seeds. Her homemade lemon tahini dressing makes it that much more enticing.
Find Emily English's full recipe on her Instagram!
Article continues below advertisement
This stone fruit and kale chicken salad is about to be our new summertime staple.
"My mom grew up on a commune in Northern California in the '70s, so she'd make a lot of salads for us growing up," TikTok user @violet.cooks says at the start of her salad video. How do you keep scrolling after that intro?
Boasting garlic, shallots, dijon mustard, peaches, strawberries, goat cheese, chicken breast, and thoroughly massaged kale, Violet's salad is making that sleeve of Oreos look a little less sexy.
Article continues below advertisement
The "hungry lady" kale chopped salad is perfect for meal-prepping folk.
Being a former private chef, TikTok user @katcancook assured that this salad "keeps well all week in the fridge."
Including cucumber, kale, fennel, red pepper, chickpeas, green onion, walnuts, and lemon tahini dressing, this recipe is "for when you want a salad that fills you UP," as put by Kathleen Ashmore.
Article continues below advertisement
This salad adds some much-needed heat to Baked by Melissa's OG green goddess recipe.
TikTok user @myhealthydish felt Baked by Melissa's viral green goddess salad "dip" recipe needed something. Basically, it needed more fat and more spice.
So, she added avocado and jalapeño peppers. This updated salad also includes spinach, lemon juice, shallots, almonds, parmesan cheese, apple cider vinegar, cabbage, and green onion. Once you dip tortilla chips in this creamy dream come true, you'll be forever changed.