The 'Beverly Hills: 90210' Reboot Got Canceled — So Is the Era of Successful Reboots Over?
Is 'Beverly Hills: 90210' coming back for Season 2? The show's status has been confirmed by Fox. Find out what the cast has to say about the news.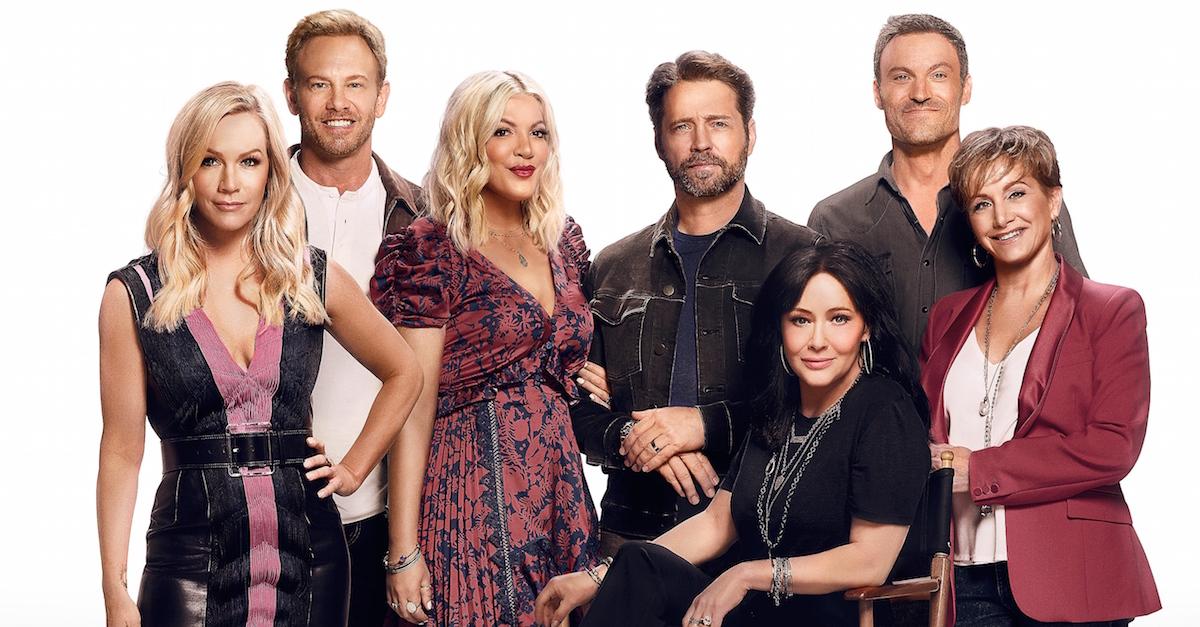 When the public first learned that the popular '90s teen show Beverly Hills: 90210 was getting rebooted, there was a ton of buzz. Nostalgic fans wanted to learn how their teen crushes were faring in their 40s, and we wanted a relationship update on Donna and David and to know what Brenda was up to. Other successful reboots like Gilmore Girls and Veronica Mars had us hoping for the best.
Article continues below advertisement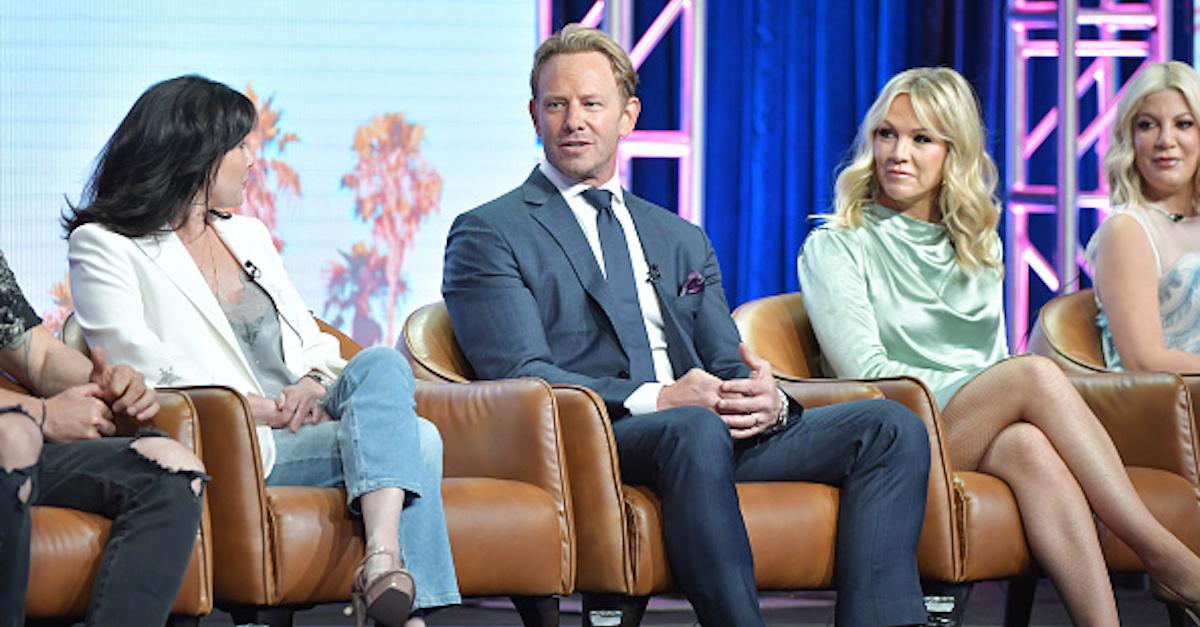 Article continues below advertisement
Is Beverly Hills: 90210 coming back for Season 2?
Though the show was originally advertised as a six-episode comedy miniseries, the actors were clear on the fact that they wanted the show to go on. Most of the original cast from the show joined the reboot, except for Luke Perry, who passed away in March from a stroke.
Season 1, after all, ended on a bit of a cliffhanger as the fictionalized actors moved forward with their own reboot pilot (yes, it is that confusing). But, the reboot pilot was going to be changed significantly, to the dismay of the actors.
But, the show has been canceled by Fox, and viewers will not get to learn if the reboot inside a reboot is really happening. Fox announced the news.
Article continues below advertisement
"We are so proud to have reunited in a very special summer event one of the network's legacy series and casts with 90210 fans across the country," Fox said. "Profound thanks to and respect for Brian [Austin Green], Gabrielle [Carteris], Ian [Ziering], Jason [Priestly], Jennie [Garth], Shannen [Doherty] and Tori [Spelling], who, along with the entire crew and everyone at Fox and CBS Television Studios, poured their hearts and souls into this truly inventive and nostalgic revival."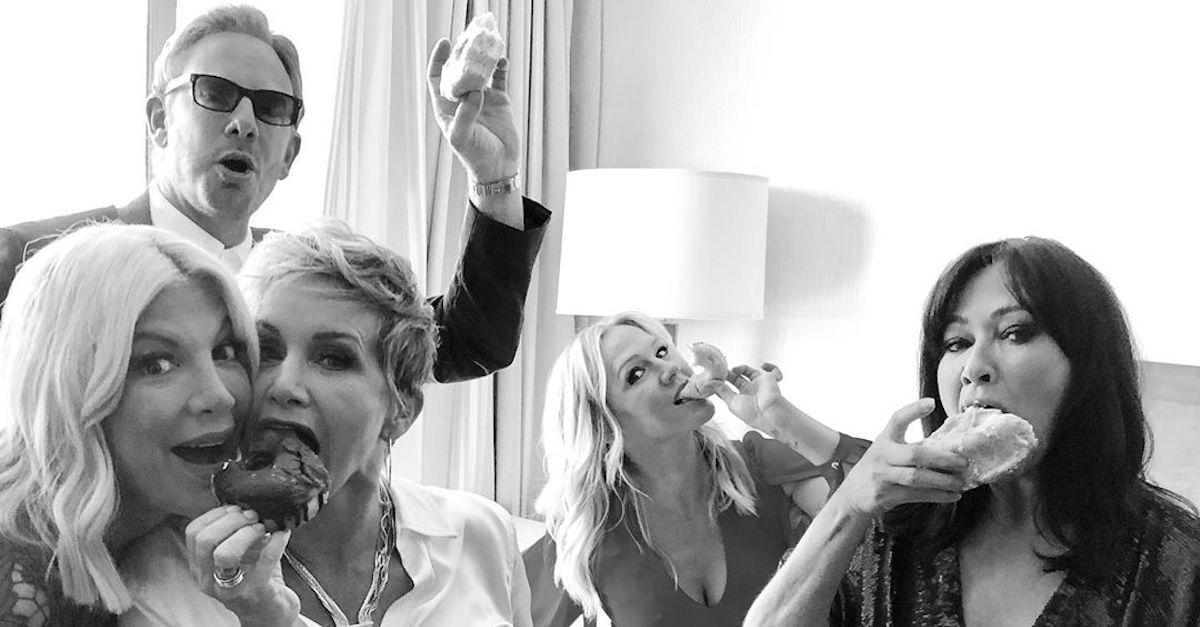 Article continues below advertisement
Fox's decision to label the show as a miniseries again is confirmation that there will not be a Season 2. But, the cast is not fully convinced that this is the end of the West Beverly High legacy.
Gabrielle Carteris says that Beverly Hills: 90210 will live on — somewhere else.
Gabrielle — who played Andrea Zuckerman on the series — said that the cancellation by Fox doesn't mean that the show is dead yet.
While speaking to E! News on the red carpet for SAG-AFTRA Foundation Patron of the Artists Awards (she is the executive vice president of SAG-AFTRA), Gabrielle addressed the cancellation rumors head on.
Article continues below advertisement
"Actually, you heard that Fox wasn't picking it up," Gabrielle said. "But it's not necessarily not coming back."
The actress did not say if any other network or streaming service had expressed interest in the reboot.
Jennie Garth, who plays Kelly Taylor, also said that Fox's decision to pass on the second season actually could serve as another plot point if the show continues elsewhere.
The cancellation of 90210 is just another in a series of failed reboots. Will & Grace will end in 2020 after three seasons, while Roseanne had a ratings high until star Roseanne Barr put out some offensive tweets. In an era when many movies and TV shows are being brought back, the recent trend isn't too promising.