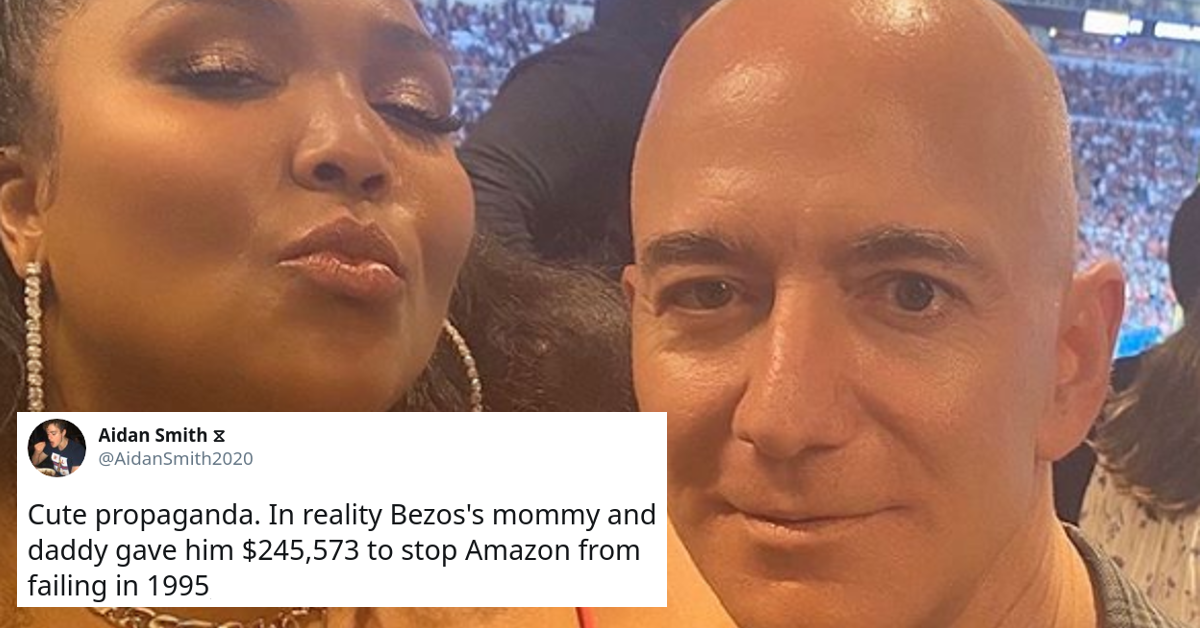 Proof Billionaires like Jeff Bezos and Mark Zuckerberg Are Anything but Self-Made
There's been a lot of controversy regarding how "self-made" self-made billionaires really are. One of the biggest targets of this discussion is Kylie Jenner. Forbes had pointed out that the valuation of her Kylie Cosmetics is a bit over-inflated and that she's not really a billionaire (but pretty close; at last checking she had somewhere in the realm of $900+ million).
Article continues below advertisement
While everyone loves to hate the Kardashians, there's been talk of multi-billionaires who didn't exactly pull themselves up by their bootstraps and "make it on their own," despite the notion that many of these individuals came from humble beginnings.
On Twitter, Aidan Smith began sharing facts from the pasts of Jeff Bezos, Bill Gates, and Mark Zuckerberg, who are among the richest people in the world, which suggest they had an advantage over others early on.
Those advantages came courtesy of their parents deep pockets or work connections.
Aidan responded to a tweet from Jon Erlichman, who shared a photo on July 5 of a garage with the caption, "On this day in 1994: Amazon was founded by Jeff Bezos in his garage."
Aidan called it "Cute propaganda," and went on to relay that Bezos' parents loaned him $245,573 to keep Amazon afloat in 1995.
Article continues below advertisement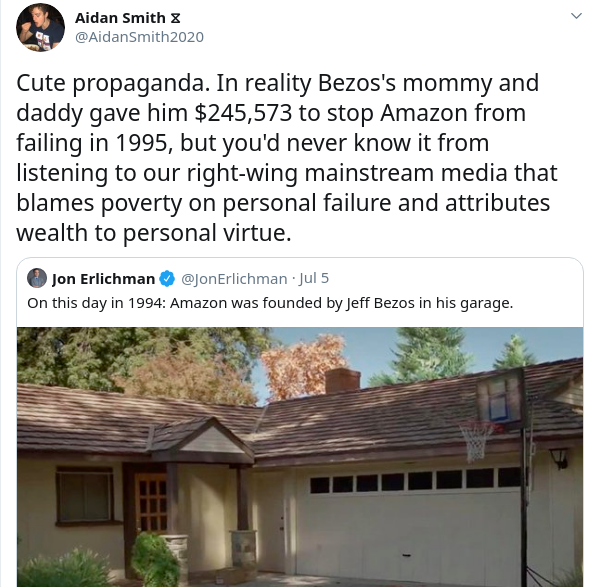 He said that the glorification of Bezos' and other billionaires' rags-to-riches stories often leave out the clear advantages these individuals gained from their parents, whether in the form of sizable loans or business connections.
Bill Gates, for example, wasn't just "a normal guy who dropped out of college to pursue his dream..." according to Aidan.
Article continues below advertisement
He points out that Bill's mother is Mary Gates, who was president of United Way at the time. She had convinced IBM to hire Microsoft, Bill's company, to create an operating system for the computing giant. The rest is history.
Aidan isn't discrediting the talents of Jeff or Bill, but points out that the latter's "...career break wouldn't have happened if he wasn't the child of wealthy, well-connected parents who were able to convince IBM to hire the then-obscure Microsoft..."
Article continues below advertisement
He then turned his sights to Warren Buffett, who has a reputation of being a "scrappy upstart [from] a lower-middle class suburban home in Omaha." However, Warren's father was a congressman and by the time Warren graduated college, he had the equivalent of $105,000 in savings.
Article continues below advertisement
Mark Zuckerberg's parents were able to send him to Exeter Academy, which costs more than $56,000 in tuition and board, along with private tutoring sessions from David Newman, a software developer.
Article continues below advertisement
Article continues below advertisement
All of this extra help and preparation courtesy of Mark's parents', combined with his work ethic, put him in a position to make Facebook soar as the global internet phenomenon we know today.
Article continues below advertisement
While some people applauded Aidan's thread, others believe that, even though these billionaires did have a leg up on their "competition," several other rich and successful people did, indeed, grow up poor, like Oprah Winfrey, who was raised by a teen single mom in rural Mississippi.
Article continues below advertisement
Article continues below advertisement
Others accused Aidan for getting "pressed about someone succeeding" and the fact that they were able to flip a quarter of a million dollar loan into a trillion-dollar company doesn't do anything to discredit them.
Then there were people who said these people missed the point of Aidan's post: he wasn't trying to say the individuals on his list weren't talented, but that they had help to get where they are.
Article continues below advertisement
And that maybe people were being a little too unfair in their criticism of Kylie Jenner because, while she benefited from her family's success, so did a lot of other "self-made" billionaires these days.