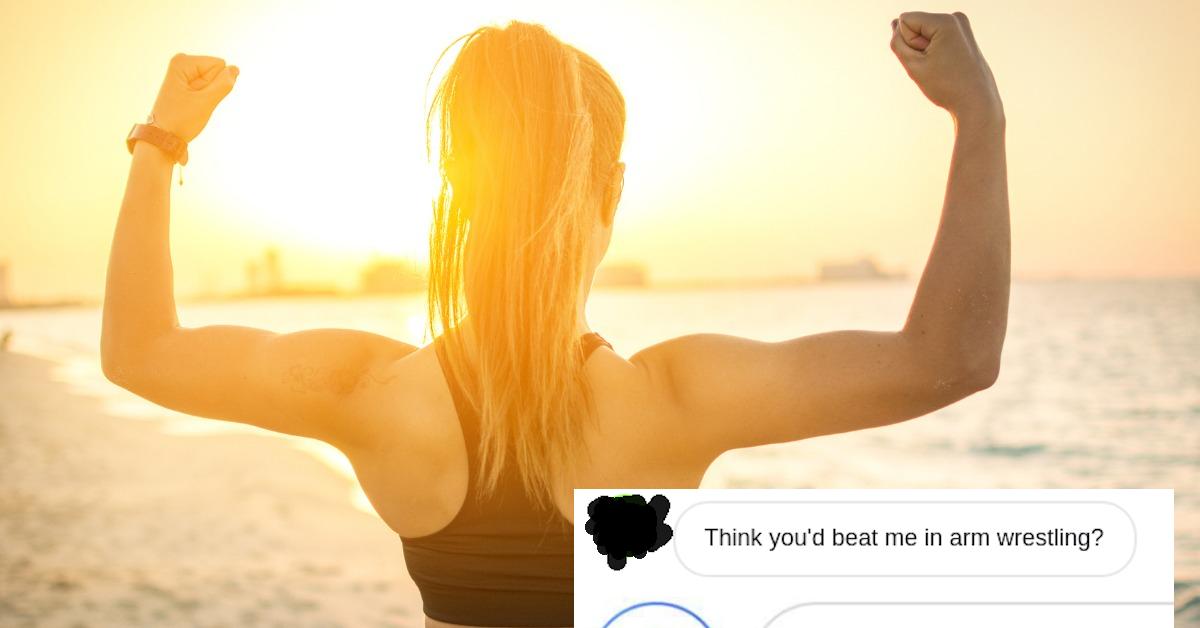 Biceps-Obsessed Guy Keeps Creating Burner Account to Ask Girl About Her Arms
A young woman posted a series of DMs she received from a "fitness enthusiast" who kept asking her questions about her arms.
Some fetishes are definitely weirder than others, and while you might say, "I don't judge," it's hard to not raise your eyebrows at some of the more unorthodox predilections out there. What's even weirder is how some people go about satisfying these fetishes.
Article continues below advertisement
Often, they'll hit up random people on social media networks, either begging for photos or sending them unsolicited ones of themselves. Those are probably most common approaches, but then there are people like this dude, who has some pretty bizarre scenarios he'd like to play out.
Like getting a woman whose arms he admites to say she has strong arms and could probably beat him in an arm-wrestling match.
These are the incessant messages of a man named Antonio.
Article continues below advertisement
He hit up Redditor SouthpawAce14 first posing as someone just interested in fitness. As the conversation progresses, it becomes clear that his interest in the young woman extends beyond learning her workout routine. His interests are very...specific., to say the least.
Article continues below advertisement
Southpaw blocked the man in the past for constantly asking her about how strong her arms are, but he keeps creating new fake Instagram profiles to message her with. He oscillates between being demanding, naive, and almost genuine, to outright disrespectful, aggressive, and frankly, super scary.
She posted a series of their conversations to the Cringepics subreddit, where people couldn't get enough of the guy's weird requests.
Article continues below advertisement
Article continues below advertisement
Antonio becomes absolutely furious when she says that she doesn't work out, and tries to play it off like "he hates liars" but it's pretty clear that he's just mad she's putting a kibosh on him enjoying whatever role-play scenario he's playing out over DM.
Article continues below advertisement
She tries reasoning with him and pointing out how out-of-touch, rude, and incessant he is, but no amount of logic permeates Antonio's skull. In fact, he almost seems to get off on being blocked and keeps challenging her to do it.
The worst part is that this appears to have been going on for a while. At the request of other Redditors, they wanted to see more of her conversations with the guy, so Southpaw uploaded snippets of their first ever interaction.
Article continues below advertisement
Article continues below advertisement
The guy just can't take no for an answer. He apologizes in one line for "bothering" the woman but in the next he demands to know why she's ignoring him.
Article continues below advertisement
He clearly has some issues, and having a woman-with-strong-arms fetish is the least of them. Maybe learn to actually be respectful of people's time, feelings, and wishes before revealing that you want them to dominate you with their arms.