Joe Biden's Granddaughter Praises His Mario Kart Skills After Narrow Victory
Joe Biden was caught on Instagram playing Mario Kart with his granddaughter, and he narrowly beat her while playing Luigi.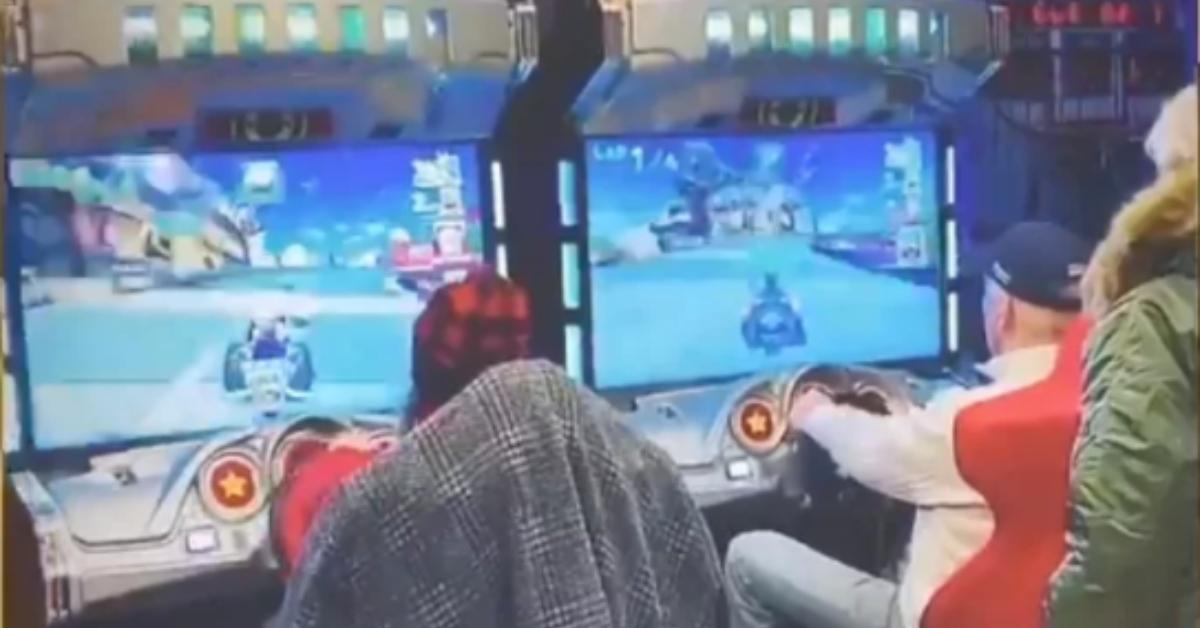 If your grandparents were to accept a challenge to play you in some head-on-head video game action, it'd probably take everything in your power not to absolutely obliterate them in whatever title you were playing. Whether it's wrecking them in Street Fighter or getting a 22 unanswered kill streak in Halo, grandma and grandpa would probably never stand a chance.
But when it comes to the arcade version of Mario Kart, Naomi Biden learned not to take her own grandfather's skills too lightly.
Article continues below advertisement
That's because Joe Biden got the win playing Luigi in 'Mario Kart.'
While anyone will tell you that the dynamics of the arcade version of Mario Kart are way different than the console iterations, a win's a win regardless, and President Joe Biden managed to achieve victory with Luigi. While many M.K. aficionados will say that it's not a Luigi "W" without the dreaded green-outfit-rocking plumber hitting his patented "death stare," many are giving the president props regardless.
Joe Biden recently spent the weekend at Camp David with his family, which was outfitted with the DPX Arcade Racers. Naomi posted a brief video of their race online writing, "Secret service made an exception and let him drive himself!!!! A little rusty but he still won (barely)."
Article continues below advertisement
Prior to his President's Day weekend getaway, Joe Biden informed reporters that he was planning on taking it easy surrounded by loved ones while at Camp David: "We're going to be up at Camp David for Valentine's Day just hang out with the family and do what we always do."
The presidential vacation spot is located some 60 miles north of Washington D.C. up in Maryland's Catoctin Mountains.
Article continues below advertisement
It's got plenty of different cabins for the Commander in Chief to host whomever he sees fit and tons of amenities, like a game room.
It should be noted that this isn't the first time Biden's name has been associated with a popular Nintendo franchise. In 2020, during the presidential election, Joe Biden's campaign set up an Animal Crossing: New Horizon island.
Article continues below advertisement
It wasn't purely for him to whittle away time as the clock ticked. It was to help better connect with prospective voters. The island was decorated with a huge American flag comprised entirely out of flowers, and there were ice cream carts, campaign signs and slogans, and even little avatars designed to resemble Joe Biden and Kamala Harris ambling about the virtual world.
In addition to playing 'Mario Kart,' Naomi Biden bought her grandfather some Camp David swag.
She wrote on Twitter, "We bought him some swag since it's Presidents' Day weekend and he's 'literally' President..." She shared two photos, both of which show the President wearing a commemorative leather "Air Force One" jacket along with a Camp David hat.
The word "Pop" is stitched in the back of the cap, a choice that Naomi said was made "just to make sure the job title doesn't get to his head..."
Article continues below advertisement
Some think that the influx of "heartwarming" stories about Biden playing Mario Kart is overlooking politically significant narratives, like the controversy surrounding a new influx of COVID-19 deaths and the fact he hasn't called the leader of Israel yet after becoming president.
Article continues below advertisement
Others are issuing challenges to Joe Biden in Mario Kart as a means of securing stimulus checks for the rest of the nation. If that ever goes down, here's hoping he doesn't get a last-second blue shell victory. Man, I hate those things.